BWW Review: THE BERNSTEIN CENTENNIAL CELEBRATION at Tanglewood Music Center
Tanglewood honors favorite son, Leonard Bernstein, with a star-studded tribute to the man, his music, and his legacy.
Finding some parking lots full almost two-hours prior to showtime is rare and caught many Tanglewood regulars by surprise. It also confirmed what ticket holders had to already know: something was coming, something good!
The BERNSTEIN CENTENNIAL CELEBRATION AT TANGLEWOOD concert on August 25 was one of the largest and most significant performances taking place worldwide in recognition of what would have been Leonard Bernstein's 100th birthday. The unprecedented and unparalleled event marked the climax of the season-long celebration of the Bernstein Centennial. It honored the iconic musician's stature as one of the great artistic figures of the 20th century, as well as his contributions to the Tanglewood Festival from 1940 to 1990, and Tanglewood pulled out all the stops.
The BSO was joined by members of the New York Philharmonic, Vienna Philharmonic Orchestra, Israel Philharmonic Orchestra, Tanglewood Music Center Orchestra, Pacific Music Festival, and Schleswig-Holstein Music Festival - all ensembles that were important to Bernstein and his career. The orchestra was conducted by five prominent conductors from the BSO family and Bernstein extended family tree: BSO Music Director Andris Nelsons, Boston Pops Conductor Keith Lockhart, Boston Pops Conductor Laureate John Williams, San Francisco Symphony Music Director and one of Bernstein's close associates and friends Michael Tilson Thomas, and National Symphony Orchestra Conductor Laureate Christoph Eschenbach, recipient of the Leonard Bernstein Award from Pacific Music Festival.
Tony award winning actress and singer, Audra McDonald, no stranger to Berkshire audiences, hosted the festivities. The first half of the program celebrated Bernstein as a composer. It began with the Overture to Candide under the direction of Andris Nelsons. Bernstein composed the music for the operetta that was first performed in 1956. The piece provided an electrifying start to the evening, particularly during lush, rich passages when it seemed that fully every instrument must have been involved.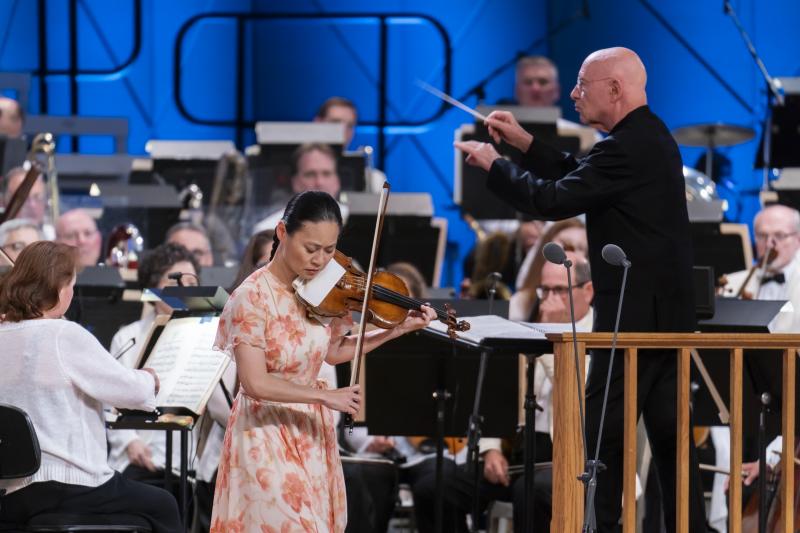 This was followed by a movement from the violin concerto Seranade (after Plato's "Symposium") featuring soloist Midori. Midori was launched to fame and international recognition at a Tanglewood performance of the piece with composer, Bernstein, on the podium. That 1986 performance was made legendary when Midori broke the E-string on, not one but, two violins during its presentation. The use of full strings rendered a somber, delicate piece that is unmistakably Bernstein. There were moments reminiscent of both CANDIDE and WEST SIDE STORY. Soprano Soloist, Nadine Sierra then joined the orchestra to perform "Kaddish 2" from Bernstein's Symphony No. 3 in Hebrew supported by the women of Tanglewood Festival Chorus.
The program continued with one of the Three Meditations from Bernstein's Mass. This piece had a delightful middle eastern feel and featured cellist Kian Soltani, the most recent winner of the Leonard Bernstein Award at Schleswig-Holstein Music Festival, which Bernstein co-founded. This portion of the program concluded with selections from West Side Story. Undoubtedly the best known and most loved of Bernstein's works. The orchestra was joined by Isabel Leonard (Maria), Jessica Vosk (Anita), Tony Yazbeck (Tony), Clyde Alves (Riff), DJ Petrosino (Bernardo) and other Broadway artists rounding out the Jets and Sharks. Selections including: "Prologue", "Jet Song", "Maria", "A Boy Like That / I Have A Love", and "Tonight". Conducted by Michael Tilson Thomas with direction by James Darrah and choreography by Joshua Bergasse, it provided a triumphant final note to the first-half that brought the crowd to its feet.
The second half of the program focused on work reflective of Bernstein's influence as a conductor, champion of fellow composers and inspiration for generations of musicians. The section opened with Baritone, Thomas Hampson, (whom Bernstein mentored early in his career) joining the orchestra for "Der Schildwache Nachtlied" from Des Knaben Wunderhorn by Mahler, one of Bernstein's favorite composers, whose music the maestro championed throughout his career. This was followed by the Finale of "Appalachian Spring" by one of Bernstein's closest personal friends, Aaron Copeland. A piece with deep rumbling lows and breathtakingly beautiful passages, particularly noticeable when the brass section joined in. It seemed to weave a rich tapestry that transported the orchestra and audience. It felt as if we were sweeping along over lush fertile wheat fields in the heartland.
The incomparable John Williams then took the stage along with Yo-Yo Ma and BSO principal harp, Jessica Zhou to lead the orchestra in "Highwood's Ghost" - an encounter for cello, harp, and orchestra. The piece, composed by Williams, had its world premiere the previous week and was inspired by a story Bernstein told about a ghost sighting in Tanglewood's Highwood Manor house. I found listening to it sitting literally yards away from the building itself, somewhat surreal. The festivities were brought to a close by Nadine Sierra, mezzo-soprano Susan Graham and the full Tanglewood Festival Chorus joining the orchestra, once again under the direction of Andris Nelsons, for the Finale from Symphony No. 2, "Resurrection".
The momentous event was brought to a suitably dramatic close when the entire lineup of guest artists joined Ms. McDonald, Mr. Nelsons, and the illustrious orchestra for a surprise encore of the iconic "Somewhere" from Bernstein's beloved WEST SIDE STORY. The lyrics of which provided hope and inspiration to the overwhelming delight of the capacity crowd who earlier in the evening, heard Michael Tilson Thomas thank Leonard Bernstein for his "music that reminds us of the truths we hold self-evident".
When playing that party game where one provides the name of a notable figure (past or present) that they would like to share a meal with, I have (truthfully) often responded Leonard Bernstein. While sadly, that will never be more than just a game, being a part of this once-in-a-lifetime GALA is undoubtedly an experience everyone present including Steven Spielberg, Bradley Cooper, and Bernstein's three children will cherish. Happily, you can experience it as well when the concert is scheduled to air on the December 28th broadcast of GREAT PERFORMANCES on PBS.