Review: LOVE NEVER DIES: Nevertheless, He Persisted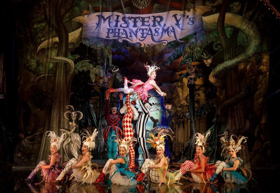 Love Never Dies
Music by Andrew Lloyd Webber, Lyrics by Glenn Slater, Book by Ben Elton, Based on The Phantom of Manhattan by Frederick Forsyth, Additional Lyrics by Charles Hart, Orchestration by David Cullen & Andrew Lloyd Webber, Directed by Simon Phillips, Choreographed by Graeme Murphy AO; Music Director, Dale Rieling; Set & Costume Design, Gabriela Tylesova; Sound Design, Mick Potter; Lighting Design, Nick Schlieper; Wigs & Hair Design, Backstage Artistry; Production Stage Manager, Daniel S. Rosokoff
CAST (in order of appearance): Bronson Norris Murphy (understudy for Gardar Thor Cortes), Katrina Kemp, Stephen Petrovich, Richard Koons, Mary Michael Patterson, Karen Mason, Meghan Picerno, Sean Thompson, Casey Lyons (alternates with Jake Heston Miller); Ensemble: Chelsey Arce, Diana DiMarzio, Tyler Donahue, Yesy Garcia, Tamar Greene, Natalia Lepore Hagan, Lauren Lukacek, Alyssa McAnany, Rachel Anne Moore, Dave Schoonover, John Swapshire IV, Kelly Swint, Lucas Thompson, Arthur Wise
Performances through February 11 as part of the 2017-2018 Lexus Broadway in Boston Season, at the Boston Opera House, 539 Washington Street, Boston, MA; Tickets at the Box Office, through Ticketmaster 800-982-2787, or www.BroadwayInBoston.com
Andrew Lloyd Webber's international hit musical The Phantom of the Opera recently celebrated its 30th anniversary as the longest-running production in Broadway history. It won both the Olivier Award (1986) and the Tony Award (1988) for Best Musical, and its star, Michael Crawford, won both awards for Best Actor in a Musical. By contrast, Love Never Dies has never played on the Great White Way, and stumbled through a storied development process, numerous revisions, and less than glowing reviews in its various iterations worldwide. Now, the North American tour brings the musical to the United States for the first time since its 2010 London premiere, and is playing at the Boston Opera House through February 11th as part of the 2017-2018 Lexus Broadway in Boston Season.
The longevity record of the original Phantom is not in jeopardy, I assure you, unless you count the years from Love Never Dies' 1990 germination to its eventual staging twenty years later. Lloyd Webber had many opportunities to see the handwriting on the wall during that time, but kept coming back to the sequel project, despite the fits and starts. After its 2010 West End run, an Australian creative team extensively re-worked the material the following year and the makeover for the national tour hews to that version. However, one basic question about Love Never Dies persists: why?
There is no compelling reason to continue the story that was quite neatly tied up at the end of The Phantom of the Opera, and, in fact, LND calls for the audience to suspend disbelief in several instances, as well as accept that the book plays fast and loose with established aspects of the original libretto. Even if one can believe that the Phantom is still alive ten years later, why would he have left Paris for Brooklyn (setting up shop on Coney Island, no less), and be cared for by Madame Giry and her daughter Meg? It is somewhat credible that he would be surrounded by a troupe of freakish performers in garish costumes, but operating a public concern and showing himself seems out of character. Suffice to say, the Phantom continues to exhibit his well-known personality flaws, his controlling behavior, and his Mephistophelean antics, but Christine Daaé remains his Achilles heel.
Christine (Meghan Picerno) has garnered critical acclaim and celebrity in the opera world and accepts an invitation to travel from Paris to New York to perform at Oscar Hammerstein's (!) opera house. Accompanied by her husband Raoul (Sean Thompson) and their 10-year old son Gustave (Casey Lyons at this performance), they are greeted at the port by swarming paparazzi before being ferreted away in a magical, horseless carriage, purportedly sent by Hammerstein. Once at their hotel, Raoul's drinking and generally disagreeable behavior come to the fore, and we learn that they had to make the trip because the family is in dire financial straits due to his gambling. He is nasty to Christine and virtually ignores Gustave, a far cry from the loving protector we saw in TPOTO.
It comes as no surprise that the hotel is actually part of the Phantom's compound and he soon presents himself to Christine, proclaiming that he has never stopped yearning for her. They reminisce, Phantom meets Gustave, and the boy becomes a bargaining chip for Phantom (Bronson Norris Murphy at this performance) to get what he wants from Christine. From that point forward, there is backstage jealousy, onstage burlesque, a tug-of-war between Phantom and Raoul for Christine's affections, and an ongoing threat posed to Gustave's well-being. The outcome is somewhat in doubt, but overshadowed by so much melodrama that the denouement feels deflated. Paradoxically, it ends with both a bang and a whimper.
Lloyd Webber's score is a mixed bag with his best song sung by the Phantom as the prologue ("'Til I Hear You Sing"). There are snippets of music from TPOTO scattered throughout, but they feel like a tease that make you long for the original. The good news is that the orchestra, conducted by Music Director Dale Rieling, does a wonderful job, an important factor in a sung-through show. Among the principals, the vocals of Broadway veteran Karen Mason (Madame Giry), Mary Michael Patterson (Meg Giry), and Picerno stand out. Lyons' angelic voice and stage presence are impressive, and the large ensemble coheres into a powerful sound.
Love Never Dies is a big, splashy production with outstanding lighting design (Nick Schlieper) that suggests the rides and midway at Coney Island, a turntable, moving set pieces, and eclectic, colorful costumes (set and costume design by Gabriela Tylesova). Choreographer Graeme Murphy combines circus moves with more traditional styles, and director Simon Phillips seamlessly keeps all the parts moving in synch. Lloyd Webber has been quoted as saying that he doesn't think you need to have seen The Phantom of the Opera to understand Love Never Dies. On one hand, I agree with him because LND alludes to some of the back story. On the other hand, I doubt that this show would ever have come about if not for the original. Either way, I'm still shaking my head and asking why.
Photo credit: Joan Marcus (Mary Michael Patterson and Ensemble)