BWW Previews: Linda Lavin Returns To Provincetown's Crown And Anchor
Age doesn't stand a chance of catching up with the busy and multi-talented Linda Lavin. Ms. Lavin is in Los Angeles to film a new sitcom, but will fly to Cape Cod this weekend for two nights of concerts at Provincetown's Crown and Anchor.
Reached for conversation on a rare day off from shooting, the effervescent actress of stage, film and television will return with her band to present her "Second Farewell Concert." Having just played at the fabled BIRDLAND in New York City, this concert is made up of standards, jazz and showtunes. She states the act "changes and grows as I do..it evolves on who I am this year." This time around it centers around women who influenced and inspired her as a young girl, that is the great girl singers of the 40's and 50's who sang the hits of Cole Porter and classic Gershwin tunes. Ms. Lavin continues a 10 year collaboration with the great Billy Stritch on keyboards. She is joined by what she affectionately calls her team or members of her family. Her husband, Steve Bakunas is on drums, while special guest Aaron Weinstein plays violin and arranges some of her selections. Tom Hubbard is on bass and Ron Affif on guitar. The intimate Paramount Nightclub in Provincetown will be a perfect venue for this concert.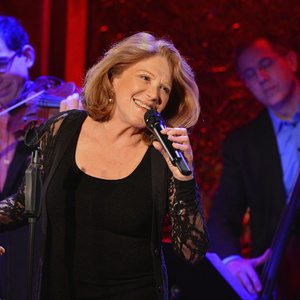 Lavin got her start on the Broadway stage as a chorine in the short lived musical "A Family Affair," directed by Hal Prince. That important collaboration led to a life long relationship with Prince, who Lavin regards as a mentor and close friend. Prince later cast her as Sydney in the musical "IT'S A BIRD, IT'S A PLANE, IT'S SUPERMAN" where Ms .Lavin stopped the show with "You've Got Possibilities." Listening to that cast recording it's clear that her unique voice, with it's jazzy, straight tone was full of wit and coyness that jumps out at the listener. Years later, Lavin released a CD entitled "Possibilities" and has been playing nightclubs ever since.
Lavin is equally at home in straight plays as well as musicals. She won her TONY AWARD in Neil Simon's BROADWAY BOUND. Later she took on Mama Rose in GYPSY, and more recently got to belt our "Broadway Baby" as Hattie in Sondheim's FOLLIES at the Kennedy Center. Last year, hearing that Prince was directing CANDIDE at New York City Opera, Lavin tells how she eagerly phoned him from a train asking if he would cast her as the Old Woman, saying that she and her mother and sister listened to the original cast recording EVERY day. Of course he said yes.
With a total of 6 TONY AWARD Nominations, Lavin has become a Broadway sweetheart. Her masterful timing, along with a deep connection to the audience proves that she can be box office gold. Her latest project for CBS has Lavin paired with Elliott Gould as parents to Mark Feuerstein in "9JKL." Feuerstein is an actor who lives in an apartment building where his parents live on one side of him and his brother and his family on the other side. Lavin describes the experience as " a wonderful show, with wonderful actors and crackerjack writers."
No conversation with Linda Lavin could be complete without mentioning her 9 season stint as the title character in the hit TV show "ALICE." From 1979-1985 Lavin garnered 2 Golden Globe Awards for her portrayal of a single mom making little pay as a waitress in Mel's Diner. Lavin relates how she was representing 80% of women in the country at that time who were working to help support their families, with poor wages. The social issues were real and despite it's comic pretense, Alice was a strong woman's voice at a time when equal pay for women was often not even discussed. Lavin credits much of her future career to the success she had from "ALICE," as well as the financial security she enjoys today and still loves being recognized as Alice.
After nearly 6 decades of life as a working actress and singer, Lavin declares she feels like she is 35 and is "still doing everything I want to be doing." On returning to The Crown and Anchor, she states " there is such an explosive, fun and connective energy at The Crown" that she can't wait to rediscover.
Linda Lavin, along with Billy Stritch and her band, play at The Crown and Anchor in Provincetown on Saturday August 26th and Sunday August 27th at 7pm. Tickets and information is available by visiting onlyatthecrown.com.
Related Articles View More Boston

Stories

Shows