Photos: First Look at Matt Sullivan, Valerie Leonard and More in Olney Theatre's HAY FEVER
Olney Theatre Center, a Mid-Atlantic destination for extraordinary theater performance and education, opens its 2015-2016 season with Noël Coward's Hay Fever, running September 2 - September 27, 2015 on the Mainstage, directed by Artistic Associate Eleanor Holdridge. Check out a first look below!
Hoping for a quiet weekend in the country with some guests, David Bliss, a novelist, and his wife Judith, a "retired" actress, find that an impossible dream when their high-spirited children Simon and Sorel appear with guests of their own. A house full of comedy waits to be ignited as misunderstandings mount and tempers flare. With Judith's new flame and David's newest literary "inspiration" keeping company as the children follow suit, the Bliss family lives up to its name as the 'quiet weekend' comes to an exhausting and hilarious finale worthy of the best classic farce.
This production of Hay Fever is directed by Olney Theatre Center Artistic Associate Eleanor Holdridge. Ms. Holdridge directed the Helen Hayes Award-Nominated production of I and You, featured on the cover of American Theatre Magazine, at Olney Theatre Center in 2014. She has also directed locally at Theatre J, Constellation Theatre, Round House Theatre, Folger Theatre, and Everyman Theatre.
The cast of Hay Fever is made up of an array of Olney Theatre Center veterans and newcomers. The role of Judith will be played by Artistic Associate and longtime Olney veteran Valerie Leonard, last seen at Olney Theatre Center in The Price. The role of David will be played by Matt Sullivan, who has been seen at Studio Theatre and performed in Hay Fever at the Guthrie Theater. Playing Judith and David's children are DC regular Chris Dinolfo and newcomer Audrey Bertaux.
The Bliss' weekend guests include Artistic Associate Jon Hudson Odom in the role of Sandy; Jon was most recently seen at Olney Theatre Center in the Helen Hayes Award-Winner Colossal. Artistic Associates Michael Russotto andSusan Lynskey crash the party as Richard and Jackie respectively. Both were seen last at Olney Theatre Center in Rancho Mirage.Beth Hylton, who was most recently seen at Olney Theatre Center in The Savannah Disputation, will play the role of Myra.Carol Randolph, who has been seen at Shakespeare Theatre Company and 1st Stage, will play the role of Clara.
The Award-Winning Design Team, led by Eleanor Holdridge, consists of Scenic Designer John Coyne, Lighting DesignerNancy Schertler, Costume Designer Kendra Rai, Sound Designer Christopher Baine, Dialect Coach Nancy Krebs, and Production Stage Manager and Artistic Associate Josiane M. Lemieux.
This production is made possible by Production Sponsors Rossana Salvadori and Kevin White and John E. Gibson.
Performances are Wednesday-Saturday at 8:00pm; matinees on Sunday at 2:00pm; Saturday matinees at 2:00pm on Sept. 12, Sept. 19, and Sept. 26; Wednesday matinees at 2:00pm on Sept. 9 and Sept. 23. There is no 8:00pm performance onSept. 19.
Tickets are $38-$75. Discounts available for groups, seniors, military, and students.
Olney Theatre Center is an award-winning, nonprofit, Equity theatre. Located just north of Washington, D.C. in arts-rich Montgomery County, Maryland, Olney Theatre Center offers a diverse array of professional productions year-round. Olney Theatre Center is situated on 14 acres in the heart of the beautiful Washington-Baltimore-Frederick "triangle," within easy access of all three cities. Olney Theatre Center is home to the National Players, America's longest-running touring company and led by Artistic Director Jason Loewith and Managing Director Debbie Ellinghaus. For more information, please visit www.olneytheatre.org.
Photo Credit: Stan Barouh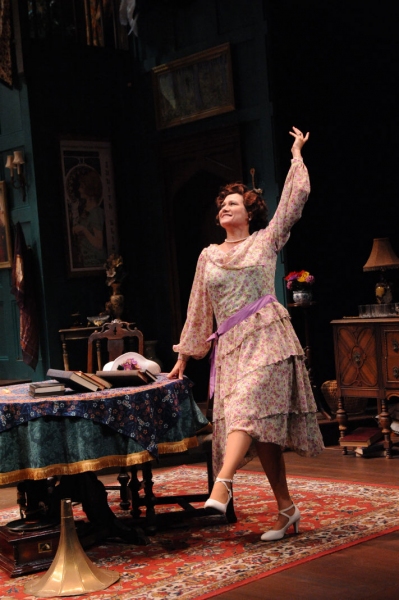 Valerie Leonard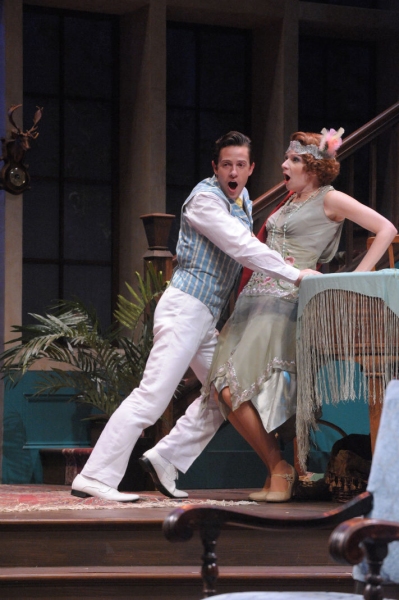 Simon (Chris Dinolfo) and Jackie (Susan Lynskey)

David Bliss (Matt Sullivan), Judith Bliss (Valerie Leonard), and Myra Arundel (Beth Hylton)

Judith Bliss (Valerie Leonard), Sandy Tyrell (Jon Hudson Odom), and Sorel Bliss (Audrey Bertaux)

Jackie (Susan Lynskey) and Richard (Michael Russotto)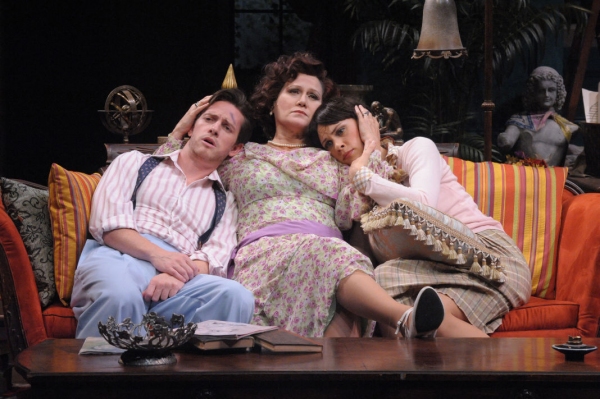 Chris Dinolfo, Valerie Leonard, and Audrey Bertaux