Annalisa Dias Joins Baltimore Center Stage Artistic Staff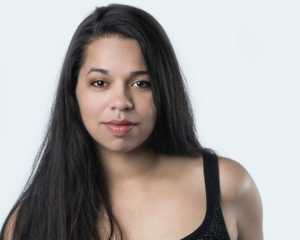 Baltimore Center Stage has announced the addition of award-winning playwright and community organizer Annalisa Dias to its staff. Dias, co-founder of the DC Coalition for Theatre & Social Justice, will serve as the theater's Director of Artistic Partnerships and Innovation.
As the Director of Artistic Partnerships and Innovation, Dias will lead the development of new projects and steward relationships with artists and other cultural organizations. With a critical focus on processes, she will productively disrupt and evolve the ways Baltimore Center Stage facilitates theater-making, centering inclusion and anti-racism principles.
"Within minutes of meeting Annalisa at an industry event years ago, I knew I wanted to work with her in some capacity," said Artistic Director
Stephanie Ybarra
, "In her artmaking, activism, and dramaturgy practice, Annalisa is a values-driven leader with a healthy appetite for laughter (and puns). She's a thrilling addition to the BCS senior team - I feel like the luckiest Artistic Director of them all."

Dias's appointment is part of an unprecedented partnership between Baltimore Center Stage and Long Wharf Theater (LWT), which will begin the national search for its Director of Artistic Partnerships and Innovation shortly. Inspired by a spirit of abundance, the collaboration between the two theaters will maximize the creative resources of both institutions as they work together via these new positions to explore ways of effecting systemic change in artistic development practices.
Ybarra and Long Wharf Artistic Director Jacob G. Padron said in a joint statement, "We are both deeply committed to helping to build an anti-racist theater community, and we understand that it's not enough to shift who is telling our stories; we must also shift how we develop our stories. By working across both institutions to challenge the status quo and share learning, we stand a greater chance of fulfilling the most noble aspirations of our art form."
Dias assumed her position in July. For media inquiries and interview requests, please contact the Baltimore Center Stage press office. A full biography is included herein.
Annalisa Dias is a Goan-American citizen artist, community organizer, and award-winning theatre maker working at the intersection of racial justice and care for the earth. Prior to joining Baltimore Center Stage, she worked for three years at the American Political Science Association advancing issues of diversity & inclusion, with a special focus on indigenous politics. Annalisa is a Producing Playwright with The Welders, a DC playwright's collective; Co-Founder of the DC Coalition for Theatre & Social Justice; and Co-Founder of Groundwater Arts. Her artistic work has been supported by the DC Commission on the Arts & Humanities, the Puffin Foundation, the Keshet Dance and Center for the Arts, the Network of Ensemble Theatres NET/TEN program, TCG's Global Connections program, and the Mead Theatre Lab. Annalisa holds a dual BA from Boston University and an MA from The Catholic University of America. She is a TCG Rising Leader of Color.
Select credits include: WRITING: 4380 Nights, the earth that is sufficient, One Word More, The Last Allegiance, A Legacy of Chains, Crooked Figure, Consider the Dust, Matanuska, Coal, and Servant of the Wind. DEVISING: Wit's End Puppets: Malevolent Creatures; banished? productions: Tyger; Theater Alliance: I Love DC. DIRECTING: Source Festival: Dust to dust to dust and Dressing Bobby Strong; The Salima Project (film). Annalisa's plays have been produced or developed by The Welders, Theater Alliance, Signature Theatre (DC), the Phillips Collection, The Gulfshore Playhouse, the Mead Theatre Lab, The Hub Theatre, Spooky Action Theater, Tron Theatre (Glasgow), and Theatre 503 (London). Upcoming work includes THE EARTH, THAT IS SUFFICIENT, a performance project about hope for the future in the face of the climate catastrophe, produced by The Welders in Washington DC and globally.