Stephen Mosher - Page 2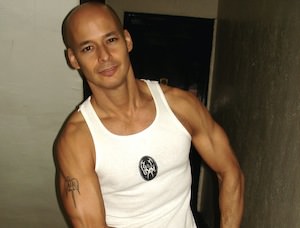 Stephen Mosher is the author of The Sweater Book (a collection of his photography featuring celebrated artists from the entertainment communities of New York, Los Angeles, and London), Lived In Crazy (a memoir about his colorful life and that of his family) and the upcoming Stephen Mosher Stories (a 'best of' collection of four decades of his photography).  He and his husband, actor Pat Dwyer, are the subjects of the romantic marriage equality documentary film Married and Counting (available on Amazon, Itunes, and Youtube).  Stephen was the Health and Fitness columnist for EDGE Magazine online and is occasionally a contributing writer for the entertainment website HOTCHKA.  Aside from his writing, Stephen's other passions are his work as a personal trainer and his family.  Instagram: @dozermosher  Twitter: StephenMosher1  Website: StephenMosher.com
MOST POPULAR ARTICLES
LAST 30 DAYS
LAST 365 DAYS
Barbara Bleier Will Play TOO OLD TO DIE YOUNG At Pangea

March 6, 2023

Critically acclaimed Actor/Singer, Barbara Bleier, returns to the intimate Pangea stage in a new solo show, "TOO OLD TO DIE YOUNG"
---
Christine Andreas Will Play TWO FOR THE ROAD At Café Carlyle

March 5, 2023

Christine Andreas, award-winning singer, actress, and two-time Tony nominee, will return to Café Carlyle for two nights only, April 18 and 19
---
OFF the TOP! with JASON KRAVITS Returns to Birdland Theater March 27th

March 5, 2023

Over the course of an exhilarating 75 minutes, Kravits keeps you on the edge of your seat by using audience suggestions pulled from a fishbowl to create an entire life story in song, with every bit of it - including every lyric and melody - made up on the spot!
---
Photos: February 21st THE LINEUP WITH SUSIE MOSHER at Birdland Theater by Photographer Matt Baker

March 4, 2023

With Natalie Cole, Luke Hawkins, and Billy Stritch leading the way, a starry cast of characters joined Susie Mosher for her latest LINEUP.
---
Review: SAXY SUSIE Clausen Sounds Sweet In Don't Tell Mama Solo Show Debut

March 4, 2023

Some take years to prepare their solo show but Susie Clausen is so in love with her sax that her solo show debut sprung to life in a record three years.
---
10 Videos To Take Us To Heaven Until Donna McKechnie Brings TAKE ME TO THE WORLD to 54 Below

March 4, 2023

After a sold-out run of shows last year, the legendary Donna McKechnie will play three nights of her Stephen Sondheim tribute at 54 Below March 9 through 11.
---
A TRIBUTE TO TINA TURNER AND THE WOMEN SHE INSPIRED Will Play 54 Below March 6th

March 3, 2023

Pier Lamia Porter arrives back in the basement with another quality group show - this one honoring Tina Turner and other powerful women of rok.
---
The New York Pops Announces 2023-2024 Season at Carnegie Hall

March 1, 2023

Steven Reineke-led New York Pops announced this week an amazing lineup for the upcoming season.
---
Photos: Ann Talman Encores ELIZABETH TAYLOR AND THE SHADOW OF HER SMILE at The Laurie Beechman Theatre

March 1, 2023

Ann Talman brought back her lauded tribute to Elizabeth Taylor for a special birthday celebration.
---
7 Videos To Get Us Jazzed For Zoë Van Tieghem In SPRING FLING at The Green Room 42 March 3rd

March 1, 2023

An exciting new jazz act has been playing around town this last year and this weekend they land on 42nd Street
---
10 Videos To Get Us Hot To See STRINGS ON FIRE By Marissa Licata at Chelsea Table + Stage March 5th

March 2, 2023

After making a huge splash with her debut act last year, Marissa Licata is leaving Broadway and heading to Chelsea.
---
10 Videos To Pass The Time Til Mauricio Martinez Brings 5'11, BASED IN NYC To 54 Below

March 2, 2023

Broadway, telenovela, and cabaret star Mauricio Martinez has a new show and some sexy guests at 54 Below.
---
10 Videos That Have Us Drooling Over DIVALICIOUS at 54 Below March 2 - 4

March 1, 2023

Women's History Month starts at 54 Below with two of the greatest women singer-songwriters of all time.
---
Zoë Van Tieghem Will Play SPRING FLING at The Green Room 42

February 28, 2023

Zoë Van Tieghem and Matt Baker will play The Green Room 42 this weekend.
---
Review: Talia Suskauer Flies High In Solo Show Debut at 54 Below

February 28, 2023

It was an auspicious cabaret debut for Broadway singing actress, Talia Suskauer, who hit the heights twice in one night.
---
Photos: JESSE LUTTRELL AT THE TRIAD In The Conor Weiss Lens

February 28, 2023

Jesse Luttrell went big for his big day and The Triad was the place to be.
---
Photos: Lina Koutrakos ONE NIGHT ONLY at Birdland by Conor Weiss

February 27, 2023

Lina Koutrakos welcomed Tom Wopat to join her and her amazing band on the Birdland stage.
---
Castrata Returns With Follow-Up Club Act MUSE VOL. II at Red Eye NY

February 25, 2023

After making a big splash with her big voice in her debut solo show, the tiny titan of drag returns with a sequel
---
Interview: Mauricio Martínez of 5'11, BASED IN NYC at 54 Below

February 24, 2023

Mauricio Martínez returns to 54 Below with a new musical theater-informed club act.
---
Photos: Lauren Elder Presents SONGS AND PEOPLE I LIKE at The Green Room 42

February 24, 2023

Ukulele playing, whistling, songwriting, belting and crooning cabaret artist, actress Lauren Elder, spent a rare night on the New York City nightclub stage this week when she played SONGS AND PEOPLE I LIKE at The Green Room 42 on February 22nd.
---