Stephen Mosher - Page 3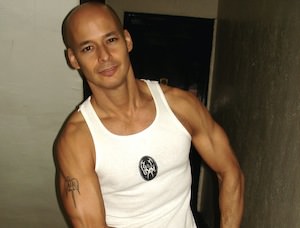 Stephen Mosher is the author of The Sweater Book (a collection of his photography featuring celebrated artists from the entertainment communities of New York, Los Angeles, and London), Lived In Crazy (a memoir about his colorful life and that of his family) and the upcoming Stephen Mosher Stories (a 'best of' collection of four decades of his photography).  He and his husband, actor Pat Dwyer, are the subjects of the romantic marriage equality documentary film Married and Counting (available on Amazon, Itunes, and Youtube).  Stephen was the Health and Fitness columnist for EDGE Magazine online and is occasionally a contributing writer for the entertainment website HOTCHKA.  Aside from his writing, Stephen's other passions are his work as a personal trainer and his family.  Instagram: @dozermosher  Twitter: StephenMosher1  Website: StephenMosher.com
MOST POPULAR ARTICLES
LAST 30 DAYS
LAST 365 DAYS
Review: MAKE THEM HEAR YOU Makes A Welcome Return To 54 Below

February 27, 2023

It's art, it's activism, and it's amazing.
---
Review: Jennifer Holliday Gives 54 Below Audience Truly Intimate DIAMOND SERIES Show

February 22, 2023

Jennifer Holliday closes out season two of the Diamond Series with a stylish, honest, and musically impeccable evening.
---
Marieann Meringolo To Begin Residency at Chelsea Table + Stage Titled A LOT OF LIVIN' TO DO!

February 22, 2023

Marieann Meringolo will present a different show each night at the venue.
---
ROUNDTABLE ON THE ROCKS Will Play The Green Room 42 March 1st

February 21, 2023

Two show business podcasts from oppostie coasts will mashup in a live performance at The Green Room 42 with two special guests.
---
Photos: Lea DeLaria In F*** LOVE at Joe's Pub By Conor Weiss

February 21, 2023

Popular singer/actor/comic Lea DeLaria returned to her home away from home, Joe's Pub, with her Valentine's show F*** LOVE and Broadway World Cabaret's Conor Weiss was there to capture it in his lens.
---
Photos: JUSTIN VIVIAN BOND DELIVERS A JULIE VALENTINE at Joe's Pub by Photographer Conor Weiss

February 20, 2023

Broadway World Cabaret has a new photographer and he has Justin Vivian Bond.
---
Photos: Christina Bianco's Triumphant NYC Return In DIVA ON DEMAND at The Green Room 42

February 18, 2023

After over a year abroad, Christina Bianco was back in town for one night only, but what a night.
---
Review: WREN RIVERA Steps Into Their Superstar Skin In 54 Below Solo Show Debut

February 17, 2023

Wren Rivera made their solo show debut at 54 Below but that which they showed on the stage is not what one expects from a newcomer.
---
Review: Kiki Ball-Change Captures Hearts With MY FUNNY VALENTINE at The Green Room 42

February 16, 2023

Kiki is one smart cookie.  
---
Review: 54 Below Audience Says Yes to NO... MAYBE... WHY NOT by John-Andrew Morrison

February 15, 2023

It may have been billed as his solo show debut but John-Andrew Morrison played it like an old pro.
---
Photos: February 7th THE LINEUP WITH SUSIE MOSHER at Birdland Theater by Chris Ruetten

February 14, 2023

Enjoy Chris Ruetten's photographic look at THE LINEUP.
---
Review: Alex de Suze Brightens Don't Tell Mama With LATE BLOOMER

February 13, 2023

With her solo show cabaret debut Alex de Suze steps into a light that has been waiting for her.
---
Review: CAST PARTY Celebrates Creator Jim Caruso's Birthday At Birdland

February 10, 2023

As the Four Seasons once said, 'Oh, What a Night!'
---
Review: BEWITCHED, BOTHERED, AND RODGERS AND HART at Dizzy's Club Keeps SONGBOOK SUNDAYS On A High Note

February 14, 2023

The best new series to come out of 2022 starts their second season off with precise perfection.
---
Review: Blair St. Clair Aces LEGALLY BLAIR Debut at The Green Room 42

February 9, 2023

One of the RuPaul alumni, Blair St. Clair is, clearly, also an alumni of a musical theater training program.
---
Review: BRIDGE OVER MUDDIED WATERS Gives Cynthia Clarey Auspicious NYC Debut at The Laurie Beechman Theatre

February 8, 2023

Award-winning Chicago cabaret artist Cynthia Clarey debuted in New York City with a personal and timely show.
---
Photos: January 31st THE LINEUP WITH SUSIE MOSHER As Photographed By Chris Ruetten

February 7, 2023

Great American actress and burgeoning cabaret singer Amy Irving stopped by THE LINEUP WITH SUSIE MOSHER last week.
---
Feature: Melissa Errico Speaks Of A NOIR ROMANCE at Birdland Theater

February 6, 2023

Melissa Errico plays Birdland Theater two shows nightly February 10th through the 14th with two shows nightly detailing her NOIR ROMANCE.
---
Feature: TURN THE BEAT AROUND Returns 54 Below To The Disco Era

February 7, 2023

Scott Coulter's Spot-On Entertainment has teamed up with 54 Below to return the Studio 54 Basement to the old days.
---
Lane Bradbury will Present WE MUST REMEMBER THESE MOMENTS at Pangea March 18 & 25

February 7, 2023

We Must Remember This will bring Lane Bradbury back to Pangea with songs and lots of stories.
---
« prev  1  2  3  4  5  6 … 99  next »