Stefani Chudnow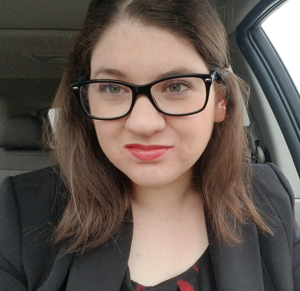 Stefani Chudnow is one of BroadwayWorld Detroit's Contributing Editors, as well as a freelance writer and part of the editorial team at PathologyOutlines.com. In her free time, she is a devoted theatre fan, aspiring author, and media enthusiast. Connect with her on Twitter at @stefanichudnow, on Instagram at @stefani_ruth, or on LinkedIn.
MOST POPULAR ARTICLES
LAST 30 DAYS
LAST 365 DAYS
BWW Review: THE BAND'S VISIT at The Fisher Theatre is a Love Letter to Middle Eastern Music and Culture

April 23, 2022

Now playing the Fisher Theatre through May 1st, recent Tony Award darling The Band's Visit is a musical with a lot of heart and a deeply ingrained mission to unify cultures, rather than divide. The genius of The Band's Visit lies not in flashy musical numbers or costumes, but in the honest (and modest) storytelling.
---
BWW Review: SUMMER: THE DONNA SUMMER MUSICAL at the Fisher Theatre is a Fresh Take on Jukebox Musicals

March 11, 2022

Looking for some 'hot stuff'? From now until March 20th, Summer: The Donna Summer Musical is playing at Detroit's Fisher Theatre. Summer played on Broadway throughout 2018 and later toured North America in 2019.
---
BWW Review: MEAN GIRLS at Wharton Center is a Witty, Sharp Musical With a Powerful Message

March 3, 2022

Broadway's Mean Girls is at Wharton Center in East Lansing until this Sunday, March 6th. Based on the 2004 movie, Mean Girls premiered on Broadway back in 2018 and it went on to be nominated for 12 Tony Awards.
---
BWW Review: SMALL MOUTH SOUNDS at Ringwald Theatre is a Delightfully Unconventional Exploration of the Need to Connect

March 1, 2022

As part of The Ringwald Theatre's comeback season, Small Mouth Sounds is a delightfully unconventional play that you can catch until March 14th. Originally written by Bess Wohl, this dramedy is a fascinating look into the sheer human existence of six individuals on a silent retreat.
---
BWW Interview: Danielle Wade Spills That MEAN GIRLS at Wharton Center is Pink and Fantastical, Yet Universal

February 25, 2022

Mean Girls is making its way to East Lansing in 2022 for the first time ever. From March 1st to the 6th, you can catch this Tina Fey-penned musical at Wharton Center.
---
BWW Interview: Wes Williams Says AN OFFICER AND A GENTLEMAN at the Fisher Theatre Has a Killer Score of 80's Tunes and a Lot of Heart

February 2, 2022

An Officer and a Gentleman, a musical based on the 1982 Oscar-winning film of the same name, is currently playing at the Fisher Theatre through February 13th. BroadwayWorld Detroit had the pleasure of speaking with Wes Williams, who plays Zack Mayo.
---
BWW Review: DISNEY'S THE LION KING at the Detroit Opera House Transcends with Ingenious Costuming and an Epic Score

January 31, 2022

Disney's The Lion King, a groundbreaking musical and the third longest-running musical on Broadway, is in the middle of its nearly month-long reign at the Detroit Opera House, where it will stay until February 20th.
---
BWW Review: DISNEY'S FROZEN Fills Wharton Center with Light and Love

January 29, 2022

Disney's Frozen has arrived in East Lansing for a 2-week engagement at Wharton Center. Until February 6th, you can watch this stunning production as they sing and dance their way through the story that's captured the hearts of millions since 2013.
---
BWW Interview: Jürgen Hooper Says DISNEY'S THE LION KING at the Detroit Opera House is Something Timeless to Behold

January 25, 2022

Disney's The Lion King is coming back to the Detroit Opera House for nearly a month-long run from January 27th through February 20th. BWW Detroit interviewed Zazu actor Jürgen Hooper ahead of their stint in Detroit. Read our interview here!
---
BWW Review: HAIRSPRAY at the Fisher Theatre Dazzles Audiences with a Joyful Score and Gifted Young Cast

January 21, 2022

Through January 30th, the famous Hairspray musical will be 'welcoming you to the 60s' at the Fisher Theatre in downtown Detroit. Hairspray premiered on Broadway in August 2002, and at the 2003 Tony Awards, the show won 8 awards, including Best Musical.
---
BWW Review: HADESTOWN at the Fisher Theatre Weaves a Gracefully Crafted Tale of Love and Devotion

November 26, 2021

Are you up for a journey to hell? From now until December 5th, you can board the train to the underworld at the Fisher Theatre, where Hadestown is playing its very first stint in Detroit.
---
BWW Interview: Kevin Curtis Says IT'S A WONDERFUL LIFE: A LIVE RADIO PLAY at Avon Players is a Warm Story for the Holiday Season

November 23, 2021

It's a Wonderful Life is not only one of the most well-known Christmas movies of all time, but it's also one of the most well-known and highly regarded movies of all time, period. Running November 26th - December 11th at Avon Players is It's a Wonderful Life: A Live Radio Play, which is a unique take on the beloved story.
---
BWW Interview: Jeff LaMothe Says CINDERELLA at Stagecrafters Is the Perfect Feel-Good Musical for the Holiday Season

November 12, 2021

From November 12th to December 5th, Rodgers & Hammerstein's golden age musical, Cinderella, will be showing at Stagecrafters' Baldwin Theatre in Royal Oak. Featuring such songs such as 'In My Own Little Corner,' 'Impossible,' and 'Ten Minutes Ago,' Rodgers & Hammerstein's Cinderella at Stagecrafters will certainly prove to be a superb night of theatre for people of all ages.
---
BWW Review: PRETTY WOMAN: THE MUSICAL at the Fisher Theatre is a Joyous Modern Fairytale

November 5, 2021

Pretty Woman: The Musical, the 2018 Broadway musical based on the cult classic 1990 film of the same name, is playing Detroit until November 14th.
---
BWW Interview: Diane Hill Says SING HAPPY! at Theatre NOVA Celebrates Fantastic Musical Gems in an Intimate Theatre Setting

October 25, 2021

From October 28th to November 7th, Theatre NOVA in Ann Arbor is putting on a production of Sing Happy!. This special show is a celebration of the work of Kander and Ebb, a legendary duo who composed such musicals as Cabaret, Chicago, and Kiss of the Spider Woman, just to name a few.
---
BWW Review: RENT Welcomes Audiences Back to the Fisher Theatre With Electrifying Performances

October 20, 2021

After nearly 20 months of a dark theatre, performances are finally back to the Fisher Theatre with the 25th Anniversary Farewell Tour of the 1996 Broadway musical Rent. Whether you're a newcomer to the show or a longtime fan, you can catch Rent for yourself until this Sunday, October 24th.
---
BWW Interview: Asia Marie Hicks, Phoenix Eldridge, and Joe Bailey Say PUFFS at Ringwald Theatre Will Make You Leave the Theatre Laughing

October 14, 2021

From October 15th to November 1st, the Ringwald Theatre in Ferndale brings you Puffs, a play that serves as a comedic parody of the Harry Potter series. Ahead of Ringwald's premiere, BWW Detroit had the pleasure of interviewing Joe Bailey, Phoenix Eldridge, and Asia Marie Hicks.
---
BWW Previews: Deborah Henson-Conant Partners With Grand Rapids Symphony On a Virtual Performance of INVENTION & ALCHEMY

July 9, 2020

While COVID-19 has limited in-person performances, this Friday (July 10th) at 7 p.m., you can catch the virtual online premiere of Invention & Alchemy, a concert by Grammy-nominated harpist Deborah Henson-Conant and the Grand Rapids Symphony.
---
BWW Review: CHILDREN OF EDEN at Ridgedale Players Sparks Imaginations with a Creative Retelling of the Genesis Story

March 13, 2020

Many of us are familiar with the story of Genesis, but have you ever seen it performed on stage? Whether or not you have, the perfect opportunity to do so is at Ridgedale Players, where Children of Eden is playing until March 22nd. (Click for further details.)
---
BWW Review: NEXT TO NORMAL at Monster Box Theatre Remarkably Portrays a Momentous Story

March 5, 2020

I recently had the absolute pleasure of seeing the Tony and Pulitzer Prize-winning musical, Next to Normal, at the Monster Box Theatre. You too can catch a performance up until March 15th.
---