Roy Berko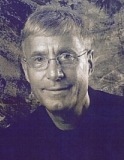 Roy Berko, a life-long Clevelander, holds degrees, through the doctorate from Kent State, University of Michigan and The Pennsylvania State University. Roy was an actor for many years, appearing in more than 16 plays, 8 TV commercials, and 3 films. He has directed more than 30 productions. A member of the American Critics Association, the Dance Critics Association and The Cleveland Critics Circle, he has been an entertainment reviewer for more than twenty years.

For many years he was a regular on Channel 5, ABC-Cleveland's "Morning Exchange" and "Live on 5," serving as the stations communication consultant. He has also appeared on "Good Morning America." Roy served as the Director of Public Relations for the Volunteer Office in the White House during the first Clinton Administration.
He is a professor of communication and psychology who taught at George Washington University, University of Maryland, Notre Dame College of Ohio and Towson University. Roy is the author of 31 books. Several years ago, he was selected by Cleveland Magazine as one of the most interesting people in Cleveland.

MOST POPULAR ARTICLES
LAST 30 DAYS
BWW Review: Spectacular KINKY BOOTS delights at Baldwin Wallace
Posted: Nov. 17, 2019


BWW Review: Brilliant EVERY BRILLIANT THING a must see at Cleveland Play House
Posted: Nov. 30, 2019


BWW Review: Impressive, Startling, Educational LIVE BODIES FOR SALE at Playwrights Local
Posted: Nov. 24, 2019


BWW Review: MEAN GIRLS at Connor Palace(Key Bank Broadway Series)
Posted: Dec. 5, 2019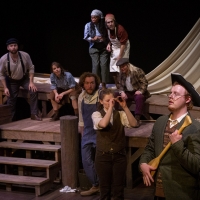 BWW Review: "THE OLD MAN AND THE OLD MOON," an adult fantasy at Dobama
Posted: Dec. 8, 2019


LAST 365 DAYS
BWW Review: Dynamic, Must See HAIR Commemorates Kent State Massacre of 1970
Posted: Nov. 2, 2019


BWW Review: Spectacular KINKY BOOTS delights at Baldwin Wallace
Posted: Nov. 17, 2019



BWW Review: PREVIEW OF THE SHAW FESTIVAL 19
Posted: Feb. 16, 2019



BWW Review: Seeing BW/Beck's wonderful ONCE once, is not enough
Posted: Feb. 11, 2019



Best Theatres In Cleveland: A Guide To The Top Local Theatres
Posted: May. 6, 2019



BWW Review: LIBERACE, well, facsimile, thereof, coming to Cleveland's Theatre in the Circle
Posted: Dec. 13, 2018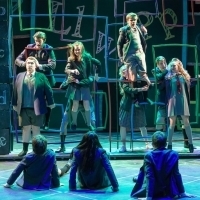 BWW Review: Kids And Choreography Enhance MATILDA At The Beck Center
Posted: Jul. 15, 2019


BWW Reviews: THE SECRET SOCIAL Holds Special Meeting at Cleveland Public Theatre

December 11, 2012

THE SECRET SOCIAL is not traditional theatre. No plot, no social message. All in all the goings on are intended for fun. That is, if you are in the mood to be uninhibited, and just have a great time. It also helps if you and half the audience are looped and let loose with rude and creative comments.
---
BWW Reviews: ANNIE Lights up the Stage at Beck Center

December 11, 2012

This is the time of year that theatres are looking for productions to attract large audiences in order to bring some extra money into the coffers. BECK, for a number of years did BEAUTY AND THE BEAST for their holiday show. This year they opened the classic ANNIE.
---
BWW Reviews: Dorothy Silver and Strong Cast Takes Audience 4000 MILES at Dobama

December 10, 2012

There is an air of an impending explosion about to happen in Amy Herzog's 4000 MILES, now on stage at Dobama Theatre. Interesting, though the artillery never goes off, the 90-minute play captivates and absolutely holds attention.
---
Cleveland Winter '13 Theater Calendar

December 5, 2012

Don't just hunker down during Cleveland's upcoming season of discontent and snow, support the local theatres. BTW…tickets or gift cards to local theatres make great holiday presents!
---
BWW Reviews: Not One But Two NUTCRACKERS the Same Weekend

December 4, 2012

It's that time of year. Local theatres are staging all sorts of holiday fare. Tiny Tims, Scrooges, elfs and Santas are traipsing their way across the boards. And true to form, THE NUTCRACKER is marching and dancing.
---
BWW Reviews: DEBBIE DOES DALLAS, NOT FOR PRUDES at Blank Canvas

December 1, 2012

What does an airheaded, "good" girl from Beaverton Jesuit High School do when she wants to be a Dallas Cowgirl professional football team cheerleader, and she gets accepted, but doesn't have the money to get from Oklahoma to the big city? She and her cheerleading friends, of course, turn to prostitution. That, at least is the premise of the classic porn flick DEBBIE DOES DALLAS, as well as the musical based on that flick. The latter is now on stage at Blank Canvas.
---
BWW Reviews: MIRCLE & WONDER - A Welcome Change From Usual Holiday Fare

November 20, 2012

Ensemble's Stagewright's concept is an excellent means for local playwrights to try out their writing skills, get constructive feedback, and hopefully get their works staged. Congratulations to Jonathan Wilhelm for developing the often delightful MIRACLE & WONDER. Though it needs some refinements, and a more clearly directed concept, it is both entertaining and thought provoking and a change from the usual holiday theatre fare.
---
A Look Behind the Scenes at Inlet Dance's Marvelous Evening of Dance

November 19, 2012

Every once in a while a reviewer has the opportunity to not only see an enthralling dance performance, but to experience it from the inside. I accomplished both when I not only saw Inlet Dance's recent evening of dance, but sat in on a rehearsal.
---
BWW Reviews: HOW HIS BRIDE CAME TO ABRAHAM
November 12, 2012
---
BWW Reviews: GroundWorks Dance is Superb in Allen Premiere

November 1, 2012

This is the 14th season of GROUNDWORKS, the Cleveland area small dance company which has proven to be a local treasure since its inception. In its short history the company has commissioned 19 premieres by nationally and internationally acclaimed choreographers, as well as 26 new works by its founder and Artistic Director, David Shimotakahara, and 8 by former dancer and now Artistic Associate Amy Miller. Its highlight feature is the high level of discipline, purposefulness, and precision instilled by Shimotakahara.
---
BWW Reviews: Thought Provoking A BRIGHT NEW BOISE at Dobama

October 28, 2012

Though the message, due to the abstract nature of the concept of Rapture and religious differences, might turn off some viewers, Dobama's A BRIGHT NEW BOISE, featuring superb acting and focused directing, is a production well worth seeing!
---
BWW Reviews: CWRU/CPH MFA Students Present Delightful MISANTHROPE

October 27, 2012

CWRU/CPH MFA Acting Programs' THE MISANTHROPE is a delightful production of a historic classic.
---
BWW Reviews: Problematic LITTLE DOG LAUGHED at Beck Center

October 21, 2012

THE LITTLE DOG LAUGHED continues the recent trend of area theatres to probe into the gay phenomenon. Though it is somewhat dated due to changing attitudes towards gays in the arts, it still makes for an interesting theatrical experience.
---
BWW Reviews: Browns Win, So Does THE KARDIAC KID at Cleveland Public Theatre

October 15, 2012

Sunday the Cleveland Browns won. Later that day and carrying over to Monday, the city was abuzz. No, the team hadn't won the Super Bowl, the Browns had been victorious in the first game in their last eleven attempts.
---
BWW Reviews: Emotional THE COLOR PURPLE at Karamu

October 14, 2012

THE COLOR PURPLE, which is an appropriate selection for Karamu's mission, gets a good, but somewhat flawed production, filled with some wonderful singing and acting.
---
BWW Reviews: STANDING ON CEREMONY; THE GAY MARRIAGE PLAYS at Cleveland Public Theatre

October 10, 2012

Every era has its controversies. Since theatre represents the era from which it comes, here in the United States, attitudes about the women's movement were presented by feminist plays. The Black movement found African American writers sending forth their messages. Today, with the Gay rights movement in full swing, it is only logical that some of that community's issues reach the forefront.
---
BWW Reviews: Will Rogers Shares Wisdom at Actors' Summit

October 9, 2012

Will Rogers was a great American humorist and philosopher. His understated humor is sage wisdom, but does not make for compelling theatre, in spite of a nice presentation by Neil Thackaberry at Actors' Summit.
---
BWW Reviews: Blank Canvas Stages Thought-Provoking NEXT FALL

October 6, 2012

NEXT FALL continues the Blank Canvas's streak of well conceived productions of challenging scripts. Though viewers may have to set aside their own individual beliefs in order to buy into the play's ending, this is an overall positive theatrical experience and very well worth seeing.
---
BWW Reviews: Disappointing THE WINTER'S TALE at Great Lakes Theater

September 30, 2012

GLT's THE WINTER'S TALE is a disappointment. This is a difficult script to produce due to the many emotional and psychological levels which require a clear staging philosophy. Due to the lack of focused directing by Jesse Berger, the production never sets a clear course and leaves so much of Shakespeare's brilliance untapped.
---
BWW Reviews: THE NORMAL HEART at Ensemble - Emotionally Moving, Expertly Performed

September 29, 2012

Each night during the 2011 Broadway revival of THE NORMAL HEART, Larry Kramer, the author of the script, stood outside the theatre to distribute a letter to members of the audience.
---
32
...