BWW Review: LIBERACE, well, facsimile, thereof, coming to Cleveland's Theatre in the Circle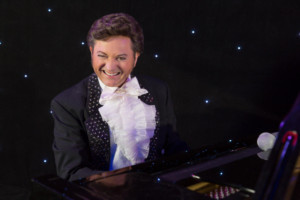 David Maiocco is noted as being a tour-de force solo-performer, who is presently making a career of portraying "Mr. Showmanship," the uniquely American icon, Liberace.
Maiocco, a child prodigy, started playing piano at 3. Quite a feat since his parents were too poor to own a piano. Young David would go to relative's homes for Sunday dinner and play, by ear, the hymns she heard in the church. He didn't have a formal music lessons until he was nine.
Once he started lessons, his happiness turned to fear when the shy young man found that at the end of the year he had to play in a recital. He wanted to quit his lessons.
His father stated, "you are going to see it through and then you can quit."
To the delight of the audience, which had heard a series of classical compositions, by lots of aspiring little Mozarts, his "Pink Panther" received an ovation and resulted in a commitment to continue his lessons, with a dream of playing on Broadway. He has not only achieved that goal, but has been recognized with MAC and Bistro awards as a performer and music director.
Along the way, at age 15 he became a music director, finished his BA at the Boston Conservatory of Music where he was every music professor's nightmare, as he only wanted to play show music, not classical arrangements.
He was working on his master's degree when he was "discovered" by Tommy Femia, a Judy Garland illusionist. Femia at first thought Maiocco, who was in his 20s, was too young to travel the circuit. However, within two weeks of meeting and working with Femia on an AIDS benefit production of the off-Broadway Musical "Whoop Dee Doo!" David joined Femia on the road.
Included in his experiences is accompanying such other gender illusionists as Chuck Sweeney as Peggy Lee, James Beaman as Marlene Dietrich and Lauren Bacall, Steven Brinberg as Barbra Streisand and Richard Skipper as Carol Channing.
Someone suggested that since he had a good ear for impersonating, was a top-notch pianist, played piano with flailing arms and excessive bodily movements, and had a physical resemblance to Liberace, rather than just accompany the gender illusionists, he should mount his own show.
David eventually did develop a Liberace show, which opened an Alice Ripley concert, and the "pseudo" Liberace was born. (Side note: Tony Award winning Ripley is a Kent State University graduate.)
"Liberace!,"which will be staged at Theatre in the Circle, is not the script that Maiocco developed. This version was written by Brent Hazelton, who, ironically Maiocco has never met.
The show has been described as a "moving and highly entertaining tribute to a legendary performer famous for his charm, glitz and glamour. It relives the highs (and lows) of Liberace's prolific life, revealing the real person behind the persona. Interwoven with a rollicking piano score spanning classical and popular music from Chopin to "chopsticks" and Rachmaninoff to ragtime."
As one reviewer stated, it is "A glorious tribute to the uncanny performer and gifted musician."
The musical has been performed in Milwaukee (where Liberace was born), as well as Philadelphia, Phoenix, and Connecticut by other performers.
He first did "Liberace!" in Kalamazoo, Michigan. It was there that the producers of Circle in the Circle saw the production and contracted him to perform in Cleveland.
Recently, David was informed that he was nominated for Broadwayworld.com's Detroit area best actor award, and the production was nominated for best costumes and lighting.
The $20,000 costume collection for the show, which is owned by Maiocco, are exact replicas of Liberace's performance costumes, with some having been built to evoke the Vegas heyday of his career. The wardrobe is specific to Liberace and references to the clothing are written into the script.
Clevelanders can re-acquaint themselves with Liberace from February 14 thru 17, 2019 at The Theatre in the Circle.
All performances are at the historic Judson Manor, 1890 E. 107th St, Cleveland, OH 44106. Curtain times are Thursday, Friday and Saturday @ 7:30 pm and Saturday and Sunday @ 2 pm. Ticket cost: Adults $20, Seniors $18, Judson/South Franklin Circle residents $15, Students $12. For tickets call 216-282-9424 or go to theatreinthecircle.com. There is free parking.
Roy Berko, a life-long Clevelander, holds degrees, through the doctorate from Kent State, University of Michigan and The Pennsylvania State University. Roy was an actor (read more about this author...)