BWW Review: Farcical "Robin Hood" delights at Cleveland Play House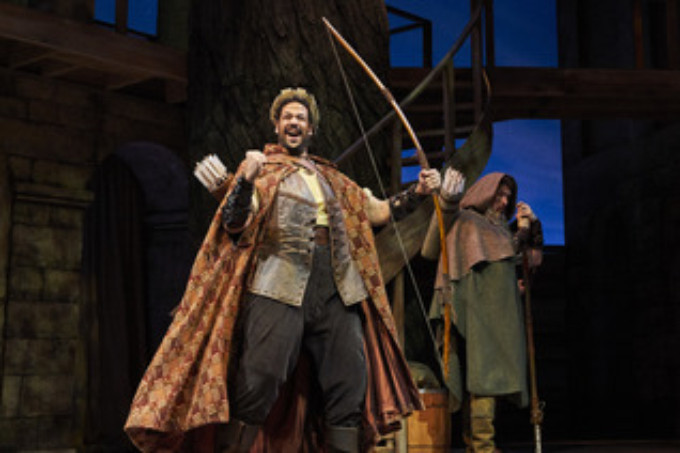 Ken Ludwig's first Broadway play, "Lend Me a Tenor," has been called "one of the two great farces by a living writer." It won three Tony Awards. He has gone on to win another other Tony Award, two Helen Hayes Awards and the Edward Award. It is no wonder, therefore, that plays by the "the purveyor of light comedy has been performed by almost every regional theatre in America."
Ludwig's major works include "Leading Ladies," "Moon Over Buffalo," "The Game's Afoot," "Baskerville, The Sherlock Holmes Mystery" and "A Comedy of Tenors." His musicals include "Crazy for You" and "An American in Paris." Many of these have been seen on CLE stages.
Ken Ludwig's"Sherwood the Adventures of Robin Hood"is a romp full of swashbuckling and romance, and it's also a moving tale of a young man's discovery that everyone has a responsibility to care for his fellow man."
Of course the script, which is set in Sherwood Forest and The Town of Nottingham, England, around 1194, is peopled by Greedy Prince John (Price Waldman) and his bad henchmen-- Sir Guy of Gisbourne, The Sheriff of Nottingham, and the good guys-- the dashing "outlaw" Robin Hood, the band of Merry Men (and women) the lovely Maid Marian, Friar Tuck. Little John, Deorwynn (Andrea Goss) and King Richard the Lionheart.
Knowing a little about England in the twelfth century helps to understand the conflicts that evolve. A quick picture shows that "English society is a feudalist one with a king and royal family at the top, countless peasants and serfs at the bottom and knights and nobles in between."
About a hundred years before this tale enfolds, William the Conqueror, a Norman descendent of The Vikings, earned his title by conquering England. His success set up an on-going battle between the Normans and Saxons. (An excellent abbreviated explanation is contained in the CPH program that is well-worth reading before the play.)
As is the case with Ludwig's other plays, farce and slapstick runs wild. Add sword fights and arrows flying around the stage, direct involvement of the audience, and lots of chaos, and you have the possibility of delight.
To make farce work, a creative director and a disciplined cast is needed. Having an inventive set designer also helps.
Fortunately for the audience, CPH has all the necessary requirements.
Director Adam Immerwahr, has a long resume of directing shows that are "wildly funny and full of heart." His local directing includes well-reviewed productions of "The Games Afoot (Or Holmes for the Holidays)," "A Comedy of Errors," and "Baskerville; A Sherlock Holmes Mystery."
Immerwahr pulls out all the stops for "Sherwood." Shticks, gimmicks and slapstick abound. Swords clang, actors fly around stage with abandonment, sexual innuendoes erupt, ramparts are attacked, actors fall off buildings and are pummeled with glee. It's all in good fun. Farce at its very best.
Misha Kachman's impressive set, complete with a massive tree, platforms, and a revolving center stage which is cleverly used for moving set pieces, fight sequences and acting stunts, becomes as much a performer as a visual delight.
J. Allen Suddeth's choreographed fight scenes are obviously staged, but delight with their well-executed movements. The sequences often not only evoke laughter, but prolonged applause.
The cast is universally strong. The good guys are pure and innocent, and the bad guys are evil to the core. The audience got into the mood of the piece by cheering on our heroes and booing the evil-doers.
Handsome Zack Powell is Robin Hood, swashbucklingly perfect, displaying an impish quality that made the character endearing. Amy Blackman as his lady love, Maid Marian, nicely textures her acting and shows masterful physical moves as the "#Times Up" modern woman before her generation.
As Little John, the physically imposing Jonah D. Winston got laughs on his entrance and got more and more guffaws as the show developed. Our "narrator," Doug Hara's Friar Tuck, led the audience on a delightful journey.
Josh Innerst is so successful in developing Sir Guy of Gisbourne as a bad guy that he got well-deserved "boos" on his curtain call entrance. And Steven Rattazzi is delightfully pseudo-evil as The Sheriff of Nottingham.
CAPSULE JUDGMENT: "Sherwood" is for those who love to laugh at the ridiculous and see a well-written farce performed at the highest level. The staging, the acting, the technical aspects are superb. Go...laugh...escape from the ridiculousness of what's going on in this country and the world, and have a good time!!!
"Ken Ludwig's Sherwood the Adventures of Robin Hood" runs through February 24, 2019 at Allen Theatre in PlayhouseSquare. For tickets call 216-241-6000 or go to http://www.clevelandplayhouse.com.
Next up at CPH: March 23-April 14, 2019) "Tiny Houses," a world premiere comedy in which a couple builds a 200-square foot tiny house to create a "simpler" life. (Outcalt Theatre)