BWW Review: KISS OF THE SPIDER WOMAN at Blank Canvas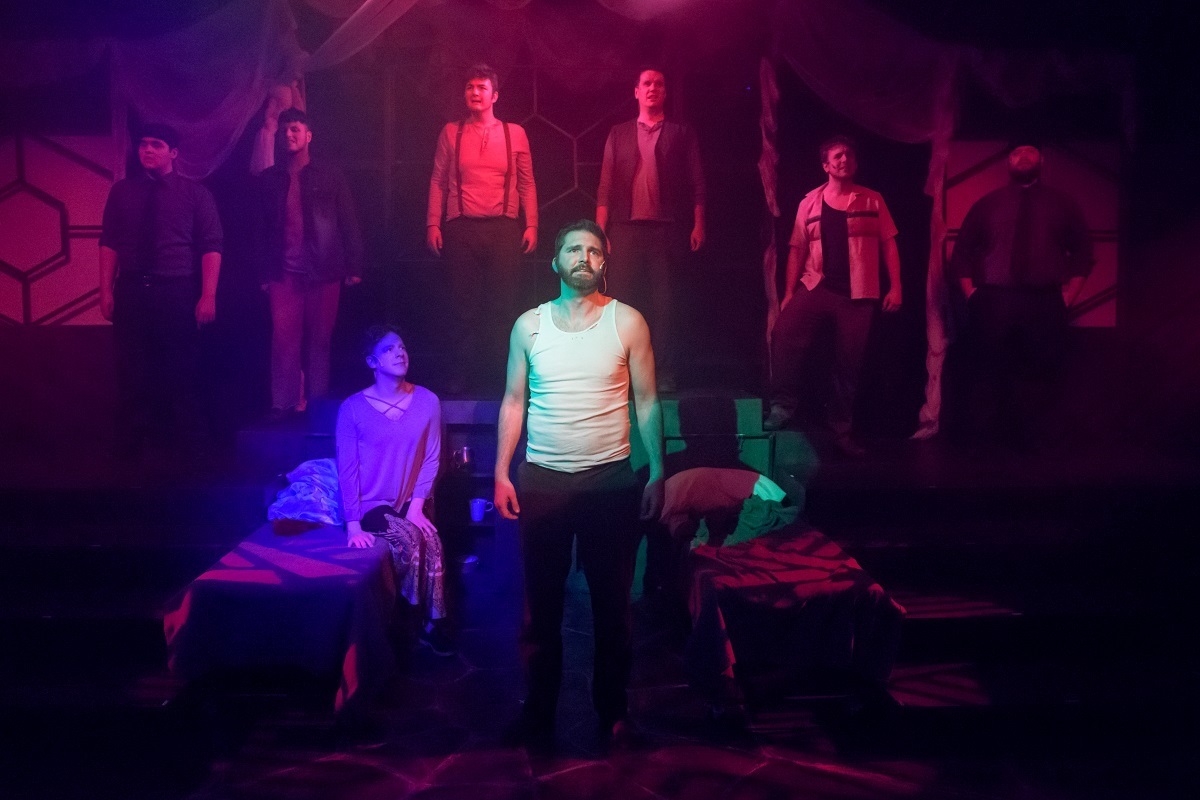 Musicals come in different forms. Musical comedies, such as "Cinderella" and "School of Rock" intend to entertain. Musical dramas--think "Dear Evan Hansen," "Come From Away," and "Hamilton," relay thoughtful ideas in words, song and dance. The musical tragedy, such as "Sweeney Todd" and "The Kiss Of The Spider Woman," which is now on stage at Blank Canvas, finds a "victim" in a society which doesn't understand or appreciate them, resulting in dire consequences.
"Kiss of the Spider Woman,"with music by Oberlin grad, John Kander, and his writing partner, Fred Ebb, the conceivers of "Cabaret" and "Chicago," is based on Manuel Puig's novel "El Beso de la Mujer Araña." The musical won the 1993 Tony Award for Best Musical.
In "Spider Woman," Luis Alberto Molina, an Argentinian, has been sentenced to an eight-year jail term for corrupting a minor. The fey homosexual former window dresser, who has a mother fixation, lives in a fantasy world as a means of escaping the horrors of prison. His obsession is movies which featured Aurora, a sultry diva, who starred in bigger-than life telenovela soap-opera films of high emotion.
In one of her movies, Aurora, as a spider woman, kills her lovers with the kiss of death.
Molina has learned to live with the taunting and sexual impositions of the prison guards, but one day his world is rocked when a new prisoner, Valentin, a handsome Marxist political revolutionary, is cast into his cell.
Valentine, who has been severely tortured, is nurtured back to health by Molina. In order to block out the cries of other tortured prisoners, Molina talks non-stop. He shares his history, his love of movies, his obsession for Aurora.
At first the duo clashes. Valentin draws an imaginary line down the middle of the cell with an understanding that Molina will stay on his own side. Eventually, however, Molina starts to win over Valentin with his story telling and humorous charm.
Valentine is again severely tortured.
Molina again nurses him back to health. In a show of faith, Valentin shares information about his personal life and his revolutionary activities.
In an attempt to get Molina to relate the vital information the warden offers to free him so he can go home to his "ill" mother.
The relationship between the cellmates deepens. Molina is forced to make a decision of whether or not to share the evidence that Valentin has secretly shared, while the "kiss of the Spiderwoman" hangs over the lives of the men.
Kiss of the Spider Woman" is a difficult musical to produce. It requires two exceptional actors to create the roles of Molina and Valentin. Director Patrick Ciamacco was fortunate enough to find the perfect duo.
Scott Esposito develops a Molina who gives just the right level of fey, while not going over-the-top. He is real, accessible, allowing the audience to feel his emotional pain. He has a fine singing voice, which is beautifully showcased in "She's a Woman" and "Mama, It's Me." "Only in the Movies" is a showstopper. His is an exceptional performance.
Michael Snider creates a well-textured macho, yet sensitive, Valentin. His developing affection toward Molina unfolds in a shroud of reality. The duo's affection has an air of authenticity. His strong vocal talents are showcased in "Over the Wall III" and "The Day After That." "Anything for Him," sung with Esposito and Rachel Maria Ines (Spider Woman/Aurora) was powerful. The emotional arching between Snider and Esposito was extremely believable, a necessity for the "realness" of the story development.
The male chorus sings exceptionally well. Their "Morphine Tango" was engaging. The men's dancing generally has an air of clumsiness and lack of spontaneity which adds to their macho, rather than chorus boy image.
Rachel Maria Ines does not have the stage dynamics needed for Spider Woman/Aurora. Though she sings well, and her aerial work is intriguing, she fails to spotlight the firepower to be the subject of Molina's obsession.
Musical director, Bradley Wyner, needs to rethink some of his musical choices. Often, such as in "The Day After That," the singers had to fight with the music to be heard. In general, the heavy handed keyboard pounding was over-the-top. The purpose of the music is to support the singers, not drown them out.
Patrick Ciamacco's metal spider-webbed design is functional and works well to keep the action moving along, as does his precise and nicely-conceived stage movements.
Jenniver Sparano's costume designs, especially as they relate to Spider Woman/Aurora helps develop the image of the character.
CAPSULE JUDGEMENT: "Kiss of the Spider Woman" is a haunting musical drama which generally gets a fine performance. The stellar performances by Scott Esposito and Michael Snider is a master class in musical theater performance. It is a production very well worth seeing!
Kiss of the Spider Woman" runs through March 16, 2019 at Blank Canvas, 1305 West 78th Street, Suite 211, Cleveland. For tickets and directions go to http://www.blankcanvastheatre.com//
Next up at Blank Canvas is "Art" an examination of the world of art and the resulting conflict between three "friends" who are forced to ask question of not only the nature of painting, but the purpose of friendship. (April 5-20, 2019)
Related Articles View More Cleveland

Stories

Shows