BWW Review: PREVIEW OF THE SHAW FESTIVAL 19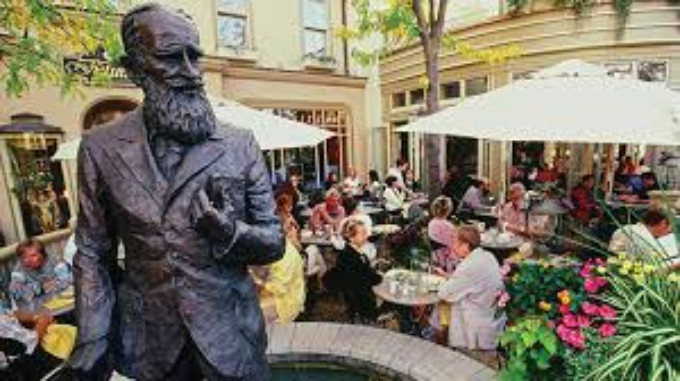 It's still cold and snowing, especially in the eastern provinces of our neighbors to the north, but things are heating up in Niagara-on-the-Lake, home of Canada's Shaw Festival. It's getting closer to "curtain up, light the lights at Shaw Festival 19.

Many Clevelanders take the four-hour drive up to "The Shaw," as it is called by locals, just to participate in theater. Others tour the "most beautiful little city in Canada," eat at the many restaurants and go shopping for Canadian goods. Some take a side trip to Niagara Falls to see the world's water wonder or to gamble. Other go to shoot-the-rapids on the Niagara River. Some go for a round or two of golf. Whatever, The Shaw is a wonderful spring, summer or fall adventure.

It's a good idea to make both theater and lodging reservations early, especially on weekends.
Our home away from home is the beautiful and well-placed Wellington House (www.wellington.house@sympatico.ca), directly across the street from The Festival Theatre, where Karen, and her fabulous breakfasts and immaculate rooms, holds forth. For information on other B&Bs go to www.niagaraonthelake.com/showbedandbreakfasts

?
There are some fine restaurants. My in-town favorites are The Grill on King Street (905-468-7222, 233 King Street), Ginger Restaurant (905-468-3871, 390 Mary Street) and Niagara's Finest Thai (905-468-1224), 88 Picton Street, with Old Winery, (2228 Niagara Stone Road/905-468-8900), a worth-while ten-minute ride from downtown.
Tim Carroll says, of varied play choices in this, his third season as The Shaw's Artistic Director, "I could afford to be bold in my [play] choices, because of the incredible Ensemble there."
The season, which opens on April 6 and runs through December 22, has audiences experiencing musicals, passion, crime, laughter, pure escapism, and romance.
Here are his 2019 theater offerings:
THE HORSE AND HIS BOY-C. S. Lewis's family friendly tale of four runaways-a boy, a girl and their horses, who are called upon to rescue Narnia. (Recommendation: Strongly consider a pre-show workshop that is filled with an exposition of the magic that happens on the stage. A great fun and educational delight for adults and children. April 6-July 21.
BRIGADOON-Lerner and Loewe's charming musical, which contains such songs as "Almost Like Being in Love" and "I'll Go Home with Bonnie Jean" asks, "What would you give up for love?" May 5-October 13.
THE LADYKILLERS-Based on the beloved Alex Guinness film, this comedy is set in post-World War II London where five oddball crooks find out how hard it is to kill a little old lady who is getting in the way of their heist. June 11-October 12.
MAN AND SUPERMAN WITH DON JUAN IN HELL-G.B. Shaw's script which states, "There are two tragedies in life. One is not to get your heart's desire. The other is to get it." Only 17 performances. August 27-October 5.
ROPE-A gripping psychological thriller about two friends who commit a murder and host a party for the victim's friends with his hidden body as the center piece. April 12-October 12.
GETTING MARRIED-Shaw's witty comedy which claims, "Married people should take holidays from one another if they are to keep at all fresh." May 10-October 13.
THE RUSSIAN PLAY (lunchtime one-act)-A small-town flower girl falls for a gravedigger in Stalinist Russia. What can go wrong? About everything! (mature content) June 8-October 12.
CYRANO de BERGERAC-The tale of Rostand's swashbuckling 17th century swordsman who can do anything-except tell the woman he loves, how he feels. July 27-October 20
THE GLASS MENAGERIE-Tennessee Williams' classic autobiographical play which asks if we can ever truly escape the life we have been given. May 22-October 12.
SEX--Margy LaMont, a quick-witted prostitute in Roaring Twenties Montreal, is looking for a better life. This comedy drama got its author locked up for "corrupting the morals of youth." June 21-October 13.
VICTORY-A controversial play set in the aftermath of Charles II's Restoration on the thrown of England. The play may enrage you, but it won't leave you! (Warning: "VICTORY is deliberately offensive. It is not for the squeamish as it contains very strong language.") July 14-October 12.
A CHRISTMAS CAROL-Ebenezer Scrooge is back. "Bah, humbug!" November 13-December 22.
Irving Berlin'S HOLIDAY INN-Fun loving, tap-dancing, romantic comedy with such classic songs as "Cheek to Cheek," "Easter Parade" and "White Christmas." November 16-December 22.
For theater information, a brochure or tickets, call 800-511-7429 or go on-line to http://www.shawfest.com. Ask about packages that include lodging, meals and tickets. Also be aware that the festival offers day-of-the-show rush tickets and senior matinee prices.
The Shaw's social consciousness is clearly stated in their statement: "We acknowledge and honour the land upon which we gather as the historic and traditional territory of First Nations peoples. In particular we recognize and thank the Neutral Nation, the Mississauga and the Haudenosaunee for their stewardship of these lands over the millennia."


Go to the Shaw Festival! Find out what lovely hosts Canadians are, and see some great theater!
Don't forget your passport as it's the only form of identification that will be accepted for re-entry into the U.S.

Related Articles View More Cleveland

Stories

Shows
Roy Berko, a life-long Clevelander, holds degrees, through the doctorate from Kent State, University of Michigan and The Pennsylvania State University. Roy was an actor (read more...)