Roger Martin - Page 2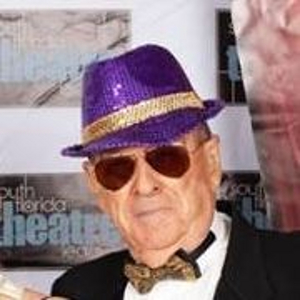 Born and educated in New Zealand. Journalist and radio announcer. Fighter pilot Royal Canadian Air Force. Eastern Air Lines Captain. Actor: AEA, SAG (council member), AFTRA. Playwright: DGA. Carbonell Judges' Committee six years. Carbonell Awards Show Co-producer and MC. Fifty plus years Miami-Dade resident.
MOST POPULAR ARTICLES
LAST 365 DAYS
BWW Review: PETER AND THE STARCATCHER at Slow Burn

November 24, 2017

it's Clay Cartland as the world's favorite pirate captain, Black Stache.
---
BWW Review: LIZZIE THE MUSICAL at Thinking Cap

November 2, 2017

The cast performs with a precision remarkable in a brawling rock and roll musical
---
BWW Review: SHORTS GONE WILD 5 at Island City Stage

August 23, 2017

They're at it again up at Island City Stage, bouncing off the walls, ahootin' and ahollerin' and lighting up the Broward sky with their shattering smiles.
---
BWW Review: THE GOOD THIEF at Ground Up And Rising

August 11, 2017

There's a Dublin thug, a walking knuckle duster with an accent straight from Sheriff Street, on stage.
---
BWW Review: INFORMED CONSENT at GableStage

August 4, 2017

The Grand Canyon's Havasupai tribe are dying out from diabetes. They have a champion. Social anthropologist Ken (Carlos Orizondo) has lived with them, studied them, and written a book about them and he's trying to help them survive. So he brings in a genetic anthropologist Jillian (an outstanding Betsy Graver) to draw their blood and from this discover why the diabetes.
---
BWW Review: FINDING MONA LISA at Actors' Playhouse

July 20, 2017

You think the Mona Lisa's smirking? Well, so do I. She's got that tight little smile because she's survived 450 years of slightly perverted adoration culminating in being whacked by a tossed rock.
---
BWW Review: THE LEGEND OF GEORGIA MCBRIDE at GableStage

May 28, 2017

If you've never seen a drag show, or if you have, or even better, if you've starred in one, you'll love THE LEGEND OF GEORGIA MCBRIDE at GableStage.
---
BWW Review: MARJORIE PRIME at Main Street Players

April 24, 2017

Just watch the brilliant Carol Sussman as Marjorie, sliding through dementia to death and beyond.
---
BWW Review: THE CARETAKER at Zoetic Stage

April 12, 2017

THE CARETAKER is a long play. Plenty of room for brilliant monologues and Pinter's lengthy silences, words left unsaid, emotions implied. A tightening tension building THE CARETAKER to its enigmatic climax.
---
BWW Review: GUYS AND DOLLS at The Wick Theatre

April 7, 2017

There's a lovely presentation of a beloved old musical at Boca Raton's Wick Theatre
---
BWW Review: GROUNDED at Thinking Cap Theatre

April 4, 2017

Oh! I have slipped the surly bonds of earth, And danced the skies on laughter-silvered wings
---
BWW Review: DRY POWDER at GableStage

April 4, 2017

A cynical, wittily written revelation by Sarah Burgess and this production by GableStage captures every greedy spasm.
---
BWW Review: BEAUTIFUL at Arsht Center - It's a Love Fest for Carole King

February 17, 2017

the homage to singer songwriter Carole King, and there were whistles, woo hoos and woots
---
BWW Review: CAROUSEL at Actors' Playhouse - Oh, But I Do Love You, Richard and Oscar

February 13, 2017

...open their revival of 1945's CAROUSEL in a swirl of brilliant costumes, glorious singing, dancing and music from show business heaven.
---
BWW Review: TERROR at Miami New Drama

February 6, 2017

A court room drama that asks how many people can be killed to justify saving the lives of others.
---
BWW Review: SUNDAY IN THE PARK WITH GEORGE at Zoetic Stage

February 1, 2017

A brilliant director has his brilliant cast paint a brilliant picture
---
BWW Review: BETWEEN RIVERSIDE AND CRAZY at GableStage

January 25, 2017

I don't know how many straddle sex heart attacks you might have seen, in real life or otherwise, but I guarantee this is the funniest.
---
BWW Review: CABARET at Broward Center For The Performing Arts

January 13, 2017

The staging is, well, brilliant. Scene changes are seamless, the lighting paints every picture...
---
BWW Review: AN ACT OF GOD at GableStage - Orgasmic Cries to God Now a No No

December 8, 2016

Breaking News: God No Longer Answering Orgasmic Cries For Help
---
BWW Review: AFTER at Zoetic Stage

November 2, 2016

The audience were barefooted when they stood for their standing O at the Arsht's Carnival theatre opening night. Why? They'd just had their socks knocked off by Zoetic Stage's production of After, Michael McKeever's world premiere.
---