BWW Review: QUEEN OF BASEL at Miami New Drama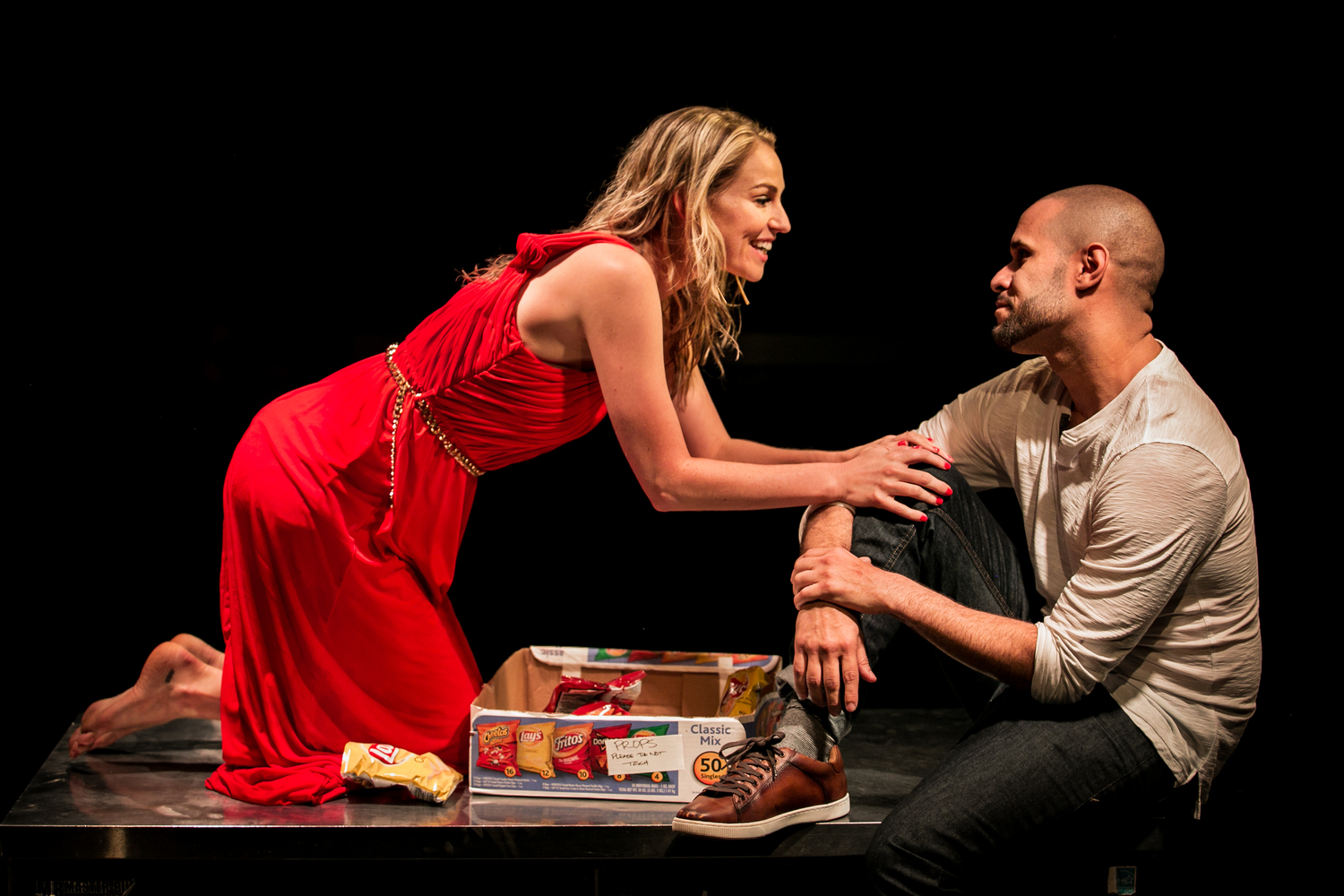 Give the Girl the World...
...and she'll stick it up her nose. That's pretty much the premise of Miami New Drama's QUEEN OF BASEL.
An adaptation of Strindberg's classic MISS JULIE, this new play written by Hilary Bettis at the behest of New Drama's artistic director, Michael Hausman, has Miss Julie as an arrogant Miami socialite, interested only in pleasure and adulation.
In this imaginative and exuberant production by the resident Miami Beach theatre, the one hundred person audience sits in three quarter round on the stage of the Colony Theatre.
Lights up and Betsy Graver as Miss Julie bursts through the outside door leading into the kitchen of a large hotel. It's Art Basel week and she is disheveled, wailing, tears and mascara streaming. The paparazzi made fun of her, her fiancé has left, she has everything and it hurts. If only, if only. She drinks, she snorts. She collapses onto a metal table. Oh, woe.
Christine, (Daniela Bascopé) an hotel maid tries to comfort her, get her to go home. Miss Julie rages. Christine's boyfriend, John, played by Rudi Goblen, arrives, frantic, his car double parked, ready to drive Christine home. And willing, muscles flexing, to first tend to Miss Julie.
And we're off as the rich girl/poor boy play out their Miami stories, heiress v immigrant. John, faithful to Christine, lured by Miss Julie. Can he resist?
Betsy Graver, long blonde hair, scarlet lips, bright red gown and high heeled fm pumps swans from scene to scene. There's excellence in every moment, as she plays tough boy John into a dream, say, Bogota together, the quiet life, wouldn't that be so nice? And I'm so sincere. Yes. Another drink, another toot, secrets screamed, wipe your nose.
But there's a thread of compassion running through this "Queen of Basel" and we care because of it.
Rudi Goblen gives John the authenticity of a man who comes from nothing, knows much and has little difficulty making his own rules. His true love is Christine, he insists, but she is more than merely a Venezuelan refugee.
Daniela Bascopé grows from just a maid, anxious to please Miss Julie's father who is celebrating Art Basel in another part of the hotel, to a woman fully aware of John's nature. An impressive performance.
The seating around the kitchen has three rows of theatre chairs facing across the stage to a row of benches seating other patrons. Intermission is announced by the blare of dance music and the curtain behind the benches drops to reveal the theatre proper, The stage has been extended into a dance floor with mini skirted staffers and their partners gyrating in front of a fully staffed bar. It's a party break, Hausmann style.
Director Michel Hausmann has presented a fascinating multicultural, multilingual show. And don't worry if you don't speak Spanish, anything vital to the story is given in English.
Show values are high. Ika Avaliani's kitchen, with its metal tables, pots and pans, and swinging doors into the hotel, is the perfect field for the emotional battles. The costumes by Liene Dobraja, the lights by Yuki Nakase, and the music and sound by Salomon Lerner are exactly right.
Miami New Drama's QUEEN OF BASEL plays at the Colony Theatre through May 6. 1040 Lincoln Road, Miami Beach. 305-674-1040 http://miaminewdrama.org
Photo: Betsy Graver and Rudi Goblen
Photo Credit: Stian's Production Photos