BWW Review: THE BOOK OF MORMON at The Arsht Center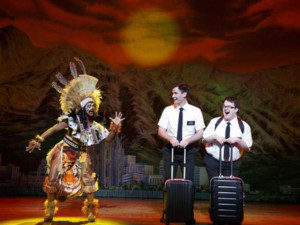 I've Got Maggots in My Scrotum...
...and that's probably the decentest line in the entire "Book of Mormon" the all time irreverentist, funniest, outragiest, precision dancingest, wonderfully singingest, touring America show.
And it played for far too short a run at Miami's Arsht Center.
On an overwhelmingly brilliant set that soared from a neon lighted Jesus on a biblical mountain (golden plates buried here) to the Mormon training school, to a Ugandan jungle, to missionary outposts, native huts and a quick shot of Hell, and of course, Orlando, there was enough eye candy to bedazzle a blind man.
And let me say, right off the top, the thirty-two actors showed musical theatre at its best.
So the young bell-ringing men, Elders of the Church, got their first missionary assignments around the world, and our hero, Elder Price, a pretentious prick with a face, body, and ego unseen in modern times, dreamed of door bashing in Orlando but of course got a village in Uganda. Doubling down on his disappointment was his assigned companion, the short, fat, awkward and probably with smelly armpits, Elder Cunningham.
Robert Colvin was Elder Price and Connor Pierson was Elder Cunningham and these two were brilliant. Performances? I'm adrool just remembering.
At Uganda it's the squalor. There was already a mission in the village but they had yet to save a soul. The leader, Elder McKinley was played to the ultimate flamboyance by PJ Adzima.
Of course there was a local war lord, General Butt-Fucking Naked (Oge Agulue) who wanted to snip the clitorides (clits if you didn't go to med school) of the village ladies. And the village doctor, (Andre-Chance Goddard) who repeatedly self diagnosed the maggots in his scrotum. And much discussion of raping babies to cure aids.
Kim Exum was the village ingenue, Nabulungi, who led the village to salvation.
Plot wise, Elder Price got frustrated, still pining for Orlando, and whilst quitting,was really, really mean to the lovable Elder Cunningham who thought they were bff. But Cunningham sucked it up and preaching his version of The Book of Mormon finally converted the villagers.
Elder Price dreamed of Hell, we were treated to a large xray of The Book of Mormon shoved up his rectum, Price realized what a putz he'd been, and tried to make amends.
Book, music and lyrics by Trey Parker, Robert Lopez and Matt Stone. Directed by Casey Nicholaw and Trey Parker. Choreography by Casey Nicholaw.
The "Book of Mormon" premiered in New York in 2011 and won most every award ever thought of. It's easy to see why.
Produced by Broadway in America at the Arsht Center, 1300 Biscayne Boulevard, Miami. 305.949.6722 http://www.arshtcenter.org