BWW Review: ONCE at Actors' Playhouse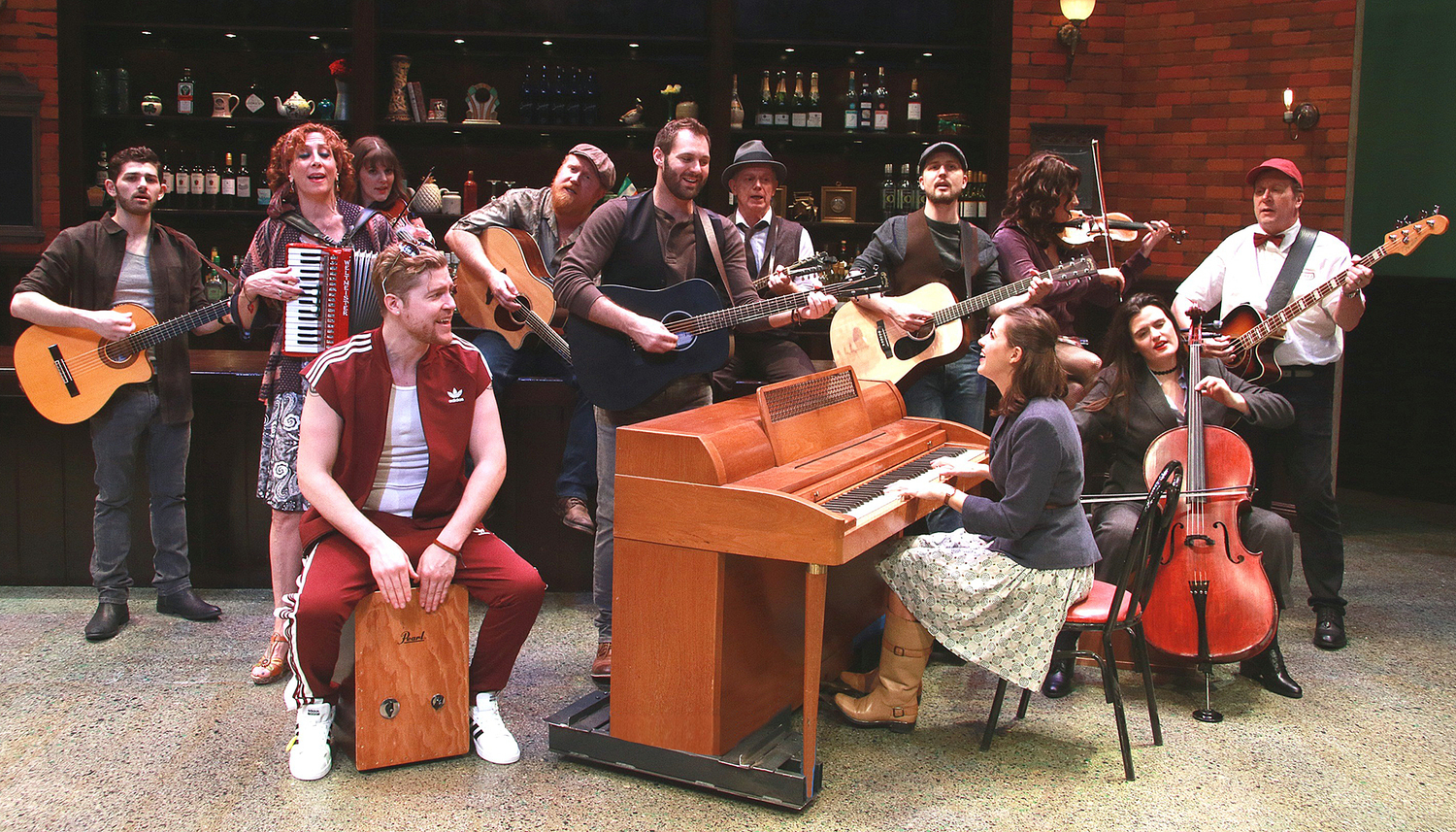 The Musicians' Musical
The Irish/Czech musical ONCE won eight Tonys. That's reason enough to produce it, but when you add twelve terrific actor/musicians, superb choreography and musical staging on a working Dublin bar, and direction by a master of musicals, you've got the positive delight of ONCE at Actors' Playhouse.
These actors play these instruments: Stephen G. Anthony acoustic bass, electric bass, guitar, ukulele; Chris Blisset banjo, guitar, mandolin, percussion; Joanne Borts accordion, concertina, melodica; Cody Craven banjo, drum set, guitar mandolin; Margaret Dudasik violin; Michael Friedman guitar, percussion; Ben Hope guitar; Anna Lise Jensen violin; Andreina Kasper cello; Ryan McCurdy acoustic bass, guitar melodica, piano, ukulele; Elizabeth Nestlerode piano; Barry J.Tarallo mandolin. And of course they can all sing the birds out of the trees.
So there's the set up for everything from foot stomping, axe thrashing to the tenderest of Irish ballads.
Guy, (Ben Hope) fixes vacuum cleaners in his father's (Barry Tarallo) Dublin store, but his heart is with his music. His love has left him for America six months gone. He bewails her, vowing never to sing again, laying aside his guitar one final time. Until Girl (Elizabeth Nestlerode) appears, seriously Czech, and they hit the road to unrequited love, a tale so tender it warms the coldest cockles of the coldest heart. And it doesn't hurt a bit that Girl has the cutest Czech accent, delivered with an I don't give a damn attitude.
There are sixteen song and dance numbers, each delivered with a spirit seldom seen.
Enda Walsh wrote the book with music and lyrics by Glen Hansard and Markéta Irglová.
Jodi Dellaventura designed the bar, remarkable in its authenticity and detail and Jeni Hacker provided choreography and musical staging that lagged not a whit. Ryan McCurdy directed the music, with Shaun Mitchell designing the sound and Ellis Tillman the costumes. Eric Nelson designed the lights and here's my only carp: too much of the show was in the dark. Atmospheric lighting sure, but don't drive me to a white cane.
David Arisco, celebrated thirty years as Actors' Artistic Director with this show. Some party.
And speaking of party, pre show the audience was invited onto the stage to meet the cast and drink from the working bar. This lead into a twenty minute musical session highlighting each cast member. Memorable here was Barry Tarallo singing On Raglan Road.
ONCE plays at Actors' Playhouse at the Miracle Theatre through March 25. 280 Miracle Mile, Coral Gables. 305-444-9293 http://www.actorsplayhouse.org
Photo by Alberto Romeu