BWW Review: IF I FORGET at GableStage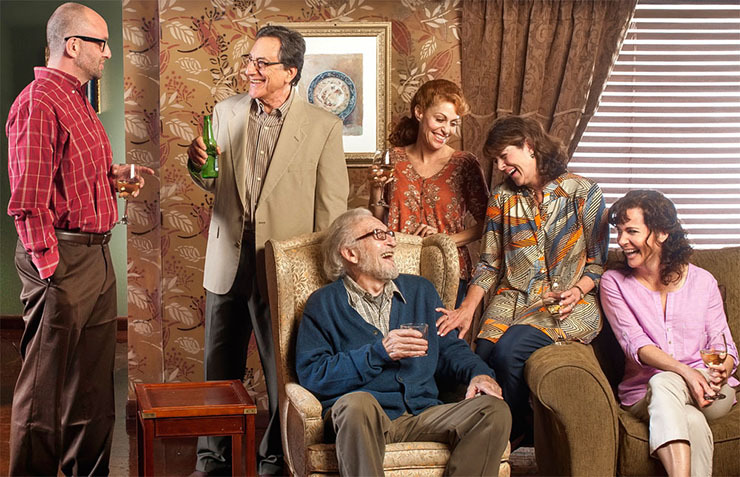 Think you can sit through two hours and fifteen minutes of greed, regret, scorn, defeat, sex, and the Holocaust without sighing and squirming in your seat? Shake your head no if you must, but you're wrong. And Joseph Adler, producing artistic director at GableStage, is right here to prove you're wrong with his mighty production of IF I FORGET...or Family Woes 'R' Us.
Grandpop Lou's having his 75th Birthday, a toss up dead or alive, or maybe a look into your own future, shudder, and George Schiavone has the look, oh, my, and the ultimate WW2 revenge monologue.
Lou's three kids, two women, Sharon (Margery Lowe) and her older sister Holly (Patti Gardner) and brother Michael (Gregg Weiner) have gathered to blow out the candles and bitch over who's been the better home carer. Holly brought her 16 year old son, Joey, (Matthew Ferro) who happily discusses BJs with her, while her wonderfully Mr Obvious husband Howard (David Kwiat) claims step-father immunity. Michael's wife, Ellen (Ame Livingston), the only non Jew in the family, shares an off stage self abusive daughter with Michael.
There are two stories running here. No, I lie. There are a myriad stories. This is a family, remember.
Michael is a University professor who has written a Holocaust book that horrifies most everyone in the world; Gregg Weiner's performance as Michael will impress most everyone in the world. His Michael is a man overwhelmed, tortured by his beliefs and the demands of his family.
Lou owns a store. The income from the low rent helps support him. Margery Lowe's Sharon is desperately single. She cares for Lou, stays with him, wiping the drool. The bathroom? Of course. She's an angel. She hangs around the store, supports the tenants, and has a plan. Being an angel isn't part of the plan.
Patti Gardner's Holly is a happy smart ass with a little chemical aid and a screaming shrew without. Made me want to hide under my seat a couple of times. And of course she also has plans for the store.
And her rotten little son, Matthew Ferro's Joey, is already whining that he should inherit.
Unfortunately, Lou is not yet dead, although he gives a mighty good impression of it, and old guy care is expensive. Michael has put himself out of work and into a $100,000 debt, no care there, but wait, Holly's husband, Howard, is a lawyer and so he's got to be rich, but wait, lust is expensive, and if you want to see rue in all its forms, just watch David Kwiat's face as he tries to explain his inability to help.
But wait, again, do yourselves a favor and watch every face, every minute, for Joseph Adler has assembled the best cast in town for this tough show. There's not a misstep to be spotted.
And with Adler's direction there's no odious soap opera drifting around the beautiful two storey family home, designed by Lyle Baskin. Jeff Quinn's lighting, Matt Corey's sound/music, Ellis Tillman's costumes and Beth Fath's props are all of the best. Hey, this is GableStage. What else did you expect?
IF I FORGET was written by Steven Levenson, last year's Tony winner for Best Book for a Musical for DEAR EVAN HANSEN.
"I believe, in the coming years, we will need theatre, more than ever, to remain a place for difficult questions." - Steven Levenson.
GableStage is renowned for its good stuff and IF I FORGET makes that good stuff great.
IF I FORGET runs through March 4 at GableStage, the Biltmore Hotel, 1200 Anastasia Avenue, Coral Gables. 305-445-1119 http://www.gablestage.org
Photo L-R: Gregg Weiner, David Kwiat, George Schiavone, Marjory Lowe, Patti Gardner, Ame Livingston
Photo Credit: George Schiavone