Roger Martin - Page 3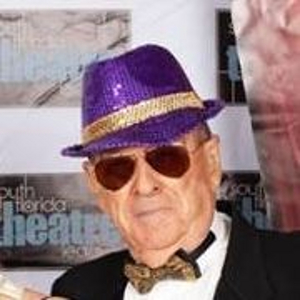 Born and educated in New Zealand. Journalist and radio announcer. Fighter pilot Royal Canadian Air Force. Eastern Air Lines Captain. Actor: AEA, SAG (council member), AFTRA. Playwright: DGA. Carbonell Judges' Committee six years. Carbonell Awards Show Co-producer and MC. Fifty plus years Miami-Dade resident.
MOST POPULAR ARTICLES
LAST 365 DAYS
BWW Review: THE THREE SISTERS OF WEEHAWKEN at Theatre Lab

November 2, 2016

Olga, Masha and Irina, with Natasha close behind, have fled the pages of Chekov, waited awhile in Beckett, and finally found a home in Deborah Zoe Laufer's wonderfully funny The Three Sisters of Weehawken
---
BWW Review: MILLION DOLLAR QUARTET at Actors' Playhouse

October 26, 2016

Take a second mortgage on the dog, whatever you have to do, to get tickets to Million Dollar Quartet.
---
BWW Review: MUD at Thinking Cap Theatre

October 26, 2016

Not a happy piece, but MUD is mesmerizing. As is usual with Thinking Cap's productions.
---
BWW Review: HAND TO GOD at Gablestage

October 17, 2016

Robert Askins' brilliant play, HAND TO GOD...where stereotypical characters are flipped inside out in horrifyingly hilarious fashion...
---
BWW Review: THE GRADUATE at Bag&Baggage

September 13, 2016

She's back, The Seducer of the Sixties, infamous in song and film.
---
BWW Review: THE BOMB-ITTY OF ERRORS at Post5

August 29, 2016

Hip Hop Rap the Bard...Yo!
---
BWW Review: SUMMER SHORTS at City Theatre

June 22, 2016

City Theatre's Summer Shorts Sing
---
BWW Review: THE ROYALE at GableStage

June 7, 2016

From the first punch to the last arms raised high in victory, THE ROYALE is a seventy minute thriller. Black versus white nailed down in a boxing ring.
---
BWW Review: THE REALISTIC JONESES at Thinking Cap Theatre

May 13, 2016

Living up to its reputation for Theatre La Quirke, Nicole Stodard's Thinking Cap is currently running Will Eno's THE REALISTIC JONESES
---
BWW Review: A MINISTER'S WIFE at GableStage

April 21, 2016

A Poet is a Loathsome Thing...
---
BWW Review: OR, at Thinking Cap

February 29, 2016

I know what you're thinking. Come on. Dead easy. "What's an OR,?"
---
BWW Review: UNLIKELY HEROES at Mizner Park

February 18, 2016

The really nice thing is that this is the first world premiere I've seen in a long time that doesn't need editing. A tight one act. It'll go.
---
BWW Review: WEST SIDE STORY at Actors' Playhouse

February 8, 2016

So now it's all here again on the big stage at Actors' Playhouse. There's a cast of 27 directed by David Arisco, the king of big musicals, who doesn't let a flat moment slip into the two hour performance.
---
BWW Reviews: IT'S ONLY A PLAY at GableStage

January 29, 2016

In case you still haven't guessed, IT'S ONLY A PLAY, Terrence McNally's two hour love affair with Broadway and its critics, is funny. And serious at times. And so is the brilliant cast and director.
---
BWW Review: WHO KILLED JOAN CRAWFORD? at Island City Stage

January 27, 2016

These babes would stop a 747 in full flight at thirty-five thousand feet.
---
BWW Review: THE NETHER at Areas Stage

January 21, 2016

There's an extraordinary, unsettling play right now at Area Stage, permeating the theatre with the aura of unforgivable sin.
---
BWW Review RAPTURE, BLISTER, BURN at Zoetic Stage

January 19, 2016

You know that the grass is always greener, that the jealousy dragon has bright green eyes, that you can't go home again, that your generation is the only one that got it right, don't you? Of course you do.
---
BWW Review: THE TRIAL OF EBENEZER SCROOGE at Actors' Playhouse

December 10, 2015

A Delightful Scrooge Brings Christmas to Actors' Playhouse
---
BWW Review: TWO WEEKENDS AND A DAY at New Theatre

December 7, 2015

"It's Personal...Some of It is True"
---
BWW Review: THE IMPORTANCE OF BEING EARNEST at Thinking Cap Theatre

November 27, 2015

It's Camp, My Dear, When Earnest Goes Disco
---