BWW Review: GLORIA at GableStage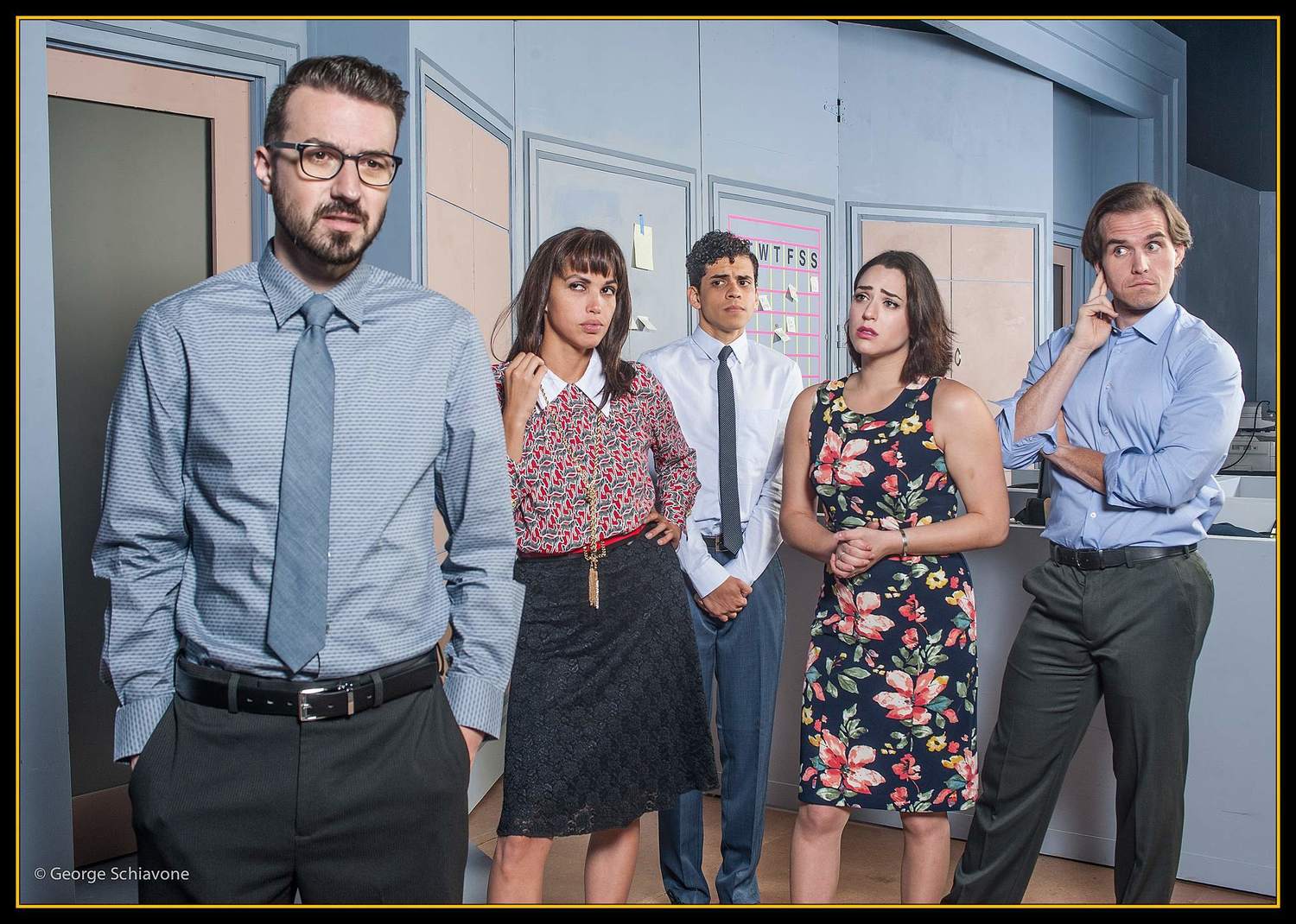 Me! Me! It's All About Me
Ooh, Baby, you better be nice to just every one you meet...or you're gonna be sorry. That's the brain worm wriggling in the air at "Gloria", GableStage's latest show.
GableStage's artistic director, Joseph Adler, has long had a facility for picking plays that bite and this cynical piece, written by Branden Jacobs-Jenkins and nominated for a Pulitzer in 2016 is an enthralling two act evening, that, as usual with GableStage, will not be easily forgotten.
Act One. It's 2010. A hot shot cast: Cliff Burgess, Clay Cartland, Lai-Si Lasalle, Katherine McDonald, Phillip Andrew Santiago, and Sheri Wieseman work for a Manhattan magazine. They're writers, except Burgess, who's reached his, sigh, level as head fact checker and Santiago who's an unpaid intern who hears nothing through his earphones, yeah right.
Gloria (McDonald) is the office schlump, fifteen years never speaking, until the day she buys a house and invites all her co-workers to a house warming, catered, pro bar tender, all in on the hospitality and of course no one shows except a few who "are on their way to other parties" and Cartland. He feels sorry for her, the booze is free, so he is late for work, hungover.
Even later in the office, just been shopping is Lasalle, mouthy, lazy, out of the office on any excuse and never shuts up. She just knows she's sexy.
Weiseman sticks to her desk. She pries, gossips, lays the foundation of almost normal. Oh, please, just shut up. But the chattering is irresistible. And how good is that?
A pop tart has just died, they play her music, it sucks, they fight over who's writing the bio.
Act Two and time has passed. Lyle Baskin's realistic office set is transformed into night in a New Jersey Starbucks. Snow drifts past the windows. Magic.
Santiago is now a tough barista, tending Lasalle and Cartland as they exchange how've you beens and lie and snarl over whose written recollections of recent events are more credible. Things get physical, slap, and Santiago kicks Cartland out into the snowy night. But Cartland returns for his forgotten script and finds McDonald, now playing his former magazine boss, preggo and touting her own memoir of the same events.
And it's several years later, out West, and McDonald's version of the long ago event is about to be made into the defining movie. Ex fact checker Burgess has been hired as an intern, Santiago is now his boss. The more things change etc etc.
And of the four memoirs, (1) I was closest, (2) I know more, (3) no you weren't even there, and (4) don't tell anyone but I was hiding under my desk and my version is hitting the jackpot. Can anyone say greed?
"Gloria" is a Joe Adler show and all that that means: excellent acting, direction, writing and production values. Lyle Baskin's set, Steve Welsh's lights, Matt Corey's sound, Ellis Tillman's costumes, Waldo Washaw special effects and Beth Fath's props are all the bees' knees.
See "Gloria" a most aptly named piece, through May 6 at GableStage, 1200 Anastasia Avenue, Coral Gables. 305-445-1119 http://www.gablestage.org
Photo: L-R Cliff Burgess, Lai-Si Lasalle, Phillip Andrew Santiago, Sheri Wieseman, Clay Cartland
Photo credit George Schiavone