Review: SHORTS GONE WILD 5 at Island City Stage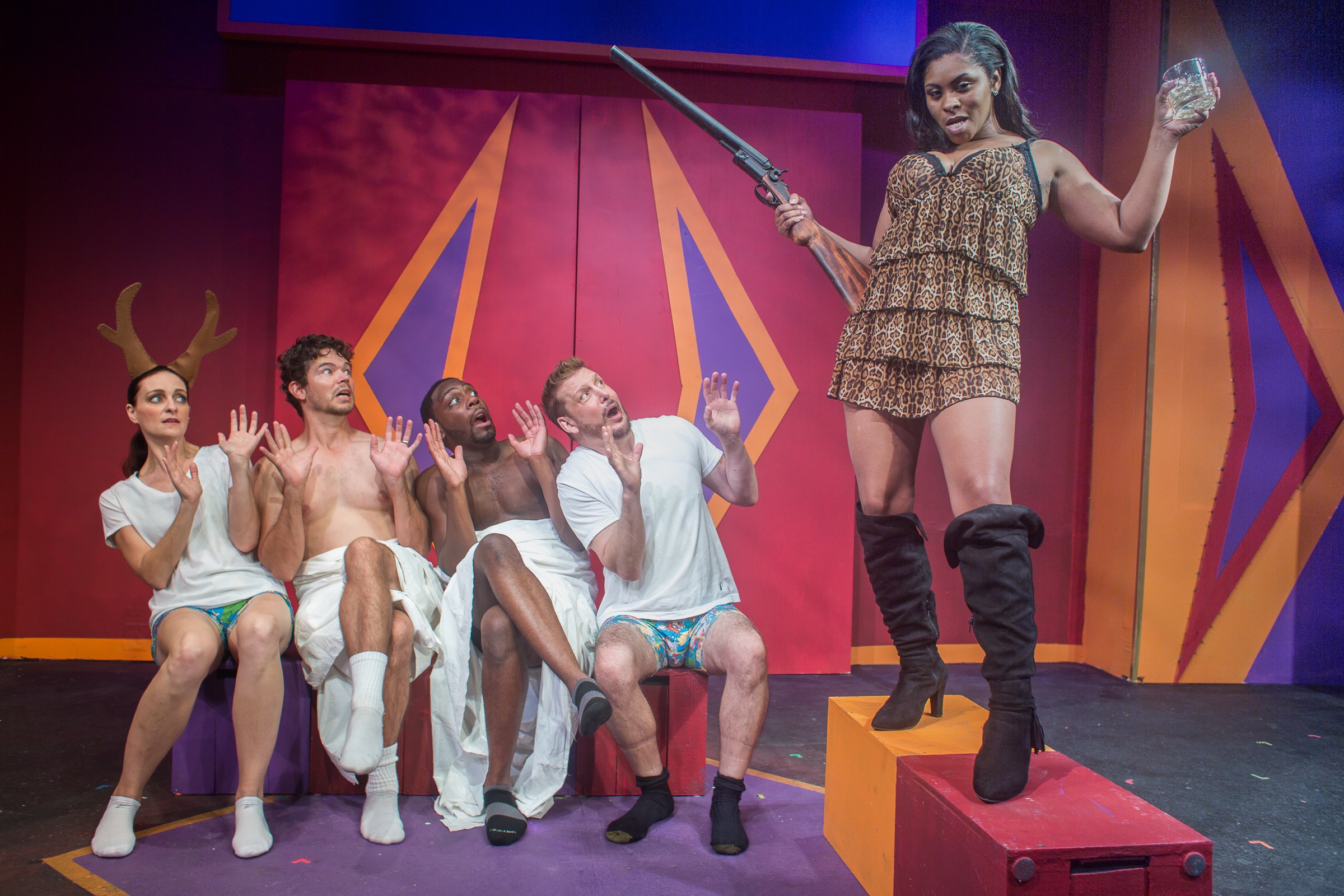 Oh, The Aching Enthusiasm
They're at it again up at Island City Stage, bouncing off the walls, ahootin' and ahollerin' and lighting up the Broward sky with their shattering smiles. They, of course, are the maniacally exuberant cast of SHORTS GONE WILD 5.
A co-production of Island Stage and City Theatre, SGW5 is proof once again that writing a ten minute play is no job for tyros. Or sometimes even seasoned pros. No matter the rocking jollity shaking the stage, the little dances, the groaner jokes, it's tough to fill an evening with the same old tales of love lost, blame you, blame me, and if you can't think of an ending, exit pursued by Willy's bear.
So the scorecard for SGW5 shows three Oh My God Lemme Outa Here, four The Cast Saves the Day and one Gee Whiz Who Wrote That and Hearty Cheers for the Actor.
Best in show is 'Clarity", written by Korde Tuttle, directed by Gladys Ramirez and brilliantly performed by Marquise Rogers. It's a brutal piece filled with a gay man's love, hate, fear and desire as he dresses for his wedding. Irresistible.
In The Cast Saves the Day division, in no particular order, Rita Joe steps into the star part in Michael McKeever's "Carley's Last Call", showing fine stuff as she drunkenly mourns her dead lost love, Lawrence Buzzeo who is reincarnated beside her at a bar. Jordon Armstrong is trying to close up the joint while Christina Groom face plants on the wooden top. Directed by Matt Stabile.
And a funny bit from Michael Leeds who directed his own piece, "So a Rabbi, A Priest and a Minister Walk into a Bar" with Christina Groom as a Rabbi, Jordon Armstrong as a Priest and Lawrence Buzzeo as a Minister, one upping God's quotes. Marquise Rogers is the bartender.
Christina Groom finally gets her chance, reminding us of her talent in the quiet, lesbian inveigling "Persona", with Sabrina Gore right in it as the nervously beguiling newbie. Margaret Ledford directed.
In "The Adventures of Gay Man - Birth of a Hero" the entire cast is on stage with Rita Joe as a bombastic Super Heroes' talent agent, with Christina Groom as her grim secretary, and Jordon Armstrong excelling as an I Can Fly, I Can Fly wannabe Hero. Directed by Matt Stabile.
In the Fleeing the Joint, Screaming, category we've got "Valkyrie in the Roller Derby" with a Valkyrie god with white wings, a winged helmet and a white broadsword, talking love with a Jammer from the roller derby. On skates. Same old love you, love me. Sabrina Gore is the ethereal Viking and Rita Joe the Jammer. Directed by Gladys Ramirez.
Unsurprisingly, "Deja Vue" is quite repetitive, with Marquise Rogers, Lawrence Buzzeo, Jordon Armstrong, Sabrina Gore and Rita Joe discussing acts decent and not so. Directed by Michael Leeds.
Only gravity keeps me in my seat with: "Give Me Space", in which a couple of astronauts lust/love in space. Lawrence Buzzeo and Jordon Armstrong are the slow walking, slow talking unfortunates. Directed by Margaret Ledford.
Andie Rogow is the artistic director for Island City Stage and Margaret Ledford for City Theatre.
Lighting and set by Ardean Lanuis, costumes by Peter Lovello and sound by David Hart.
Good directing, good acting with Jordon Armstrong and Marquise Rogers standing out, an average mix of writing with Korde Tuttle being the exception.
See SHORTS GONE WILD through September 10 at Island City Stage, 2304 North Dixie Highway, Wilton Manors. 954-519-2533 http://islandcitystage.org
Photo L-R: Sabrina Gore, Jordon Armstrong, Marquise Rogers, Lawrence Buzzeo, Rita Joe.
Photo credit George Wentzler