BWW Interview: Artistic Director Marcus Desando on Presenting Second Edition of CANTIAMO - MZANSI OPERA CELEBRATION
Home-grown talent showcases popular opera arias and ensembles under direction of renowned executant
After a highly successful debut hailed as "an operatic musical extravaganza", CANTIAMO - MZANSI OPERA CELEBRATION returns to the Mandela Theatre this month. Directed by acclaimed artistic producer and director Marcus Desando, he discusses with BroadwayWorld his role as director in this celebratory showcase of international and local compositions.
BWW: First off, how did you get involved with CANTIAMO?
Marcus: The CEO of Joburg Theatre and I have been talking for a number of years to somehow have an opera presence on the Joburg stages. That is how we started a conversation around a concert that celebrates South African singers and music, and I came on board as a co-producer and artistic producer.
BWW: A singer yourself, what is it like taking the director's seat?
Marcus: I have been very fortunate that for decades I was able to combine both singing and directing as a career path, for there is no choice between the two. I do however spend more time producing and directing now which still gives me the same kind of fulfillment.
BWW: What was the directorial approach you took with CANTIAMO?
Marcus: I started directing opera in 1996 under mentorship of Angelo Gobbato and since then I have several operas that I directed under my belt. My directorial approach of CANTIAMO is very simple: the voice has to take center stage. My job is to create a wonderful and nurturing experience for the artists while also creating a visual and audio spectacle for the audience.
BWW: CANTIAMO is made up of exceptional local talent. What has been a highlight of working with your performers?
Marcus: South Africa is full of amazing singers that are versatile as well as fearless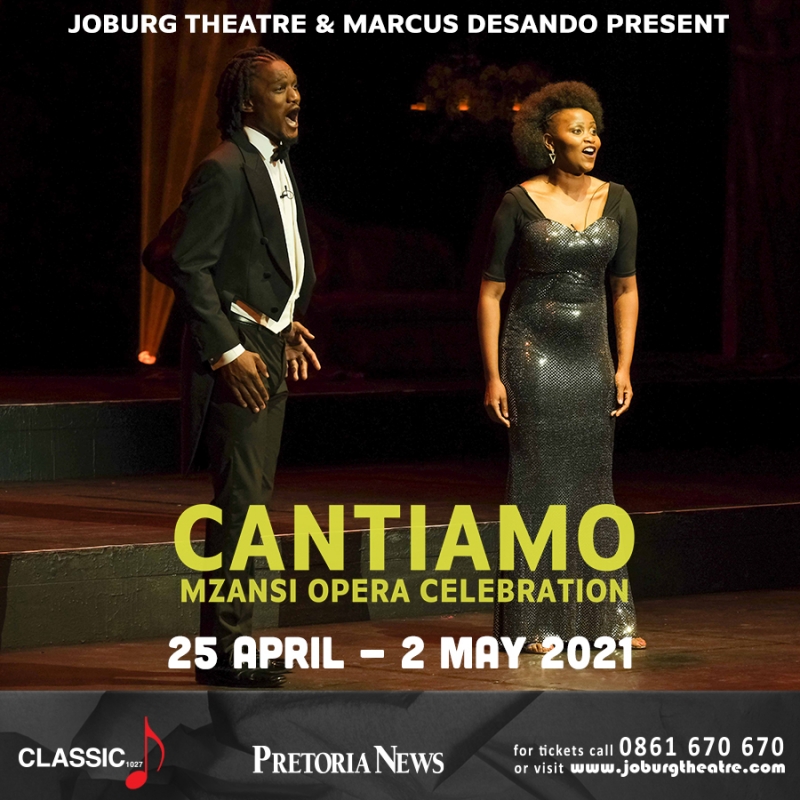 in their approach of their artform. I enjoy that a lot and this group of singers I have had the pleasure of working with for a number of years.
BWW: And have there been any struggles in coordinating the production during lockdown?
Marcus: The biggest struggle - especially with the first CANTIAMO in 2020 - was to get used to the idea of social distancing on stage while trying to make the performance as believable and easy as possible, but I think now we have a little more experience around how to manage the production and it will be easier (we hope!).
BWW: What was it like putting together CANTIAMO'S debut last year during the pandemic?
Marcus: Firstly, one is grateful that we can even think of putting something on stage especially with the lockdowns hitting the live performance the hardest, with so many of our fellow artists not being able to do their work. It was really not too difficult to pull it off as we were all hungry to be on stage again and to share our talents with the general public.
BWW: What can audiences expect from the second time round of CANTIAMO?
Marcus: The audience can expect an even more diverse programme with the Vivacious Sounds Choir taking a more active role by singing more than they did in the first one. We have a very exciting young composer called Mohau Mogale who will have 3 songs of his being performed, and more of the exciting international and South African opera compositions sung by all our singers and choir.
Photo credit: Supplied
---
CANTIAMO - MZANSI OPERA CELEBRATION will be presented Wednesday, 21 April to Sunday, 2 May 2021 at The Mandela Theatre. In line with current COVID-19 regulations, seats are limited. Special discounted tickets at R70 per person are available for the 14h00 full dress rehearsal and the 19h00 preview on Wednesday, 21 April as well as 19h00 previews from Thursday, 22 April to Saturday, 24 April inclusive. Tickets for performances of this special live programme cost R200 per person for all 19h00 performances and Sunday shows begin at 15h00. Book now online at www.joburgtheatre.com or www.webtickets.co.za