Krystof Petrasek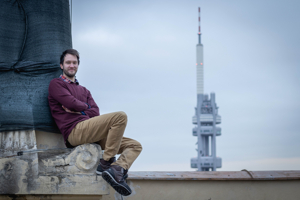 Krystof was born in Prague. His last two years of high school he spent at Rabun Gap, GA at an international boarding school. There he fell in love with theatre, performing in one act plays, musicals and cirque shows. After coming back to Prague he studied English and American studies where he enjoyed studying classical as well as current theatre. He loves opera but his favourite play is Krapp's Last Tape by Samuel Beckett.
 
BWW Review: MY FAIR LADY v Divadle J. K. Tyla

May 13, 2022

Po povedené pražské návštěvě Divadla J. K. Tyla v rámci Festivalu Opera jsme oslovili divadlo za účelem návštěvy jejich domovské scény. Volba padla na klasický muzikál My Fair Lady. Vyplatí se výlet z Prahy na Novou scénu plzeňského divadla?
---
KOČKA NA ROZPÁLENE PLECHOVE STŘEŠE v Činoherním klubu

April 26, 2022

Činoherní klub uvedl 19. 4. 2022 premiéru Kočky na rozpálené plechové střeše. Po Tramvaji do stanice Touha se jedná o již druhou hru Tennesseeho Williamse v repertoáru Činoherního klubu. Na co se mohou diváci těšit?
---
BWW Review: DIVADLO J. K. TYLA NAVŠTÍVILO NÁRODNÍ DIVADLO V PRAZE SE SVOU VĚCÍ MAKROPULOS

March 9, 2022

Divadlo J. K. Tyla uvedlo v rámci festivalu hudebního divadla Opera 2022 v Praze operu Leoše Janáčka Věc Makropulos. Libreto opery vychází se slavné hry Karla Čapka, který dal Janáčkovi ke vzniku textu svolení. V Plzni se hraje vůbec poprvé. Jak se návštěva na pražské scéně povedla?
---
BWW Review: ABSOLVENT v Divadle Na Fidlovacce

February 24, 2022

Divadlo na Fidlovačce odehrálo 12. 2. 2022 českou premiéru hořkosladké komedie Absolvent na motivy novely Charlese Webba, ze které vzešel světoznámý snímek s Dustinem Hoffmanem v hlavní roli.
---
BWW Review: ROMEO A JULIE ve Státní opeře

February 15, 2022

Národní divadlo v Praze odehrálo v budově Státní opery premiéru očekávaného baletu Sergeje Prokofjeva Romeo a Julie. Po moderně zpracované inscenaci Petra Zusky, která se hrála několik let, přichází tradičně zpracované provedení Romea a Julie v choreografii Johna Cranka.
---
BLUDNÝ HOLANĎAN v Národním divadle

January 26, 2022

Národní divadlo odehrálo ve Státní opeře premiéru Bludného Holanďana z pera Richarda Wagnera, my jsme měli možnost navštívit jeho druhé uvedení. Jak se povedlo zvěčnit námořnickou legendu na půdě renovované scény původně Nového německého divadla?
---
KRÁSKA A ZVÍŘE v Národním divadle

January 12, 2022

V pondělí 10. 1. 2022 odehrálo Národní divadlo na prknech historické budovy premiéru očekávané Krásky a zvířete podle textu Františka Hrubína.
---
SEDM SMRTELNÝCH HŘÍCHŮ a OČEKÁVÁNÍ ve Státní opeře

December 6, 2021

Národní divadlo přináší na svou scénu v pěti uvedeních v rámci projektu Musica non grata večer dvou minioper dvou autorů židovského původu, Kurta Weilla a Arnolda Schönberga. Představení jsou to výrazně odlišná a tento krok udeřit diváka dvěma originálními formami za jeden krátký večer je poněkud odvážné. Jak se tato juxtapozice povedla?
---
FANTOM OPERY v GoJa Music Hall

November 27, 2021

Páteční premiéra obnoveného představení Fantoma Opery proběhla bez větších zaváhání. Po dvou letech v GoJa Music Hall nahradila úspěšnou Čarodějku (Wicked) a přináší hned několik překvapení.
---
BWW Review: LAZARUS v Divadle Komedie přináší skvělý hudební zážitek

October 16, 2021

Představení Lazarus v prostorách Divadla Komedie přináší na českou divadelní scénu originální formát, který zde nemá obdoby.
---
Znovuotevřená divadla v Praze

June 1, 2021

Díky zjemnění vládních opatření mohou divadla otevřít své brány. Národní divadlo začalo s prodejem vstupenek před pár dny a nyní hraje vybraná představení ještě před letní přestávkou. Po úspěšných corona inscenacích tak můžeme konečně navštívit klasiku jeho repertoáru.
---
Video: Národní divadlo uvádí balet DOS SOLES SOLOS

March 28, 2021

Po úspěšném uvedení první inscenace z programu Phoenix, baletu PUPPET, přináší tento týden Národní divadlo již druhý baletní kus, DES SOLES SOLOS.
---
Video: Národní divadlo přináší online balet PUPPET

March 21, 2021

V novém roce nastartovalo Národní divadlo v Praze mnoho aktivit, díky kterým se můžou diváci vracet do divadla i za podmínek pandemie. Právě vyšel balet PUPPET v choreografii Douglase Lee. Podívejte se.
---