Kristen Morale - Page 5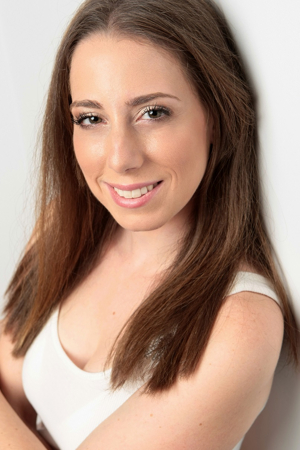 Kristen was born and raised in Brooklyn, and is a graduate of both Saint Francis College and Hunter College, with degrees in English and Musical Theatre. She enjoys going to any show, from community theater to Broadway productions, and especially loves musicals; "The Phantom of the Opera" and "Sweeney Todd" are among her favorites. By day, Kristen is an HR Coordinator but continues to pursue her interest in theater by seeing great performances and writing a bit about them; she's also been in a few shows within both NY and MA. She admires the theater community, and is happy to continue writing for BroadwayWorld. 
BWW Review: Experience the Timeless Magic of the New Vic's THE AGING MAGICIAN

March 7, 2017

In association with Beth Morrison Projects and VisionIntoArt, The Aging Magician now celebrates its off Broadway premiere with The New 42nd Street at the New Victory Theater - a theater dedicated to providing children with quality (and usually fantastic) productions in the very heart of Times Square. The Aging Magician is a sensuous piece that is as much a feast for the mind as it is a tug to the heartstrings. It is enigmatic, almost like being lost in a Tim Burton inspired circus with a need to explain the sadness of nostalgia, mixed in with the wonder of keeping those memories alive; it is a show that is perhaps more magical to adults than to children, adults who can understand the almost ethereal pull of a past one does not wish to be gone.
---
BWW Review: Biting through the Dam with THE PROVIDENCE OF NEIGHBORING BODIES

February 25, 2017

Written by Jean Ann Douglass and directed by Jess Chayes, The Providence of Neighboring Bodies comes to Theater 511 (in association with Ars Nova) for its World Premiere in New York. Featuring a powerhouse cast of only three and a truly thought-provoking plot that gets more intricate the more I think about it, Providence brings a lot of great artistic decisions together in such a small space, and in so short a time. The play's two main characters are like two sides of the thought process: one side allowing the open-mindedness and electricity of life permeate its every fiber, while the other dwells on the certainty that everything about its life (in Providence) is just not very promising.
---
BWW Review: Good Things Come In Three's with American Bard's VISIONARY VOICES

February 19, 2017

Directed by Aimee Todoroff and Tonya Pinkins and now in performances at the Gloria Maddox Theatre, Visionary Voices begins with Susan Glaspell's Trifles, followed by Marita Bonner's Exit: An Illusion and ending with Glaspell's The People - three wonderful plays that are more engaging and poignant in their single acts than many full length shows ever have the opportunity of being. All three plays take place at or near the start of the twentieth century, craftily combining themes as relevant today as they were then - collaborating with suspenseful plots, troubled characters and questionable motives that, when put together, show just how clever Todoroff and Pinkins are. In both the structure of this show as a whole and the effect it has on the audience, the truth here is that Visionary Voices is more than a statement - it is definitely a production worth your time.
---
BWW Feature: Vengeance Has a Face in CRUEL INTENTIONS: THE MUSICAL

February 13, 2017

Cruel Intentions takes Choderlos de Lacios' eighteenth century novel Les Liaisons dangereuses and brings themes of incest, manipulation and vengeance to new heights. Substituting ex-lovers with rivaling siblings and married women with virgin ingenues, Kumble gave turn of the century audiences the story of Kathryn Merteuil and Sabastian Valmont, teen step-siblings and lovers who make sport of ruining people's lives. Cruel Intentions has left such an impression on the minds and hearts of people everywhere…especially people like Jordan Ross and Lindsey Rosin
---
BWW Review: Theater2020's SWEENEY TODD Triumphs No Matter Which Way You Cut It

February 13, 2017

Directed and choreographed by Judith Jarosz (who is also one of the theater's two Producing Artistic Directors) and with music direction by Tom Mcdonough, Theater2020 brings a beautifully executed production of Sondheim's musical to the first professional theater in Brooklyn Heights. With the slogan that boasts of 'visions for a new millennium,' the group continues its 2017 Winter Season in the confines of the First Unitarian Society of Brooklyn's intimate chapel - an ideal place for Sweeney for those of you who chuckle at the irony. With a cast made up of Equity and non-Equity members alike, Theater2020's current production proves that the effect of truly great theater can be had in the mere simplicity of a great performance.
---
BWW Review: Think Big with THE BIG BROADCAST ON EAST 53rd at the TBG Theatre

February 5, 2017

In association with Playalinda Productions, playwright Dick Brukenfeld and Director Charles Maryan come together to present the World Premiere of The Big Broadcast on East 53rd, now in performances at the TBG Theatre (actually off of 36th Street), What I can only describe as one whirlwind of a show that manages to keep both one's physical and mental momentum moving, Broadcast is performed on a small stage on which actors with big talent, big presences and big personalities romp around as though it were a playground where the imagination runs rampant.
---
BWW Review: A Victory of a Performance with ELEPHANT & PIGGIE'S WE ARE IN A PLAY!

January 29, 2017

Recently arrived for its off-Broadway premiere at the New Victory Theater is Mo Willems' musical extravaganza 'Elephant & Piggie's We Are in a Play!,: written especially for the little guys in a theater that caters to children of all ages. When not watching their children squeal with laughter, even adults can't help but get in on the fun they will be having by watching Elephant, Piggie and other colorful and exciting characters turn an ordinary day into quite a memorable one. Happening now at the New Victory, New York City's only theater that is dedicated to bringing children the magic of live performances, audiences can now see six-time Emmy winner and New York Times bestseller's six-book series on stage, brought to life by an upbeat and wildly catchy score by Deborah Wicks La Puma and talented actors who have enough energy and pizazz in their step to make an entire theater of children immensely happy.
---
BWW Review: Holding On to Holden at the New Ohio Theatre

January 11, 2017

One can only imagine why a person chooses to write, filling the desolate borders of blank pages with untold stories; one can only imagine the reasons. It probably more often than not has to do with a need to create and less so the recognition or desire to see what comes of it. To dedicate a life to words and giving them the power of the soul's expression is something truly special, especially when fact and creation collide in a beautifully turbulent way. Holden, written and directed by Anisa George, is the first time an audience can see reality and fiction so intertwined to tell the various stories of a single life, shown by characters who are, to quote Fitzgerald for a moment, "within and without." Now being performed at the New Ohio Theatre, Holden brings about the complexities of late author J.D. Salinger's life through personal issues that arose because of those words he shared with the world…and those he chose not to.
---
BWW Review: Life and WHAT WE WANTED at the Clurman Theatre

January 7, 2017

Written by David Harms and directed by Drew Foster (in association with Skyhook Productions LLC) for its current run at the Clurman Theatre (NY's Theatre Row), What We Wanted is truly one of the most intriguing plays I have ever seen performed. After a few moments' adjustment in understanding exactly what is happening, followed by a brief evaluation of whether the family scene before us is acceptable or slightly unsettling, the characters simply become people whose lives are unraveled before the audience to reveal bare, confused human beings affected by the absurdity of life, just as everyone is.
---
BWW Review: The Re-Imagined Beauty of New Ohio Theatre's A CHRISTMAS CAROL

December 23, 2016

Adapted by Matt Opatrny and directed/choreographed by Jessica Burr, the eleven-member troupe Blessed Unrest recently opened A Christmas Carol at the New Ohio Theatre. This "theatre for the adventurous" comprised of a diverse ensemble that brings new and bold productions to NY audiences, brings a unique and surprising experience to those expecting a traditional retelling of Dickens' novella. So saying, this is a tasteful yet eclectic and unique experience indeed; Opatrny and Burr prove that they understood the true essence of the original story while also showing that they clearly had a wonderful time bringing their creative vision to life.
---
BWW Review: What it Means to Live with Origin Theatre Company's POISON

November 19, 2016

Poison brings two people together in a cemetery to discuss the desecration and movement of their son's grave, as part of the cemetery's plan to expand. In a style that is incredibly that of Waiting for Godot, this divorced couple comes together and must wait for the person who will come speak to them about their son's grave; of course he doesn't show up. Not having seen or heard from one another in ten long years, they awkwardly await the man that is to save them from their discomfort of being reunited; when he never arrives, they begin to talk about the past.
---
BWW Review: The Bond of Friendship Remains Unearthed in Panettieri's A BURIAL PLACE

November 8, 2016

Presented by New Light Theater Project, in association with 5000 Broadway Productions, A Burial Place recently opened at the Dorothy Strelsin Theatre and marks Director Joey Brenneman's third collaboration with its playwright. This play, representing what true camaraderie is among three childhood friends who come together for a much anticipated night of fun, in its simplicity really brings up quite a few thoughts about what friendship really means; it also made me quite curious to know how the idea for this plot came about. True friendship is almost an agreement among people to share the essence of themselves with others who are either like them or make the world a bit more pleasant because others are part of their existence; it creates a bond that, even if not renewed, stays in unquestionable tact. But does it ever go too far - what happens if who you are, what you try to be and try to understand makes the whole thing just too difficult to bear? What if friendship becomes more of a burden than a joy, especially when you can't know why the past continues to haunt you so?
---
BWW Review: Bon Jovi Brings It Home with Live Listening Party at the Barrymore

October 21, 2016

Jon Bon Jovi has been making the world that much more special with his music for more than thirty years, and the listening party on October 20th to promote his newest album proved that he isn't quite finished rocking it yet. As an introduction to the band's fourteenth album entitled This House is Not For Sale (to be released on November 4th), Bon Jovi chose the historic Barrymore Theater on West 47th Street in Midtown to play his album in its entirety to an intimate yet practically sold out house of fans both old and new. And as he said during the concert, to those who were either there for the entire journey or those who just joined the party, he gladly performs for all those who are willing to listen to what he has to say.
---
BWW Review: The Stake is Raised High in Provincetown Theater's DRACULA FOR DUMMYS

October 18, 2016

Did you ever wonder what would happen if the traditional Dracula story was made into something so perfectly absurd that it actually turns itself funny? If what is meant to be a frightening tale of the undead becomes a wacky, Barbie doll- infested, cross-dressing adventure that brings the quest to defeat the rather attractive Count Dracula to an entirely new level? Whereas the typically eerie feel of the Dracula tale will cause quite a few goose-bumps, Dracula for Dummys at the Provincetown Theater will bring on a major tingle of excitement because of how freakin' fun it is to be a part of this unique experience.
---
BWW Preview: Take a Bite of DRACULA FOR DUMMYS at the Provincetown Theater

October 8, 2016

Vampires have become such an essential part of American culture, even if they are only fictional beings; from one of the first allusion to them in Polidori's The Vampyre to more modern takes on this age-old creature, it is amazing how vampires have become the talk of the town - the town being in movies, the written word and now, in this premiere on Cape Cod. DiVincenzo understands their importance, making reference to the Lugosi's famous film legacy. 'I feel like it's a timeless story. Dracula is an icon. I think it's an indelible mark that 1931 film made in our culture. What we're giving [audiences] now is a much younger approach to the Dracula story.'
---
BWW Review: The Wonder of Fright Rises with Cape Rep's THE WOMAN IN BLACK

September 30, 2016

Many of you may be familiar with The Woman in Black due to it being the second longest running play in London's West End (twenty-nine years strong), or perhaps you were pretty spooked by the 2012 film starring Daniel Radcliffe. However you were lured to see this production, Susan Hill's and Stephen Mallatratt's simple masterpiece of a true English horror story, one without gore or unnecessary violence, really makes for quite an intriguing production. Directed by Damian Baldet, who appeared in last season's Outside Mullingar, Cape Rep's The Woman in Black tests our mental reflexes as the battle between belief and disbelief ensues - as the senses are both heightened and chilled by the story surrounding this mysterious woman who haunts and kills, and who is scaring more than just the superstitious townspeople.
---
BWW Preview: The Cape Cod Theatre Company Presents ON GOLDEN POND

September 13, 2016

The Cape Cod Theatre Company, home of the Harwich Junior Theatre, is pleased to bring Ernest Thompson's beloved 1979 play On Golden Pond to its stage as the first show of its anticipated fall season. Thompson's play, which was made into the well-known 1981 movie starring Henry Fonda and Katharine Hepburn, will run as a CCTC main-stage production from September 16th thru October 9th, under the direction of Susan Kosoff.
---
BWW Review: ALABAMA STORY Brings an Intriguing Southern Tale to WHAT

September 8, 2016

Alabama Story, which recently opened at the Wellfleet Harbor Actors Theater, begins and ends with the simple, child-like need for the characters to both tell and beckon the audience to prepare for a story: a story that tells of the South but deals with much that is not southern in nature, a story that was not meant to turn into anything other than something with a happy ending. Alabama Story tells a story of people who have stories, make up stories, and never saw the proper end to their stories: all taking place in the turbulent years leading up to the 1960's.
---
BWW Review: You've Got Us Sold with BUYER and CELLAR at the Provincetown Theater

August 31, 2016

When a play like Buyer and Cellar is written, a show about aspiring actor Alex Moore who finds himself employed by Barbra Streisand to work in her basement mall, you actually become grateful that someone not only thought of such an amusing idea, but also managed to almost effortlessly turn it into some sort of ingenious production. When you see a single actor take the audience so willingly through the ins and outs of the most interesting job anyone will ever have, you have a feeling the show will be great. You have this sort of "how come I didn't think of that" moment, followed by moments of wondering how such an idea can possibly make its way to the stage. Give up thinking about it because you're not going to actually see the brilliance of Buyer and Cellar until you see it brought to life by the Peregrine Theatre Ensemble.
---
BWW Review: Watch It Ensnare Us All with THE MOUSETRAP at Cape Playhouse

August 28, 2016

With a small yet stellar cast directed by Pamela Hunt and finishing the Playhouse's 90th season as its final full length production of the summer, there is so much to love about this production of Christie's classic The Mousetrap. Honestly, if you don't enjoy it, you really aren't following the story close enough. From enigmatic characters, all whom are just about self-incriminatingly suspicious from the very start, to a plot that you will try your utmost to decipher while the facts are laid out bare before you, Hunt and her cast have truthfully really created quite the masterpiece with this production
---
« prev 1  2  3  4  5  6  7  8 … 10  next »