Kristen Morale - Page 5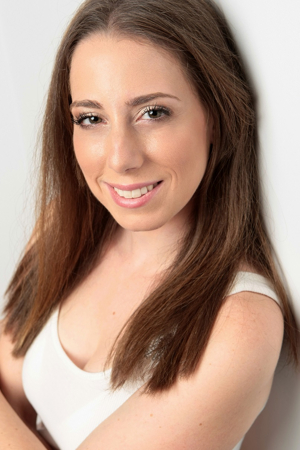 Kristen was born and raised in Brooklyn, and is a graduate of both Saint Francis College and Hunter College, with degrees in English and Musical Theatre. She enjoys going to any show, from community theater to Broadway productions, and especially loves musicals; "The Phantom of the Opera" and "Sweeney Todd" are among her favorites. By day, Kristen is an HR Coordinator but continues to pursue her interest in theater by seeing great performances and writing a bit about them; she's also been in a few shows within both NY and MA. She admires the theater community, and is happy to continue writing for BroadwayWorld. 
MOST POPULAR ARTICLES
LAST 30 DAYS
LAST 365 DAYS
BWW Review: The "Hart" of Theater Beats for Peregrine's CHICAGO

August 10, 2017

When the unconquerable Billy Flynn and the ensemble sing of that "old razzle dazzle," they sing of corruption and deceit - of wicked things turned into truth when presented in just the right light. Under the pretense of being decent in a world of easy exploitation and unremorseful women, Billy's smile is a falsity he doesn't care to hide - his performance as showy as the lights which illuminate the stage. Transforming the lives of the potentially dead murderesses of Chicago into a form of entertainment for the masses is manipulation at its core - it is just one of the reasons Kander and Ebb's Chicago has remained one of our favorite musicals for so long. Now, we can all be grateful for Peregrine Theatre Ensemble's current production of the longest running American musical in Broadway history, happening right in the heart of Provincetown.
---
BWW Review: GENERATION ME Captivates at New York Musical Festival

July 30, 2017

As part of the New York Musical Festival, Generation Me is absolute perfection in its ability to prove how kindness and cruelty are of the same unfortunate hand. How people, so certain in their anger or jealousy, are sometimes so blind to what really matters: what can you do to help me?
---
BWW Review: The Unforeseen Known that is Potomac Theatre Project's ARCADIA

July 26, 2017

Written by Tom Stoppard, directed by Cheryl Faraone and presented by the Potomac Theatre Project as a start to its wondrous 31st season, Arcadia truly tests the limits of what constitutes a good show by not only compelling the audience to listen and understand, but also to feel and experience: a mix that makes for one spectacular theatrical experience. The research conducted, the knowledge of the world that permeates the air combined with that which has yet to be discovered makes for an entrancing and intellectual plot, not to mention one that hardly lacks for humor or more relatable human emotion.
---
BWW Review: The Theatrical Reverie that is MARTIN DENTON, MARTIN DENTON

July 8, 2017

In Martin Denton, Martin Denton, now in performances at the Kraine Theater over on East 4th, a tag team of mother and son tell the tale of their almost haphazardly formed theater lives with the grace and pomp of any engaging storyteller; you would think they actually had the entire thing planned out the entire time. With such a realistic, almost humble approach to the telling of a rather fascinating story of how these theater buffs paved the way for theater reviewers to come, Martin Denton, Martin Denton is sure to captivate audiences with good, kooky laughs, bittersweet nostalgia and a gained appreciation of just how very important theater is to the structure of this world and the people in it.
---
BWW Review: BASTARD JONES Rocks the House at the Cell Theatre

June 25, 2017

"It's not unusual to be loved by anyone…" Admittedly, this is the wrong Tom Jones and yes, I may have stolen this little pun from the show's opening narrative, but that Mr. Jones was on the perfect track to describing what chaos ensues in the life of a man whom everyone adores: the literary Tom Jones. A man who cannot limit his constant self-indulgence but is yet still seen as a good man despite his ill reputed sexual conquests. As a disgrace to both his family and a disappointment to those who truly feel for him, his reputation is one that follows him as a sort of fate; and to reverse fate, some pretty drastic things have to happen. Turn all of this into a musical and what we now have is Bastard Jones, an incredibly clever, zany and sexy raucous of a show that is as funny as it is profound. Now in performances at the Cell, this is just the sort of guilty fun that everyone is looking for and, for a little over two hours, will bring such joy to your heart and a "tingle" to everywhere else - prepare yourselves indeed.
---
BWW Review: REPRISE at the Paradise Factory Theater Will Bring Audiences Back for More

May 28, 2017

Written and directed by Emmy Award winner Eric Maierson and now in performances at Tom Noonan's Paradise Factory Theater, Reprise arrives for its World Premiere and packs quite a punch in the brief hour it takes to get through the entire ordeal. I say that with the utmost appreciation of how much of an emotional affect this show has on its audience. With three actors given the brunt of the work of keeping the audience thoroughly engaged in what's going on, they are spectacular in what they manage to do here. Three actors who, in the intimate drama that ensues, make you forget that a performance is being watched and instead allow those carnal feelings of lust, longing, love and confusion to completely take over.
---
BWW Review: Fear Not! GIOVANNI THE FEARLESS Is the Adventure We'll Never Forget

May 24, 2017

Although the show has officially ended, the curtain closed, the beautiful coloratura no longer reaching the heavens, the likes of Giovanni the Fearless are still very much alive in the hearts of audiences fortunate enough to see this whimsical musical comedy. I describe it as such because of the emotional scale of its plot, explaining the lack of actual children in the audience. From the almost surreal life of a traveling troupe of family actors, to how it all crumbles under the reality of their situation to be raised again by the at first unaccepted possibility of love, everyone is in need of a good commedia dell'arte musical that is tinged with just the right amount of childish belief, and with just enough reality to consider this a show that makes people of all ages believe in the magic of something greater.
---
BWW Review: DIVORCE PARTY and the End of Life As We [Don't Really] Know It

April 25, 2017

What we have here is a masterfully crafted show called Divorce Party, something so wacky and farfetched but so rooted in the inward and outward complexities of life (as are so many absurd things) that it encapsulates life as we acknowledge it to be, but are not always so eager or able to share with others. Real, tangible life where the irony here is that everyone lives in an acknowledged fantasy - the worst kind of all, where you know you are falling and failing but can't help yourself or do anything to change the circumstances. Six friends who come together to witness how "happy" their two recently divorced friends are is already a precursor to disaster, an epiphany waiting to happen because of how "happy" they truly are not. This is the best new disaster happening in the East Village, and from the ingenious plot to the messed up crew who make it all too real, you are absolutely going to love this show.
---
BWW Review: Sharp Cast Brings Scandal to the Stage in Pearl Theatre Co.'s VANITY FAIR

April 3, 2017

With a slight contemporary flare that is truthfully surpassed by the timeless spark characters like Becky Sharp and Amelia Sedley hold so dear, and with an effect made that much more potent when seen in a theatrical light, the Pearl Theatre Co. now presents Vanity Fair for its world premiere: a production that is bound to capture your attention.
---
BWW Review: Be Prepared for the Ride of Your Life with Solnik's THE FARE

March 20, 2017

When a man gets into a taxi, inebriated and tired, and is convinced that the driver kidnapped him because he refused to pay an exorbitant fare, is his truth greater than the driver's testimony of racial slurs and attempted murder? When there is no other witness accept one's memory, these two men must step up and make the decision of which one is right - a decision not clouded by race or ego, but what the 'facts' of that eventful night were. The Fare is a play that has characters trying to convince both the audience and themselves what is right against what our educated 'instinct' deems to be right - and how unique a way this production makes it so.
---
BWW Review: Experience the Timeless Magic of the New Vic's THE AGING MAGICIAN

March 7, 2017

In association with Beth Morrison Projects and VisionIntoArt, The Aging Magician now celebrates its off Broadway premiere with The New 42nd Street at the New Victory Theater - a theater dedicated to providing children with quality (and usually fantastic) productions in the very heart of Times Square. The Aging Magician is a sensuous piece that is as much a feast for the mind as it is a tug to the heartstrings. It is enigmatic, almost like being lost in a Tim Burton inspired circus with a need to explain the sadness of nostalgia, mixed in with the wonder of keeping those memories alive; it is a show that is perhaps more magical to adults than to children, adults who can understand the almost ethereal pull of a past one does not wish to be gone.
---
BWW Review: Biting through the Dam with THE PROVIDENCE OF NEIGHBORING BODIES

February 25, 2017

Written by Jean Ann Douglass and directed by Jess Chayes, The Providence of Neighboring Bodies comes to Theater 511 (in association with Ars Nova) for its World Premiere in New York. Featuring a powerhouse cast of only three and a truly thought-provoking plot that gets more intricate the more I think about it, Providence brings a lot of great artistic decisions together in such a small space, and in so short a time. The play's two main characters are like two sides of the thought process: one side allowing the open-mindedness and electricity of life permeate its every fiber, while the other dwells on the certainty that everything about its life (in Providence) is just not very promising.
---
BWW Review: Good Things Come In Three's with American Bard's VISIONARY VOICES

February 19, 2017

Directed by Aimee Todoroff and Tonya Pinkins and now in performances at the Gloria Maddox Theatre, Visionary Voices begins with Susan Glaspell's Trifles, followed by Marita Bonner's Exit: An Illusion and ending with Glaspell's The People - three wonderful plays that are more engaging and poignant in their single acts than many full length shows ever have the opportunity of being. All three plays take place at or near the start of the twentieth century, craftily combining themes as relevant today as they were then - collaborating with suspenseful plots, troubled characters and questionable motives that, when put together, show just how clever Todoroff and Pinkins are. In both the structure of this show as a whole and the effect it has on the audience, the truth here is that Visionary Voices is more than a statement - it is definitely a production worth your time.
---
BWW Feature: Vengeance Has a Face in CRUEL INTENTIONS: THE MUSICAL

February 13, 2017

Cruel Intentions takes Choderlos de Lacios' eighteenth century novel Les Liaisons dangereuses and brings themes of incest, manipulation and vengeance to new heights. Substituting ex-lovers with rivaling siblings and married women with virgin ingenues, Kumble gave turn of the century audiences the story of Kathryn Merteuil and Sabastian Valmont, teen step-siblings and lovers who make sport of ruining people's lives. Cruel Intentions has left such an impression on the minds and hearts of people everywhere…especially people like Jordan Ross and Lindsey Rosin
---
BWW Review: Theater2020's SWEENEY TODD Triumphs No Matter Which Way You Cut It

February 13, 2017

Directed and choreographed by Judith Jarosz (who is also one of the theater's two Producing Artistic Directors) and with music direction by Tom Mcdonough, Theater2020 brings a beautifully executed production of Sondheim's musical to the first professional theater in Brooklyn Heights. With the slogan that boasts of 'visions for a new millennium,' the group continues its 2017 Winter Season in the confines of the First Unitarian Society of Brooklyn's intimate chapel - an ideal place for Sweeney for those of you who chuckle at the irony. With a cast made up of Equity and non-Equity members alike, Theater2020's current production proves that the effect of truly great theater can be had in the mere simplicity of a great performance.
---
BWW Review: Think Big with THE BIG BROADCAST ON EAST 53rd at the TBG Theatre

February 5, 2017

In association with Playalinda Productions, playwright Dick Brukenfeld and Director Charles Maryan come together to present the World Premiere of The Big Broadcast on East 53rd, now in performances at the TBG Theatre (actually off of 36th Street), What I can only describe as one whirlwind of a show that manages to keep both one's physical and mental momentum moving, Broadcast is performed on a small stage on which actors with big talent, big presences and big personalities romp around as though it were a playground where the imagination runs rampant.
---
BWW Review: A Victory of a Performance with ELEPHANT & PIGGIE'S WE ARE IN A PLAY!

January 29, 2017

Recently arrived for its off-Broadway premiere at the New Victory Theater is Mo Willems' musical extravaganza 'Elephant & Piggie's We Are in a Play!,: written especially for the little guys in a theater that caters to children of all ages. When not watching their children squeal with laughter, even adults can't help but get in on the fun they will be having by watching Elephant, Piggie and other colorful and exciting characters turn an ordinary day into quite a memorable one. Happening now at the New Victory, New York City's only theater that is dedicated to bringing children the magic of live performances, audiences can now see six-time Emmy winner and New York Times bestseller's six-book series on stage, brought to life by an upbeat and wildly catchy score by Deborah Wicks La Puma and talented actors who have enough energy and pizazz in their step to make an entire theater of children immensely happy.
---
BWW Review: Holding On to Holden at the New Ohio Theatre

January 11, 2017

One can only imagine why a person chooses to write, filling the desolate borders of blank pages with untold stories; one can only imagine the reasons. It probably more often than not has to do with a need to create and less so the recognition or desire to see what comes of it. To dedicate a life to words and giving them the power of the soul's expression is something truly special, especially when fact and creation collide in a beautifully turbulent way. Holden, written and directed by Anisa George, is the first time an audience can see reality and fiction so intertwined to tell the various stories of a single life, shown by characters who are, to quote Fitzgerald for a moment, "within and without." Now being performed at the New Ohio Theatre, Holden brings about the complexities of late author J.D. Salinger's life through personal issues that arose because of those words he shared with the world…and those he chose not to.
---
BWW Review: Life and WHAT WE WANTED at the Clurman Theatre

January 7, 2017

Written by David Harms and directed by Drew Foster (in association with Skyhook Productions LLC) for its current run at the Clurman Theatre (NY's Theatre Row), What We Wanted is truly one of the most intriguing plays I have ever seen performed. After a few moments' adjustment in understanding exactly what is happening, followed by a brief evaluation of whether the family scene before us is acceptable or slightly unsettling, the characters simply become people whose lives are unraveled before the audience to reveal bare, confused human beings affected by the absurdity of life, just as everyone is.
---
BWW Review: The Re-Imagined Beauty of New Ohio Theatre's A CHRISTMAS CAROL

December 23, 2016

Adapted by Matt Opatrny and directed/choreographed by Jessica Burr, the eleven-member troupe Blessed Unrest recently opened A Christmas Carol at the New Ohio Theatre. This "theatre for the adventurous" comprised of a diverse ensemble that brings new and bold productions to NY audiences, brings a unique and surprising experience to those expecting a traditional retelling of Dickens' novella. So saying, this is a tasteful yet eclectic and unique experience indeed; Opatrny and Burr prove that they understood the true essence of the original story while also showing that they clearly had a wonderful time bringing their creative vision to life.
---
« prev 1  2  3  4  5  6  7  8 … 10  next »