Kristen Morale - Page 2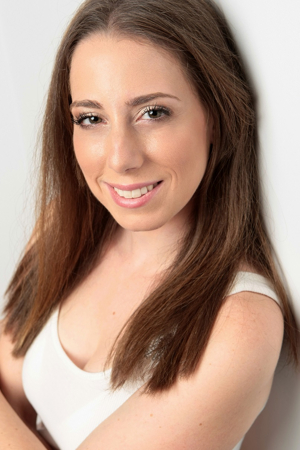 Kristen was born and raised in Brooklyn, and is a graduate of both Saint Francis College and Hunter College, with degrees in English and Musical Theatre. She enjoys going to any show, from community theater to Broadway productions, and especially loves musicals; "The Phantom of the Opera" and "Sweeney Todd" are among her favorites. By day, Kristen is an HR Coordinator but continues to pursue her interest in theater by seeing great performances and writing a bit about them; she's also been in a few shows within both NY and MA. She admires the theater community, and is happy to continue writing for BroadwayWorld. 
MOST POPULAR ARTICLES
LAST 30 DAYS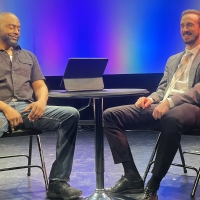 BWW Review: Downtown Urban Arts Festival Celebrates 20 Years This June at Theatre Row
Posted: Jun. 7, 2022


LAST 365 DAYS
BWW Review: The Haunted Tune of Nuance Theatre Co's CHAMBER MUSIC
Posted: Sep. 29, 2021


BWW Reviews: The Conflicts of Fact, Fiction and Freedom in Solnik's THE UNAMERICAN
Posted: Mar. 18, 2022


BWW Review: Peter Welch's LARRY AND LUCY A Work of Sheer Beauty at Theater for the New City
Posted: Apr. 14, 2022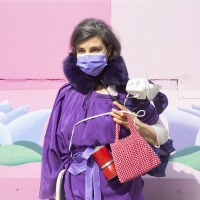 BWW Review: A Thread of Happiness Unwinds In Crispino's THIS WOULD LOOK GOOD ON YOU
Posted: Oct. 5, 2021


BWW REVIEWS: Sunday Afternoon With LIMELIGHT THEATRE COMPANY'S MARRY ME A LITTLE
Posted: Mar. 4, 2022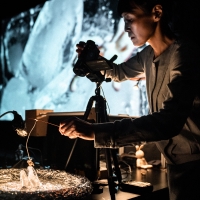 BWW Review: A Projection of Life's Little Journey in Takahashi's SHEEP #1
Posted: Nov. 13, 2021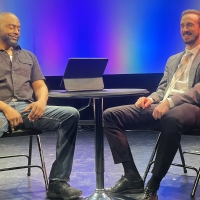 BWW Review: Downtown Urban Arts Festival Celebrates 20 Years This June at Theatre Row
Posted: Jun. 7, 2022


BWW Review: The New Legacy of J.D. Salinger in Solnik's A LIFE IN THE RYE

November 11, 2019

Presented by Two Tough Broads, directed by Joe John Battista and now in performances at the historic Theater for the New City, A Life In the Rye is truly an inspirational piece of theater that not only brings new life to J.D. Salinger's own story, but does so in a way that brings such dimensionality to a brilliant yet troubled life. One hundred years after the author's birth and following the opening of an exhibit at the New York Public Library to commemorate Salinger's life and work, Solnik's play is an unbiased and beautifully-crafted ode to this man that shows both the playwright's admiration as it does the truthful complexity of Salinger's life.
---
BWW Review: Great Frights and Amazing Sights in Robinson's ALL HALLOWS EVE

November 6, 2019

Presented by Little Shadow Productions and Art Farm, and with music by Emmy Award-winning Paul Rudolph, ALL HALLOWS EVE is an immersive experience that compels its audience to adopt the belief of a child - to open up its collective mind and believe in something whose existence cannot be simply explained away like a magic trick. Although, this production is not just about suspension of belief; indeed, it is not meant for children at all.
---
BWW Preview: Under the Streetlamp to Perform as Part of On Stage At Kingsborough's 2019 Season

October 25, 2019

Popular vocal group Under the Streetlamp is set to give a one-night performance at Kingsborough Community College, bringing a repertoire of classic hits from the American Doo Wop, Motown and old time Rock 'n' Roll Songbook that is sure to delight audiences. As part of On Stage At Kingsborough's 2019 Fall Season, Under the Streetlamp brings Broadway stars to a Brooklyn stage for one night only to reminisce after the days when singers would gather under a street lamp to sing their favorite songs.
---
BWW Review: Living Life to the Fullest with Valerie David's THE PINK HULK

October 13, 2019

Written/performed by Valerie David and directed by Padraic Lillis and Maris Heller, THE PINK HULK is just about to finish its run at the 14th Street Y. Valerie's one-woman show was accepted into 26 different festivals in both the U,S. and Europe over the course of 2 1/2 years, and has received quite a number of great reviews and accolades. Now, THE PINK HULK is something quite special - not only because it is autobiographical and gives a rare opportunity to take part in the performer's life story as she bears all on stage, but because it is not shy of bringing a message of hope to anyone who ever needed someone to just say that things will be ok. And even if life doesn't quite turn out that way, she instills the belief in you that it's always just another obstacle that we have the strength to overcome.
---
BWW Review: The Preciousness of Life in Beckim's NOTHING GOLD CAN STAY

October 8, 2019

In NOTHING GOLD CAN STAY, Chad Beckim shows how a young woman's addiction to opioids affects not only her, but those who seek to help her. Impeded by her own doubts and insecurities, in a town where people are admired for their efforts to leave, the downward spiral of her life pulls in those who had the good intent of helping her. Relationships are pushed aside, hope is dashed and free will momentarily shines through in her attempts to get better, only to be swallowed up again by need. Beckim's play is an extraordinary story of ordinary people - a family already familiar with less-than-perfect circumstances, now faced with a loved one's illness that seeks to bring down everyone with her.
---
The Preciousness of Life in Beckim's NOTHING GOLD CAN STAY
October 7, 2019
---
BWW Review: Actions Speak Louder Than Words in Hlubny's THOUGHTS AND PRAYERS

September 24, 2019

Director Lauren Hlubny takes the idea of violence and molds it into something theatrically beautiful with her play Thoughts and Prayers, produced by Danse Theatre Surreality and now in performances at TADA! Youth Theatre.
---
BWW Review: EMERGENCY Has Hearts Racing at Hudson Guild Theater

August 29, 2019

Written by a father-son team (the perfect combination of doctor and composer), EMERGENCY features book, music and lyrics by Jeff Foy and Jacob Foy and is directed by Jeremy Quinn. In association with Visceral Entertainment, the production recently concluded a three-performance run at Hudson Guild as part of the New York Theater Festival's SummerFest series. Winner of the Ken Davenport Inner Circle Grant and the truly the perfect blend of comedy and the kind of drama that puts life into perspective, EMERGENCY wowed its audiences straight through to a standing ovation, and has undoubtedly left an impression on this critic's mind.
---
BWW PREVIEW: Elements Theatre Company to Present OLIVER! for a Limited Run

August 22, 2019

Based on Charles Dicken's classic novel a?oeOliver Twista?? and featuring such easily-recognizable songs like a?oeAs Long as He Needs Mea?? and a?oeConsider Yourself,a?? Oliver! is soon to be presented by Orleans' very own Elements Theatre Company. The beloved musical, which originally premiered in London in 1960, now has yet another chance to warm our hearts by bringing this young orphan from Victorian England to a Cape Cod stage.
---
BWW Review: BWW REVIEW: FAMILY'S A HOOT IN DAVIDE FERRARI'S SUNDAY DINNER at Hudson Theater Guild

August 14, 2019

Written and produced by Davide Ferrari and directed by Alexa Harris, a?oeSunday Dinnera?? debuts as part of the New York SummerFest Theater Festival. Originally conceived as a full-length production, Ferrari brings his audience to the table to enjoy some very entertaining Italian family antics.
---
BWW Review: Truth As the Immoral Fibre of Being in HAVEL: THE PASSION OF THOUGHT at Atlantic Stage 2

July 18, 2019

Directed by Richard Romagnoli and presented by PTP/NYC for a run at Atlantic Stage 2, 'Havel: the Passion of Thought' has been delighting audiences since its July 9th start; it really is quite the addition to the group's thirty-third season. In a time when artists were silenced in Czechoslovakia because of their efforts to bring attention to human suffering and value. They were arrested, their free speech squandered and rights evoked in the very fashion against which they protested. The ingenious idea to place Havel's 'Vanek Plays' in the center of Pinter's 'The New World Order' and Beckett's 'Catastrophe' does wonders to portray a political agenda that becomes more pronounced as humor gives way to the true nature of the matter at hand.
---
BWW Review: The Wingless Beauty of BIRDS OF PARADISE at Theater For The New City

July 14, 2019

Written by Solnik, directed by Nikki Reed and presented by Executive Artistic Director Crystal Fields, "Birds of Paradise" is being performed in the East Village for a very limited run. With opening night this past Thursday and running only through July 14th, this show is definitely one I recommend seeing. With a rather clever plot that is as touching as it is on the constant brink of drama, "Birds of Paradise" is now one of my favorite of Solnik's productions.
---
BWW Review: The Lessons of Love and Loss is Nuance Theatre Co's RABBIT HOLE

June 18, 2019

Rabbit Hole, written by David Lindsay-Abaire, tells the story of a mother and father stricken with unending grief after the accidental death of their four year old son; theirs is a reality that isn't fair or deserved, but must simply be dealt with. With this play,Lindsay-Abaire carefully deconstructs the overall larger picture of 'grief' into smaller moments, bringing to light how each of those involved finds solace in their own way. And as emotional a ride Rabbit Hole brings the audience on, we somehow begin to understand how people cope with something that can never be explained - only accepted until the pain isn't as great as it used to be.
---
BWW Review: The Funky Reality of Shaw's GOD OF MARZ

June 12, 2019

Written by Rachel Shaw, God of Marz"takes us out of the human mind and into the realm of the Almighty, who is quite the character and as beautifully human as we can imagine her to be; she is the way I envision God to be (and hope that she is). When two astronauts crash-land on Mars with a limited supply of oxygen and a minute chance of survival, God welcomes them into her home and offers her direct (and sometimes offensive but oh-so-true) observations of the human race. Testing the breadth of these two astronauts' beliefs is only a part of the fun to be had in the presence of our Oprah-loving Lord, who is equally thrilled and perturbed by the company she keeps.
---
BWW Review: Scaling the Top of the World in Golden Shards' 8000M

May 14, 2019

Written by David Greig, joined by MFA award-winning director Alice Cash and presented by Golden Shards Productions, 8000M encompasses such a wide range of dramatic feats - not taking into account the play's actual subject matter. From an exceptional script, which combines both characters' personal accounts and plot-driving narrative to tell a riveting story, to actors who bring the experience of climbing the world's fourth largest mountain to an audience with such honed skill, 8000M is so substantial in its quality.
---
BWW Review: The Lords of 52nd Street Rock Out in Our Very Own Brooklyn

May 8, 2019

Kingsborough Community College presented The Lords of 52nd Street in concert, commemorating the first time the band has performed on a Brooklyn stage. Music to everyone's ears (from the little ones dancing in the aisles with their families, to my parents, who have traveled the east coast to see Billy Joel perform - about 6 times now), there was no stopping the joy that Joel's original band spread amongst those in the audience on that special night.
---
BWW Review: Wrong House's SKETCHY SPRING Just Feels So Right

May 1, 2019

For two nights only, Wrong House Productions presented Sketchy Spring, an hilarious compilation of sketches with a wide berth of wacky topics covered. From Ted Bundy's charm, which has the ability to turn his jury into musical and horny high-schoolers, to a 30th birthday celebration not complete without the mother who believes she lives in a Jane Austen novel, Sketchy Spring provided quite the number of laughs that hardly ever ceased as the night wore on.
---
BWW Review: Love Shines from Here and Beyond in "PRETTY GUARDIAN SAILOR MOON" THE SUPER LIVE

April 2, 2019

Based on Pretty Guardian Sailor Moon by Naoko Takeuchi, with a book by Akiko Kodama and now celebrating its New York premiere under the direction of Takahiro, 'Pretty Guardian Sailor Moon' The Super Live held three performances at the Playstation Theater in Times Square from March 29th-30th. Featuring an all-female cast (portraying both male and female roles), New York was treated (if ever so briefly) to a beautifully orchestrated, 2.5D phenomenon that is an exciting mix of both musical and concert.
---
BWW Review: That Which Defines and Divides in FIERCELY INDEPENDENT

March 12, 2019

When love feels so fleeting, the push and pull of harsh words and wild emotions is no longer about keeping someone; it becomes more about lingering long enough until we are prepared to fully acknowledge our defeat. That is what makes Fiercely Independent so wonderful, even though also so sad: it pulls the mirror up in front of us, whether we have experienced such a thing or not, and asks us to reflect on what people are supposed to do. Would we rather watch ourselves fall out of love with the person we thought was forever ours, or wind up alone?
---
BWW Review: Brooklyn's Theater 2020 Makes its Way Into the Woods

March 7, 2019

Theater 2020, the only professional theater troupe in Downtown Brooklyn, once again proves itself as a force to be reckoned with with this lovely production of Into the Woods; theirs is a force that brings with it the power and influence a dramatic performance ought to have.
---