Kristen Morale - Page 4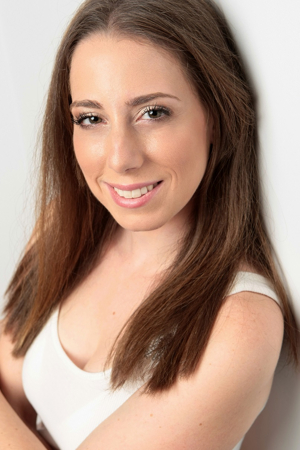 Kristen was born and raised in Brooklyn, and is a graduate of both Saint Francis College and Hunter College, with degrees in English and Musical Theatre. She enjoys going to any show, from community theater to Broadway productions, and especially loves musicals; "The Phantom of the Opera" and "Sweeney Todd" are among her favorites. By day, Kristen is an HR Coordinator but continues to pursue her interest in theater by seeing great performances and writing a bit about them; she's also been in a few shows within both NY and MA. She admires the theater community, and is happy to continue writing for BroadwayWorld. 
BWW Review: Mia Oh My! SO LONG BOULDER CITY Dazzles at Subculture Theatre

December 8, 2017

When we think of a person bound for success, dedicated to personal fulfillment and happiness gained through their craft, one such person who comes to mind is an actor. It is a profession that changes people, to say the least. An actor's drive and dedication towards a unique means of self expression is many times the priority of his or her life - it encapsulates a person's love and plots it towards a future role, a new technique, or simply finding a new place to call home. I have spent some time on stage myself, but never can I imagine how difficult a journey a true, dedicated actor must take. But you know what? Actors are also incredibly fun people! Who said that their life's journey can't be just a little bit entertaining, funny, and just a little quirky? Meet Mia Dolan, the star of Subculture Theatre's So Long Boulder City, who presents audiences with the little bit of everything that makes the life of an actor quite a fascinating story to tell. With a lightheartedness rising from the ashes of burned dreams, you're just gonna love this show.
---
BWW Review: New Wave Theater Collective Takes a Stand with THE NEW SINCERITY

November 22, 2017

Written by Alena Smith and directed by Chris Morrissey, The New Sincerity brings the two-year-old New Wave Theater Collective to a very respectable height. With a cast comprised of young artists who seem to have perfectly captured this idea of adulting amidst the deceiving nature of a know-thyself creative environment, this show really makes you wonder about the state of our generation. With characters who are more enthused about helping others and reaping the benefits than they are about the condition of their own lives, The New Sincerity questions just how much truth and honesty we can handle before it becomes easier to fight for (and sometimes join) another's cause than focus on our own.
---
BWW Preview: Eastern Bridge's THE STORY OF TWO POETS Comes to Philadelphia

November 5, 2017

Returning for this special performance after it marked Eastern Bridge's New York debut, The Story of Two Poets is the theatrical adaptation of Listy na wyczerpanym papierze ( The Letters on Depleted Paper ), a collection of love letters and poems written during what can only be described as a fairy-tale romance which began in 1964. Osiecka, who wrote the lyrics for many of Poland's most popular songs and Przybora, who created the notable Elderly Gentlemen's Cabaret, sent many secret correspondences to each other over the course of their two-year romance; this would have remained a secret, had their children not discovered their letters. In 2010, Agata Passent and Kot Przybora published Listy na wyczerpanym papierze and gave new life to this beautiful relationship that Eastern Bridge now presents to audiences.
---
BWW Review: Take a Bite Out of DRACULA! at 13th Street Rep

October 17, 2017

Who can admit to not being a fan of Count Dracula and the horrors he bestows upon the unsuspecting Jonathan Harker and those he holds dear? How can you not be enticed by his dark lure, by the intoxicating mix of fear and seduction brought about by the mere mention of his name? Bram Stoker brought the undead to life long ago through his novel, and Dracula has never ceased to entrance those who bear witness to his resurrection, whether that take place on screen or on stage. And, with Halloween fast approaching, what better time for Dracula to rise up and quench his thirst for blood once again? Now presented by Moose Hall Theatre Company / Inwood Shakespeare Festival, Dracula! The Tale of Flesh and Blood is an engaging retelling of Dracula's tale, taking a bite out of the classic through the talents of a wonderful cast who bring the eeriness and fright of this Gothic tale to a West Village audience.
---
BWW Review: Hearts Ablaze in Harrison David Rivers' ONLY YOU CAN PREVENT WILDFIRES

October 13, 2017

Written by Harrison David Rivers, conceived/directed by Sherri Eden Barber and presented by Ricochet Collective, Only You Can Prevent Wildfires celebrates its World Premiere by bringing the true story of forest technician Terry Lynn Barton and the Hayman Fire of 2002 to audiences in a rather unprecedented way. In what is both as surreal as the imagination running rampant beneath a star-infested sky and as visceral as the cold truth (and consequences) of human emotions, Wildfires depicts the reasoning behind a distraught woman's actions in an incredibly graspable manner.
---
BWW Review: The Ties that Bind Us in Eastern Bridge Theatre Troupe's STRINGS

October 7, 2017

Do you ever think about how much of this life is planned, sculpted by human hands to go the way we desire it to? How, no matter what we have been taught or the values we hold dear to our hearts, there will always be something beyond our reach that we cannot control - something we cannot ever predict will happen? Factor in the variables of chance, fate, human error and the like, and life begins to go slightly off the course we may have imagined it to follow. Once a child leaves the arms of a loving mother to venture out into the world, it is a chance taken as to what will happen next. In what is both alarming and exciting, the possibilities life will give to us are infinite - they do not follow a guidebook, and as values are tested and tried is when the 'self' is truly formed. This is the wonderful lesson that STRINGS teaches its audience so well.
---
BWW Preview: Reflecting on Love with Eastern Bridge Theatre's STRINGS

September 25, 2017

Written by Anna Rak and Palmyra Mattner, and under the direction of Kira Kull, STRINGS will soon take the stage at the Access Theatre in Tribeca for its New York premiere; the show also marks EBTT's second NY production. A theater troupe of unique origins and aspirations, Eastern Bridge strives to bring together the voices, experiences and talents of those who are culturally or ethically different, but collaborate for the purpose of providing a unique theatrical experience. By giving expression to these foreign voices, the cast, creative team and theater-goers alike now have this special opportunity to bring what is different together to share in the purity of a mother's love.
---
BWW Review: The Lawful Ways of Love in Oliveira's THE CONSTITUTION

September 7, 2017

Picture four people in a room, possessing just short of enough free will to be there but knowing that they can walk out if the mood strikes them. Four actors who base their lives on the truth of the untruth, forced to write a constitution applicable to all the actual people they have played - people who rely on their logic and experience to shape a universally "good" future. Four souls trapped in a room, compelled enough by the attraction of love to write a new Constitution based upon it. Six days are all they have to write something with no boundaries, no rules and no expectations. Shouldn't be too difficult, right?
---
BWW Review: The Theoretical Existence that is Nu•ance Theatre Co.'s PROOF

August 19, 2017

Now being performed by the Nu•ance Theatre Co. (in association with John DeSotelle Studio) and under the direction of John DeSotelle, Proof is the Pulitzer-Prize winning play by David Auburn that provides audiences with much to think about…even if we understand little of the actual theorems themselves. This entire show is wonderful in that it equates the universality of math with the very specifics of how people live their lives - simple numbers that take the place of human emotions to the point where people are trying to prove theorems over love - trying to make equations work over how they should be functioning. It is a play that not only seeks to prove an equation that can exist as perfect, but also proves how imperfect we are in the face of ourselves and others. It is the perfect theoretical to what reality has given to these characters, and what ensues cannot be witnessed with anything less than pure fascination.
---
BWW Review: Fortune Wags Its Tail at Element Theatre Company's SYLVIA

August 13, 2017

With time spent on Broadway, off-Broadway and on stages from France to China, A.R. Gurney's Sylvia is now in performances at Elements Theatre Company at Rock Harbor. It is the epitome of taking something that is seemingly normal and turning it into a drama-filled, heartfelt tale of what it means to be (and feel) human. Directed by Danielle Dwyer, CJ and in memory of the late Gurney, this show truly goes above and beyond to tell a story that is so much more than that of a dog who finds an aging man in the park, followed by his wife's jealousy of his affection towards this stray. It is a touching story about the indisputable need to be loved, and how figuring out why we love the way we do concerns so much more than the bond man shares with his canine friend.
---
BWW Review: The "Hart" of Theater Beats for Peregrine's CHICAGO

August 10, 2017

When the unconquerable Billy Flynn and the ensemble sing of that "old razzle dazzle," they sing of corruption and deceit - of wicked things turned into truth when presented in just the right light. Under the pretense of being decent in a world of easy exploitation and unremorseful women, Billy's smile is a falsity he doesn't care to hide - his performance as showy as the lights which illuminate the stage. Transforming the lives of the potentially dead murderesses of Chicago into a form of entertainment for the masses is manipulation at its core - it is just one of the reasons Kander and Ebb's Chicago has remained one of our favorite musicals for so long. Now, we can all be grateful for Peregrine Theatre Ensemble's current production of the longest running American musical in Broadway history, happening right in the heart of Provincetown.
---
BWW Review: GENERATION ME Captivates at New York Musical Festival

July 30, 2017

As part of the New York Musical Festival, Generation Me is absolute perfection in its ability to prove how kindness and cruelty are of the same unfortunate hand. How people, so certain in their anger or jealousy, are sometimes so blind to what really matters: what can you do to help me?
---
BWW Review: The Unforeseen Known that is Potomac Theatre Project's ARCADIA

July 26, 2017

Written by Tom Stoppard, directed by Cheryl Faraone and presented by the Potomac Theatre Project as a start to its wondrous 31st season, Arcadia truly tests the limits of what constitutes a good show by not only compelling the audience to listen and understand, but also to feel and experience: a mix that makes for one spectacular theatrical experience. The research conducted, the knowledge of the world that permeates the air combined with that which has yet to be discovered makes for an entrancing and intellectual plot, not to mention one that hardly lacks for humor or more relatable human emotion.
---
BWW Review: The Theatrical Reverie that is MARTIN DENTON, MARTIN DENTON

July 8, 2017

In Martin Denton, Martin Denton, now in performances at the Kraine Theater over on East 4th, a tag team of mother and son tell the tale of their almost haphazardly formed theater lives with the grace and pomp of any engaging storyteller; you would think they actually had the entire thing planned out the entire time. With such a realistic, almost humble approach to the telling of a rather fascinating story of how these theater buffs paved the way for theater reviewers to come, Martin Denton, Martin Denton is sure to captivate audiences with good, kooky laughs, bittersweet nostalgia and a gained appreciation of just how very important theater is to the structure of this world and the people in it.
---
BWW Review: BASTARD JONES Rocks the House at the Cell Theatre

June 25, 2017

"It's not unusual to be loved by anyone…" Admittedly, this is the wrong Tom Jones and yes, I may have stolen this little pun from the show's opening narrative, but that Mr. Jones was on the perfect track to describing what chaos ensues in the life of a man whom everyone adores: the literary Tom Jones. A man who cannot limit his constant self-indulgence but is yet still seen as a good man despite his ill reputed sexual conquests. As a disgrace to both his family and a disappointment to those who truly feel for him, his reputation is one that follows him as a sort of fate; and to reverse fate, some pretty drastic things have to happen. Turn all of this into a musical and what we now have is Bastard Jones, an incredibly clever, zany and sexy raucous of a show that is as funny as it is profound. Now in performances at the Cell, this is just the sort of guilty fun that everyone is looking for and, for a little over two hours, will bring such joy to your heart and a "tingle" to everywhere else - prepare yourselves indeed.
---
BWW Review: REPRISE at the Paradise Factory Theater Will Bring Audiences Back for More

May 28, 2017

Written and directed by Emmy Award winner Eric Maierson and now in performances at Tom Noonan's Paradise Factory Theater, Reprise arrives for its World Premiere and packs quite a punch in the brief hour it takes to get through the entire ordeal. I say that with the utmost appreciation of how much of an emotional affect this show has on its audience. With three actors given the brunt of the work of keeping the audience thoroughly engaged in what's going on, they are spectacular in what they manage to do here. Three actors who, in the intimate drama that ensues, make you forget that a performance is being watched and instead allow those carnal feelings of lust, longing, love and confusion to completely take over.
---
BWW Review: Fear Not! GIOVANNI THE FEARLESS Is the Adventure We'll Never Forget

May 24, 2017

Although the show has officially ended, the curtain closed, the beautiful coloratura no longer reaching the heavens, the likes of Giovanni the Fearless are still very much alive in the hearts of audiences fortunate enough to see this whimsical musical comedy. I describe it as such because of the emotional scale of its plot, explaining the lack of actual children in the audience. From the almost surreal life of a traveling troupe of family actors, to how it all crumbles under the reality of their situation to be raised again by the at first unaccepted possibility of love, everyone is in need of a good commedia dell'arte musical that is tinged with just the right amount of childish belief, and with just enough reality to consider this a show that makes people of all ages believe in the magic of something greater.
---
BWW Review: DIVORCE PARTY and the End of Life As We [Don't Really] Know It

April 25, 2017

What we have here is a masterfully crafted show called Divorce Party, something so wacky and farfetched but so rooted in the inward and outward complexities of life (as are so many absurd things) that it encapsulates life as we acknowledge it to be, but are not always so eager or able to share with others. Real, tangible life where the irony here is that everyone lives in an acknowledged fantasy - the worst kind of all, where you know you are falling and failing but can't help yourself or do anything to change the circumstances. Six friends who come together to witness how "happy" their two recently divorced friends are is already a precursor to disaster, an epiphany waiting to happen because of how "happy" they truly are not. This is the best new disaster happening in the East Village, and from the ingenious plot to the messed up crew who make it all too real, you are absolutely going to love this show.
---
BWW Review: Sharp Cast Brings Scandal to the Stage in Pearl Theatre Co.'s VANITY FAIR

April 3, 2017

With a slight contemporary flare that is truthfully surpassed by the timeless spark characters like Becky Sharp and Amelia Sedley hold so dear, and with an effect made that much more potent when seen in a theatrical light, the Pearl Theatre Co. now presents Vanity Fair for its world premiere: a production that is bound to capture your attention.
---
BWW Review: Be Prepared for the Ride of Your Life with Solnik's THE FARE

March 20, 2017

When a man gets into a taxi, inebriated and tired, and is convinced that the driver kidnapped him because he refused to pay an exorbitant fare, is his truth greater than the driver's testimony of racial slurs and attempted murder? When there is no other witness accept one's memory, these two men must step up and make the decision of which one is right - a decision not clouded by race or ego, but what the 'facts' of that eventful night were. The Fare is a play that has characters trying to convince both the audience and themselves what is right against what our educated 'instinct' deems to be right - and how unique a way this production makes it so.
---
« prev  1  2  3  4  5  6  7 … 10  next »