Review: Review: FAMILY'S A HOOT IN DAVIDE FERRARI'S SUNDAY DINNER at Hudson Theater Guild
A tradition that has spanned across generations, the entire family gathers for a home-cooked meal on a Sunday afternoon, bringing with them exciting updates for all to hear. What a pleasant way to share some time with loved ones, while Mom smiles at the presence of her three grown children seated together again. It all sounds well and good until everyone starts yelling at each other while simultaneously vying for possession of the wine bottle.
Welcome to the best Sunday dinner ever.
I'm sure quite a few family dinners have turned out like this, especially if you come from a large Italian family. You may know of the typical stereotypes: we talk with our hands, we're not raising our voices (it's just the way we talk) and some budding drama is lurking at the bottom of your uncle's fourth cup of espresso. To be Italian is to know the details of everyone's life, provide your opinion and then allude to a time that was simpler - stick in there the fact that everyone is an emotional time bomb, and what you have is a group of people who willingly come together each weekend to enjoy a lovely meal...and to possibly give each other heart trouble in the interim.
Having this as its subject matter, who wouldn't want to see a show that is both hilarious and heartwarming at the same time? A production which offers an exclusive look into a family characterized by their lovable antics. For example, that uncle we all have who gets upset at the idea of choosing Guinness over an espresso, and who also shakes his head at those who haven't gotten their working papers at the ripe old age of twelve. Recently performed at the Hudson Theater Guild, Sunday Dinner is a short yet laugh-packed play about different generations coming together for the age-old Sunday dinner, and proves that family really is everything...even if they drive you bonkers.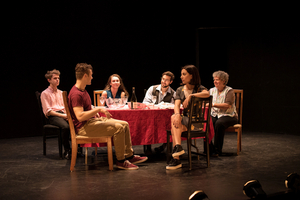 Written and produced by Davide Ferrari and directed by Alexa Harris, Sunday Dinner debuted as part of the New York SummerFest Theater Festival. Originally conceived as a full-length production, Ferrari brings his audience to the table to enjoy some very entertaining Italian family antics. Gathered together for Sunday dinner, everyone is eager to hear what the rest of the family has been up to. While Mom cooks (and comes in to break up the occasional fight), her three grown children are compelled by their uncle to share what's been going on (regardless of whether they want to or not). Marco is pursuing acting, while Daniele is following the family footsteps into law and Anna is heading to Oxford for her Masters in Environmental Conservation...and possibly to date a boy. Sounds pleasant enough, right? Not when Uncle Dario, hand gestures and uninhibited opinions in tow, gets involved. The drama only an Italian family can provide contains an inherent humor that makes us simultaneously shake our heads and want to remain in the midst of all the hardly provoked chaos.
As part of a large Italian family myself, there is a lot of excitement to be had around that relative who gets emotional when he hears his niece's latest beau is "kinky" (when she actually said "geeky)", or how he reminds everyone for the tenth time that he started working at the age of twelve.
Ferrari was right to create a show about what he, too, has experienced first hand. Ninety-percent of the material used in the play is actually verbatim from various Sunday dinners over the years. "It really just falls in line with the age old expression of "write what you know." I knew I wanted to try my hand at writing an original piece, and Sunday dinner with my crazy Italian family is what I know." And we can only imagine what surprises will be in store when Ferrari transforms this short play into a full-length production; between the concept and the actors who bring it to the stage, the show would be nothing short of amazing (whether you happen to be Italian or not).
Ferrari, who was once a litigator at the New York City Law Department, did what many wish they could do and abandoned corporate life in pursuit of the arts. His younger years spent wishing to be an actor and passionate about creative writing, the "more secure" career path he chose was not enough to sustain him for long. Although he has been in several film and theatrical productions since leaving his law practice, Sunday Dinner marks the first play that he's ever written and produced entirely on his own. With a passion for entertaining people, SummerFest has been nothing short of an amazing opportunity for Ferrari to present a work that he can take part in as both playwright and actor (you've guessed it...he does play the lovably dramatic uncle!).
"I am so humbled and overwhelmed by [the show's] positive reception, and now very excited to get to work on producing a full-length version, which I hope to have up and running in early 2020."
I had brought my mom to see the show with me, and this was exactly the one thing she wanted to see...more of it! Without a doubt, getting a snippet of a family dinner where anything can go amiss only fuels the fire of temptation to witness even more hand gestures, more exaggerations and just more fun to be had as we sit down with this family for a Sunday dinner not to be forgotten.
When asked what he is most proud of with this show, Ferrari portrayed his appreciation for a cast that comes together and not only acts the part, but has become more of a family themselves.
"This cast has exceeded my highest expectations. Because of the simple fact that this was a short piece, it's not an easy feat to simultaneously explore so many interpersonal relationships in such a restricted period of time. Sunday Dinner would have fallen flat if it didn't have such proficient across, as well as such detailed and nuanced direction by our wonderful director."
Without a doubt, these actors are naturals at portraying the varying degrees of emotion and the many uncomfortable moments associated with Sunday dinner within an Italian household. Their acting portrayed everything on the spectrum, from the initial joy of the calm before the storm, to dealing with their uncles antics to finally accepting that this is their family and (strangely enough) would not have it any other way. One would just be tempted to yell in a situation like this, but there are clear character nuances and personalities that make this a very tasteful, well-crafted production that is quite enjoyable. Kudos to the cast: Davide Ferrari, Adam Fisher, Austin Anthony, Beth Dimino, Sofia Gregory, Lindsay Shiner and Alexa Harris for a job well done!
Sunday Dinner had a three-performance run at the Hudson Guild Theater as part of the Summeriest Theater Festival. It was followed by another short play called God and My Gay Ass, which documents the feelings and experience of someone who recently came out as gay and is unable to understand why he is forced to face the small-mindedness of his community.