Review: Love Shines from Here and Beyond in "PRETTY GUARDIAN SAILOR MOON" THE SUPER LIVE
When I was younger, I loved everything Sailor Moon; I even sang along in Japanese to the songs on my cassette tape, though I had no idea what I was saying! Although I never read the comic book series, I was smitten by what the Sailor Guardians represented with every TV episode I watched. With the klutzy, perpetually late Sailor Moon as the pinnacle of their group, Mercury, Mars, Jupiter and Venus (along with the elusively charming Tuxedo Mask) would battle the forces of evil bent on destroying the bond they so closely shared. No matter the difficulty of the matter, their message of friendship and love, confidence and support provided a guiding light for me in my little elementary-school world.
That message continues to ring loud and clear among those who still believe in all that these Guardians represent. To have seen the crowd at the Playstation Theater opening night of "Pretty Guardian Sailor Moon" The Super Live - to hear the buzz of excitement of those all too ready for a sold out performance, cosplaying as their favorite characters, was something of an experience. Then the show started... I am grateful for the chance to have seen such a dynamic, high-powered and stunning production that was a welcomed blast from [my] past.
Based on Pretty Guardian Sailor Moon by Naoko Takeuchi, with a book by Akiko Kodama and recently celebrating its New York premiere under the direction of Takahiro, "Pretty Guardian Sailor Moon" The Super Live held three performances at the Playstation Theater in Times Square from March 29th-30th. In celebration of the series' 25th anniversary, the show premiered in Tokyo in August of last year, with subsequent performances in Paris soon after. Featuring an all-female cast (portraying both male and female roles), New York was treated (if ever so briefly) to a beautifully orchestrated, 2.5D phenomenon that is an exciting mix of both musical and concert. Presented in Japanese with English subtitles, the telling of this plot relies on our reactions to very simple ideas: the young heroine falling in love with the masked hero, friends who unquestionably fight to save one of their own, and a sense of loyalty that only exists among the pure of heart.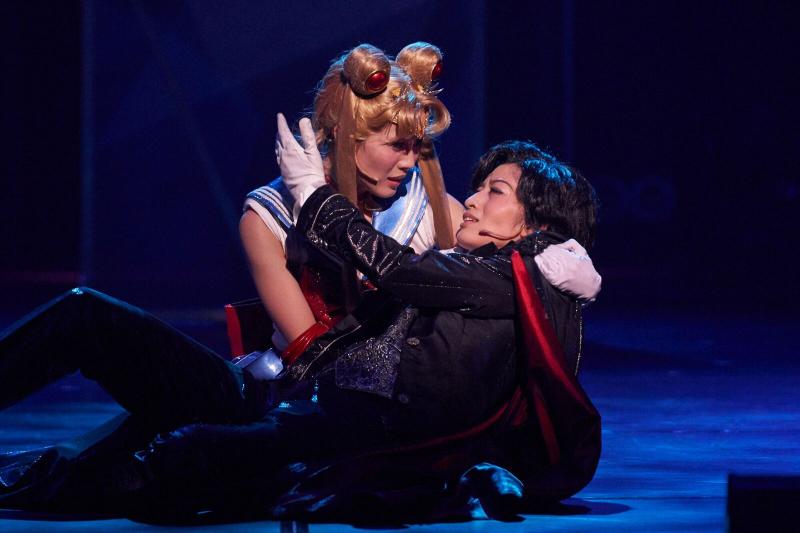 From the impressive fight and dance choreography, to the stunning light displays that literally make this production shine, Pretty Guardian is truly something spectacular to behold; this is true regardless of whether you have always loved Sailor Moon, or are rediscovering the series after some time. With each one of their heroines' triumphs, the audience cheered loudly in support as the Sailor Guardians protected Sailor Moon from the forces of evil. It was most inspiring to not only watch these characters keep their innocence and kindness of heart in the midst of malevolent forces, but also to see how excited we all became when something wonderful happened.
To combine actors who are perfect representations of the manga characters we know in print/on screen with the innovative use of the 2.5D experience, this show is nothing short than a climactic, goosebump-inducing marvel. Everything about it just rises up the human spirit - not only for those values for which the Sailor Guardians fight, but also because the entire production consisted of impressive moment after impressive moment. The final product really deserves recognition.
"Pretty Guardian Sailor Moon" The Super Live begins with Queen Beryl's elimination of those who were once guardians for good (I thank my friend for providing that backstory), leaving one person - along with a group of minions - to do her bidding. They target Usagi, a blonde and bumbling high school student who is perpetually late to school. Joined by her four friends, Usagi becomes Sailor Moon and is protected by her guardians: Sailor Mercury, Sailor Mars, Sailor Jupiter and Sailor Venus. Usagi also has a major crush on Tuxedo Mask, her handsome yet elusive hero who always steps in to save the day. When he is kidnapped and possessed by Beryl's minions, the Sailor Guardians must confront the dominating Queen, just about sacrificing themselves to both defeat her and fulfill their responsibility of protecting their friend. In an ultimate and heroic portrayal of strength, love and through the reality of loss, they combine their power to defeat Beryl and save Tuxedo Mask.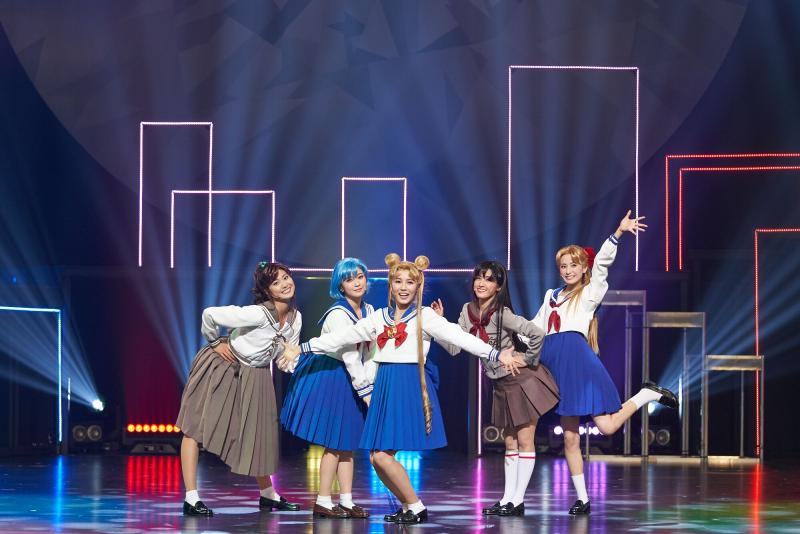 The wonderful dynamic of this show would not be possible without the talented actresses who perfectly portrayed all you would believe Sailor Moon to be. As their characters, they are unbelievably cute one moment, then valiant in the face of tragedy, leading up to a poignant end that is as bittersweet as it is inspirational. Tomomi Kasai, Momoko Kaechi, Yui Hasegawa, Kanna Matsuzaki, Yu Nakanishi, Makoto Aikawa, Reo Sanada, Atsumi Matsubayashi, Izumi Niihashi, Ayumi Higashikawa, Moeko Koizumi, Hinako Aikawa and Riona Tatemichi round out this incredibly gifted cast. Although the Sailor Guardians draw most of our attention, I was so impressed with the abilities of the ensemble as a whole. From their versatility in playing different characters (without the use of words!), to their talents in both dance and fight choreography, their efforts in bringing the Sailor Guardians' nemeses to the stage has not gone unnoticed.
Also already mentioned, the innovative use of lighting was amazing to watch, and those costumes! It truly felt like I was in someone's warped imagination...and it was wonderful.
From March 29th thru the 30th, "Pretty Guardian Sailor Moon" The Super offered three performances at the Playstation Theater in Times Square. Produced by Nelke Planning and NY producer Kumiko Yoshii for Gorgeous Entertainment, it held a prior engagement in Washington, D.C. To learn more about what you may have missed, please click here.
Photo Credit: Naoko Takeuchi, PNP/"Pretty Guardian Sailor Moon" The Super Live Production Committee"