Herbert Paine - Page 19

Herb Paine ~ Herb has served as Senior Contributing Editor and lead reviewer for BWW's Phoenix Metro Region since 2014.
He is President of Paine Consulting Services, now in its thirty-first year of operation, specializing in organizational development, strategic planning, turnaround management, mergers, and governance. In addition to his work with corporations and government, he is a nationally recognized expert on all aspects of nonprofit organization management and has consulted extensively with arts and cultural organizations on strategic positioning, branding, and audience development. For more, visit http://www.UpYourNonprofit.com.
His provocative social and political commentaries have been aired regularly on KJZZ/91.5 FM, NPR's Phoenix affiliate and are available at his blog, STANDS TO REASON at https://www.standstoreason.guru/.
Herb is an avid fan of theatre, both on and off stage. His most recent acting credits include roles as Sgt. Jeff Pugliese in the National Geographic Channel's April 2014 docudrama "Inside the Hunt for the Boston Bombers;" the King of France/Chaudron the forger/Ser Piero, DaVinci's father in Theater Works' "Finding Mona Lisa;" Inspector LeStrade in Fountain Hills Theater's "Sherlock's Last Case;" and Berry Bernard in the short film "Living Will." His directorial debut occurs with the production in May 2020 of SLEUTH at the Don Bluth Front Row Theatre in Scottsdale, AZ.
MOST POPULAR ARTICLES
LAST 30 DAYS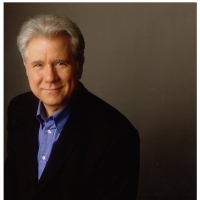 BWW Review: Lauren Gunderson's THE HEATH at Arizona Theatre Company Is A Masterpiece That Must Be Heard To Be Seen
Posted: Apr. 14, 2021


BWW Review: MY WAY at The Phoenix Theatre Company
Posted: Apr. 21, 2021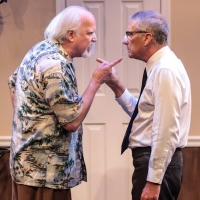 BWW Review: THE ODD COUPLE At Desert Stages Theatre
Posted: Apr. 14, 2021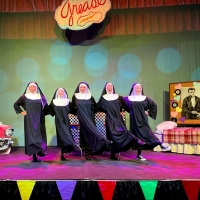 BWW Review: NUNSENSE at Arizona Broadway Theatre
Posted: Apr. 29, 2021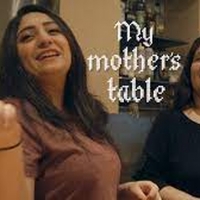 BWW Review: HEAR, EAT, HOME: KINAN'S VISION And MY MOTHER'S TABLE
Posted: Apr. 30, 2021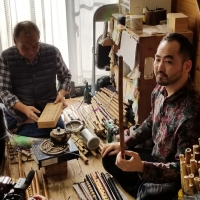 BWW Review: SHINOBU
Posted: May. 3, 2021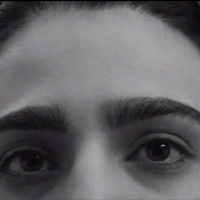 BWW Review: THE GIRL SITTING HERE
Posted: Apr. 19, 2021


LAST 365 DAYS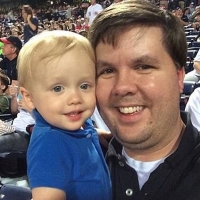 BWW Review: Susan Morgan Cooper's Riveting Expose On Hot Car Deaths: FATAL DISTRACTION
Posted: Jan. 8, 2021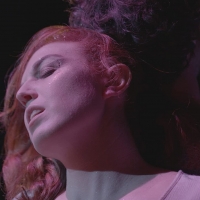 BWW Review: High Praise For Stacey Maltin's TRIPLE THREAT
Posted: Oct. 9, 2020


BWW Review: BASEMENTS & BUGBEARS - New Web Series Sets The Table For Suicide Prevention
Posted: Jan. 28, 2021


BWW Review: RIDERS OF THE PURPLE SAGE: THE MAKING OF A WESTERN OPERA
Posted: Mar. 23, 2021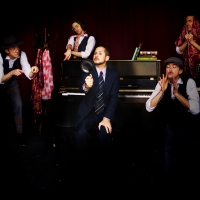 BWW Review: Timmons Edwards Detects The Best in MURDER FOR TWO
Posted: Feb. 20, 2021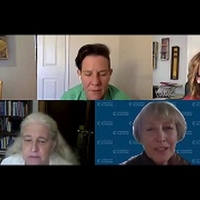 BWW Review: Collaboration Labs And Bevival Present Devorah Medwin's WOODEN NICKELS ~ A Life And Death Drama
Posted: Aug. 23, 2020


BWW Reviews: Theatre Artists Studio Presents NEW SUMMER SHORTS

June 19, 2015

Theatre Artists Studio has set the table for a healthy, satisfying, and inspiring feast of plays in its 2015 NEW SUMMER SHORTS which runs through June 28th. The play's the thing in a festival of short works written and directed my members of the co-op. At ten minutes a pop, each of the eight productions in this year's showcase catches the audience's conscience, at one level or another. As mirrors of human foibles and affects, their themes resonate with the familiarity of an old mistake, eliciting a knowing smile or a reluctant frown.
---
BWW Reviews: Valley Youth Theatre Presents INTO THE WOODS

June 15, 2015

With a 22-member cast, ranging in ages from 13 to 19-years-young, featuring remarkable performances by the likes of Alex Kirby and Sam Primack, Valley Youth Theatre is staging INTO THE WOODS, now at the Herberger Theater in Phoenix.
---
BWW Reviews: AN ALMOST HOLY PICTURE Is A Gentle and Poignant Quest for Meaning

June 14, 2015

Christopher Haines delivers a masterfully crafted performance in iTheatre Collaborative's staging of AN ALMOST HOLY PICTURE, directed by Rosemary Close.
---
BWW Reviews: RUMORS Has It!

June 8, 2015

A bullet train of laughs is reverberating across the Opening Night walls of Desert Stages Theatre, thanks to the deft direction of Virginia Olivieri and Gary Zaro and the quirky comic thespians who breathe fire into the script of Neil Simon's elegant farce, RUMORS.
---
BWW Reviews: Four Big Splashes for THE LITTLE MERMAID!

June 5, 2015

Lynzee Jaye Paul 4man and Jill-Christine Wiley lead a high-octane cast in Arizona Broadway Theatre's resplendent and enchanting production of THE LITTLE MERMAID.
---
Summer Stages: Cool Theatre for Hot Times in the Valley of the Sun

May 27, 2015

Theater lovers have a sizzling menu of choices for their viewing pleasure this Summer in the Phoenix Metropolitan Area ~ from delightful old chestnuts to spirited and timeless musicals. Here are the picks of the crop.
---
BWW Reviews: ONE MAN, TWO GUVNORS - Five Stars! Laurels for Ron May!

May 26, 2015

Ron May gives a laugh out loud and shining portrayal of a modern times harlequin in Phoenix Theatre's production of Richard Bean's ONE MAN, TWO GUVNORS. Featuring a great ensemble, brilliantly directed by Pasha Yamotahari, the show is a joyous jaunt into a world of 'comedic chaos.'
---
BWW Reviews: SOLD Is Bold and Daring Filmmaking of the Highest Order

May 19, 2015

SOLD, the award-winning film based on Patricia McCormick's novel about the worldwide tragedy of human trafficking and directed by Jeffrey D. Brown, is a necessarily unsparing and stunning account of a Nepali child's ordeal in the nefarious world of brothels and gangsters, featuring riveting performances by Niyar Saikia, Seema Biswas, Sushmita Mukerjee, and Gillian Anderson. Mandatory viewing for all people of conscience.
---
BWW Reviews: Childsplay's THE THREE JAVELINAS Blows The House Down and Raises The Spirits

May 4, 2015

Jenny Millinger has taken a heroic and successful leap into playwriting and, in collaboration with musical director Todd Hulet, has fashioned an uplifting and charming tale based on characters from the books of Susan Lowell. Adapt another fabled story about three pigs; stir vigorously with the motifs of the American Southwest; enliven with a melange of hip Broadway-style songs with a dash of regional flavoring; and energize with as electric an ensemble as you can find ~ and there you have it: The Three Javelinas, a delightful upbeat story about finding one's place in the (desert) sun.
---
BWW Reviews: There's No There At END OF THE RAINBOW

May 3, 2015

The all-out smashing performance of Jeannie Shubitz makes every moment of Phoenix Theatre's staging of END OF THE RAINBOW worth watching.
---
BWW Reviews: Stray Cat's THE TOMKAT PROJECT Is Satire on Steroids - A Well Done Roast!

April 27, 2015

Directed by Louis Farber, Stray Cat Theatre's production of Brandon Ogborn's THE TOMKAT PROJECT is like SNL on steroids, but with a top gun cast, nimbly firing off memorable caricatures of the famous, infamous, and those on the periphery of fame. It's a roast that will leave you breathless with the weight of the fast and furious performances of seven actors who are at the top of their game, playing over fifty distinct roles.
---
BWW Reviews: Toby Yatso Excels in BUYER & CELLAR

April 21, 2015

Toby Yatso is phenomenal in his one-act tour de force performance as Alex More, a starstruck aspiring actor, in Phoenix Theatre's current production of Jonathan Tolins's Buyer & Cellar, directed by Ron May.
---
BWW Reviews: How Sweet SWEET CHARITY Is!

April 21, 2015

How sweet SWEET CHARITY is! Arizona Broadway Theatre pays glorious tribute to this theatrical gem by mounting its own diamond of a production, tastefully directed by Seth Reines, featuring the glowing talent of Liz Fallon as Charity, and sparkling with a marvelous fusion of imaginative Peter Max-style set design (Geof Eroe), lighting (Jeff Davis), and costumes (John P. White).
---
BWW Reviews: Deserts Stages' WITNESS FOR THE PROSECUTION Is a Mystery In Itself!

April 13, 2015

Deserts Stages' WITNESS FOR THE PROSECUTION Is a Mystery In Itself!
---
BWW Reviews: THE MAN WHO CAME TO DINNER Is Rollicking Good Fun

April 11, 2015

Hale Center Theatre's THE MAN WHO CAME TO DINNER is rollicking good fun featuring knock-your socks-off performances by Hector Coris and Bryan Stewart, backed by a solid cast character actors.
---
BWW Reviews: CUCKOO'S NEST Offers A Light at the End of Repression's Tunnel

April 6, 2015

Cathy Dresbach and Matt Zimmerer are the fire and ice of this stirring and well-staged and finely cast production by Theater Works of One Flew Over the Cuckoo's Nest.
---
BWW Reviews: SHERLOCK HOLMES AND THE ADVENTURE OF THE SUICIDE CLUB Is A Cliffhanger

March 23, 2015

Jeffrey Hatcher's Sherlock Holmes and the Adventure of the Suicide Club is now on stage at Desert Foothills Theatre. Directed by Amy Serafin, the fun of the play is in the twists and turns that engage and captivate the audience until the true culprit is unmasked and the conceit that has driven the crime is revealed.
---
BWW Reviews: Mesa Encore Theatre's CAROUSEL Wins The Brass Ring

March 16, 2015

Mesa Encore Theatre is celebrating the 70th Anniversary of Rodgers and Hammerstein's CAROUSEL with a delightful and dazzling production, directed by Philip Fazio and Sarah Wolter and featuring standout acting and singing performances by Brenda Jean Foley as Julie Jordan, Joseph Cannon as Billy Bigelow, Alanna Kalbfleisch as Carrie Pepperidge, and Harmon Swartz as Enoch Snow.
---
BWW Reviews: THE HEIRESS at Theatre Artists Studio

March 16, 2015

The Heiress, Ruth and Augustus Goetz' award winning 1947 drama based on Henry James' 1880 novel, Washington Square, is in 2015 a tired, tedious, and entirely predictable chestnut. Theatre Artists Studio, which has had its share of theatrical wins this year, has not fared well in resurrecting it to the fiery psychological drama and social critique that the promos have proclaimed it to be.
---
BWW Reviews: Arizona Broadway Theatre's LES MIS Is Magnificent! Thus, A Bouquet of Bravos!

March 13, 2015

Arizona Broadway Theatre's current production of Les Miserables, directed by James Rio is an exceptional staging of the musical classic, featuring rich and nuanced performances by Kiel Klaphake as Jean Valjean, Mark DiConzo as Javert, and Carly Grossman as Eponine and the magical scenic and lighting design of Paul Black.
---
« prev 1 … 16  17  18  19  20  21  22  23  next »