Audrey Morabito - Page 2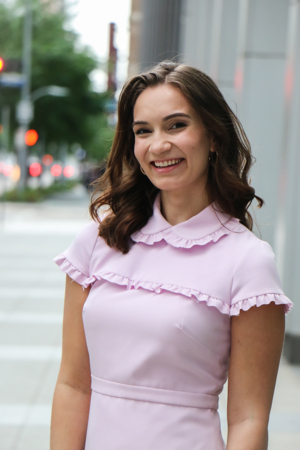 Audrey Morabito has been in the audience of the Houston theatre scene for over sixteen years, thanks to her parents' love of the arts. Once a starstruck five year old, enthralled with Starlight Express and Cathy Rigby's Peter Pan, Audrey recently graduated with a BFA in Playwriting & Dramaturgy from the University of Houston, with minors in Business Administration and Leadership Studies. Instagram: @audreymorabito
MOST POPULAR ARTICLES
LAST 30 DAYS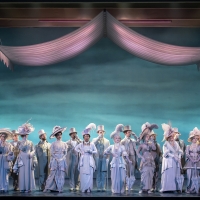 BWW Review: MY FAIR LADY Brings the Best and Finest of Broadway to Houston
Posted: Sep. 17, 2021


LAST 365 DAYS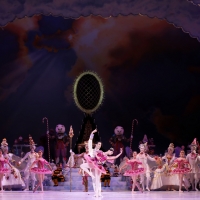 BWW Review: Houston Ballet's Virtual Program NUTCRACKER SWEETS is the Holiday Treat You Know & Love
Posted: Dec. 16, 2020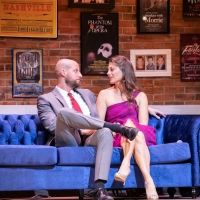 BWW Review: Fall in Love With Jake & Emily Speck in A.D. Players' A SPECK-TACULAR EVENING OF STORIES & SONGS
Posted: Feb. 18, 2021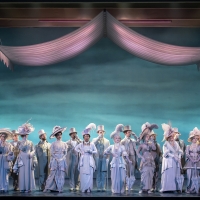 BWW Review: MY FAIR LADY Brings the Best and Finest of Broadway to Houston
Posted: Sep. 17, 2021


BWW Feature: FOR TONIGHT Finds 'Home' in Humanity at Queensbury Theatre

February 25, 2019

Running through March 3rd at Queensbury Theatre, the world premiere of FOR TONIGHT explores a tale of difference and divide, framed within a full-circle love story. Written by Spencer Williams, Shenelle Salcido, and Whitney Rhodes with music and lyrics by Williams and Salcido, FOR TONIGHT displays a patchwork of styles and sounds, indicative of the cross-cultural focus of the show.
---
BWW Review: TUESDAYS WITH MORRIE at A.D. Players

February 5, 2019

"Are you trying to be as human as you can be?" Read that again, and ask yourself--Am I trying to be as human as I can be? This is just one of the questions posed in A.D Players' production Tuesdays With Morrie, currently running through February 10th. If you are not already familiar with the well-loved New York Bestseller Tuesdays With Morrie (which sold a mere 15 million copies) then you'd better grab your tissues.
---
BWW Review: THE RIVER BRIDE Refashions the Fairy Tale at Stages Repertory Theatre

January 30, 2019

As a part of Stages Repertory Theatre's 2nd Annual Sin Muros: A Latinx Theatre Festival, Marisela Treviño Orta's The River Bride is composed of an entirely Latinx cast. Orta's play is based on the style of folk tales and the real-life freshwater river dolphins--the "boto".  Her work certainly reads with a mystical vibe and mythical undertones, and it is no surprise that she has a background in poetry.
---
BWW Feature: 9 Houston Productions to Look Forward to in 2019

January 30, 2019

Heading into the 2019 portion of the 2018/2019 theatre season, Houston has a wealth of productions that deserve your attention. In this feature, I break down the nine shows of 2019 that I will definitely be getting tickets to see. From farcical comedies, to emotionally intense straight plays, to soul-awakening musicals--you've got a ton of styles and genres to choose from, so go out there and get your tickets before they're gone!
---
BWW Review: Theatre Under The Stars' BEAUTY AND THE BEAST is a Spectacular Storybook Come to Life

December 17, 2018

Theatre Under the Stars' BEAUTY AND THE BEAST is the classic storybook tale vibrantly come to life in every aspect. From the captivating scenic design, to the brilliant costuming, to the songs that prompted many to sing along quietly to themselves in the audience, this 'tale as old as time' is a glorious re-imagination of the production that Theatre Under the Stars premiered for the first time 25 years ago in collaboration with Disney Theatrical Productions.
---
BWW Interview: Eduardo Guzman of Pitch Me This Productions Invites One and All to PMT POP UP: HOLIDAY CABARET

December 13, 2018

In the spirit of the holiday season, Pitch Me This Productions is excitedly preparing their PMT Pop Up: Holiday Cabaret for their one-night-only December 16th performance. Their 3rd annual holiday music spectacular, this concert offers Pay What You Can tickets, classic holiday family-friendly music, and a chance to step away from the hustle of our lives to connect with friends and family. I spoke with Pitch Me This's Founding Artistic Director, Eduardo Guzman, for all the details you need to attend this heartwarming holiday event.
---
BWW Review: Catastrophic's CURSE OF THE STARVING CLASS Is the Most Beautiful Dysfunction You'll Ever See

October 2, 2018

Pulitzer Prize-Winnng Sam Shepard's CURSE OF THE STARVING CLASS displays the lives of the working-class Tate family as they navigate everything from suffocating debt, to teenage crime, to marital distress and back again. Checking the fridge for food (that is never there) is a regular routine-turned-ritual in this household that is deteriorating from the inside out. Shepard's play explores what it means to be trapped in the cycle of the starving class. He writes about a family cursed by an outside force, a force that leaves the individuals involved no option to dissociate themselves from the identifying feature of the cursed: the familial bloodline.
---
BWW Review: AROUND THE WORLD IN 80 DAYS Is Your Imagination Personified at A.D. Players

September 16, 2018

The year is 1872, the setting is London, and the bet was made at exactly 8:55pm for 20,000 pounds. Or, at least that's how our practical, punctual main character Phileas Fogg would describe the scene. Fogg, a logical and calculated gentleman is willing to bet his entire fortune on the latest claim that with the developments of railways and steam engines, one is able to go around the world in 80 days (I bet you can guess the title of this little play now, huh?). Fogg is so convinced, that he intends to complete the trip himself, with his newly hired servant Passepartout (Braden Hunt), and a few others that get strung into the chaotic voyage along the way.
---
BWW Review: Theatre Under the Stars' 50th Anniversary Season Celebrates Houston As Home With OKLAHOMA

September 14, 2018

In the theatre world, your first time seeing Rodgers & Hammerstein's OKLAHOMA! is essentially a rite of passage. You either love it or you don't-and the pendulum can swing either direction depending on the actors, designers, and director's choices. Ever since I sat in my Survey of Musical Theatre class freshman year, watching the 1999 film of Oklahoma! , I've been waiting to see a live production. Whether you are an Oklahoma addict or have never heard of the show before, do your soul a favor and experience this joyful, unreplicable production.
---
BWW Review: JESUS HOPPED THE 'A' TRAIN Wrestles With Truth at 4th Wall Theatre Company

September 9, 2018

JESUS HOPPED THE 'A' TRAIN does what 4th Wall Theatre Company does best: explore valid, thought-provoking, true stories that linger on your mind for days following.
---
BWW Interview: LUKE & BLYTHE KIRKWOOD Put Spotlight On Collaboration Between Students & Professionals in SUMMER SING-THRU SERIES

August 3, 2018

What do you get what you cross two solution-minded musical theatre lovers with a need to create and a love of collaboration? Husband-and-wife team Luke and Blythe Kirkwood are the prime example of artists that saw a need in the Houston theatre world, and took it upon themselves to fill it. After noticing the wealth of musicals that rarely get to be produced because of their technical challenges or size, the Kirkwoods found a way to bring Houston audiences their favorite musicals in a different form of performance. The result was Summer Sing-Thru Series: a one-night-only concert event that brings all the musical wonder of your beloved Broadway soundtracks to life, with full orchestration by both professionals and high school to college-aged students.
---
BWW Review: GOD'S FAVORITE Highlights Faith & the Human Condition at A.D. PLAYERS

July 16, 2018

Neil Simon's GOD'S FAVORITE does what I believe good theatre is intended to do: take a multifaceted, complex topic and present it in a humanized, relatable, and entertaining manner. This can take many forms, and GOD'S FAVORITE pinpoints perhaps one of my favorite forms of theatrical communication: framing a meaningful, hard-to-wrap-your-mind-around concept within the familiar language of comedy.
---
BWW Review: SISTAS the Musical Showcases Strength & Soul at The Ensemble Theatre

June 30, 2018

Never before have I stepped into a theatre, seen the curtain rise, and then heard the familiar notes of Kelis' 'Milkshake' ring out from the stage. While this song seems out of place for a theatrical context, The Ensemble Theatre's SISTAS showcases a home for it onstage, along with over thirty other female, African American hit songs from music history. In the case of SISTAS, music is not just a component of the performance. Rather, it is a vehicle for tales of historical background, healing, and community.
---
BWW Interview: Director/Choreographer Patdro Harris & Music Director Chika Kaba Ma'atunde Talk SISTAS at The Ensemble Theatre

June 12, 2018

What do nostalgia, memory, and music all have in common? Not only do they all hold emotional influence over an individual, but they all also happen to be themes present in The Ensemble Theatre's upcoming Regional Premiere, SISTAS: The Musical. Directed and choreographed by Patrdo Harris with Musical Direction by Chika Kaba Ma'atunde, SISTAS is a musical journey through emotion and history as five friends heal from a loss. Through the incorporation of popular songs, "this play parallels the story of African-American women and their emerging sense of empowerment".
---
BWW Interview: Leighza Walker Talks Tenth Anniversary of MUSEUM OF DYSFUNCTION at Mildred's Umbrella Theater Company

May 31, 2018

This June, Mildred's Umbrella Theater Company is setting the stage for their tenth annual wildly quirky and delightfully diverse play festival, MUSEUM of DYSFUNCTION. The festival, taking place over the course of two weekends, was founded in 2008 by Mildred's Artistic Director Jennifer Decker as a collaborative outlet for both new and established playwrights alike.
---
BWW Review: SHAKESPEARE IN VEGAS Delivers Authenticity & Hilarity at 4th Wall Theatre Company

May 19, 2018

Within the first few seconds of Kim Tobin-Lehl's amusingly frenzied entrance onto the 4th Wall stage in SHAKESPEARE IN VEGAS, one word immediately crossed my mind-'authentic'. For the subsequent two-hour performance, authenticity remained to be a theme present in the developed characters, the feel-good storyline, and the entertaining true-to-the-industry moments that any involved theatre individual would be able to relate to. This isn't the first time a theatre newbie has stolen the scene from the star, the first time actresses have gotten catty backstage, or the first time an actress was hired for a role they believed would be much more wonderful than the reality was. However, for wise-guy director Tony (Philip Lehl), his season was indeed going to be one of firsts: He was going to bring Shakespeare to Las Vegas.
---
BWW Review: KISS ME Explores Interaction & Attraction at Theatre LaB Houston

May 1, 2018

Following a striking 150 Houston premieres, delivering top-notch, relevant, contemporary theater that spanned a variety of genres to the Houston area, Theatre LaB Houston recently opened their final production of Richard Bean's KISS ME.
---
BWW Review: Interactive JUST DANCE LIVE Experience Thrills Houston Fans at Revention Music Center

March 24, 2018

As I stood outside the Revention Music Center in downtown Houston on Thursday night with a growing line of enthusiastic Just Dance fans, I did not know what to expect when I walked through the doors. Having played Just Dance for the first time back in my middle school days, I was intrigued by this live event that would bring the memories of my favorite dances, characters, and songs to a stage right in front of me. What welcomed us as we walked in the doors was a completely transformed world where Just Dance, the number one music video game franchise by Ubisoft, had truly come to life before us.
---
BWW Review: WELL Explores Wellness & Personal Narrative at Mildred's Umbrella Theatre Company

January 19, 2018

What truly makes us well? Is wellness some otherworldly notion or mindset that we consciously choose or decide not to choose? How much power does an individual genuinely have over their wellness, or lack thereof? Additionally, how much power does an individual have over the wellness of others? These are the questions that the cast and creatives of Lisa Kron's WELL, currently in performance at Mildred's Umbrella Theatre Company, ask the audience to consider as they witness a multicharacter theatrical exploration of issues of health and illness both in the individual and in a community .
---
BWW Interview: Playwright Vincent Victoria Focuses on Historical Empowerment in THE DISAPPEARANCE OF EARTHA KITT

January 16, 2018

Parallel to the 50th Anniversary of the activist and entertainer, Eartha Kitt's, notorious visit to the White House in January 1968, Vincent Victoria's new play The Disappearance of Eartha Kitt will be making its world premiere in Houston. The play will detail the whereabouts and life of Eartha Kitt from 1968-1978, as she moved her career to Europe, later returning to Broadway ultimately to be nominated for a Tony Award in her musical comeback Timbuktu .
---