Audrey Morabito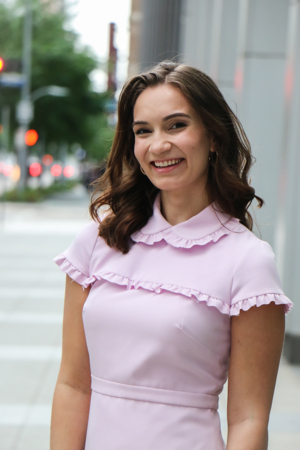 Audrey Morabito has been in the audience of the Houston theatre scene for over sixteen years, thanks to her parents' love of the arts. Once a starstruck five year old, enthralled with Starlight Express and Cathy Rigby's Peter Pan, Audrey recently graduated with a BFA in Playwriting & Dramaturgy from the University of Houston, with minors in Business Administration and Leadership Studies. Instagram: @audreymorabito
MOST POPULAR ARTICLES
LAST 30 DAYS
LAST 365 DAYS
Review: THE SOUND OF MUSIC Bursts with Spirit & Heart at A.D. Players

July 10, 2022

Oh, where to begin? This is the kind of show that reminds you that theatre is PLAY. And there's simply too much genuine playfulness and joy happening over at A.D. Players for you to miss out on it. Whether you're a diehard fan of THE SOUND OF MUSIC fan or it's been a while since you indulged in it, I encourage you to make this show a priority during your summer trips to the theatre.
---
BWW Review: BEAUTIFUL: THE CAROLE KING MUSICAL Glows with Musical Genius at The Hobby Center

June 4, 2022

BEAUTIFUL - THE CAROLE KING MUSICAL is not only a time capsule of some of the greatest hits of music history, it's a peek behind the curtain of how they all came to be. The life story of the iconic Carole King is inseparable from her songbook. This story starts with a Carole Klein—before she was the Carole King we adore—and takes us behind the scenes to see how her genius blossomed.
---
BWW Interview: Chris Iannacone Reflects On the Timeless & Tragic Relevance of THE WAR OF THE WORLDS at Classical Theatre

April 4, 2022

Classical Theatre Company, known for boldly re-envisioning classic drama, is unveiling a world premiere adaptation of THE WAR OF THE WORLDS by H.G. Wells this April. First published in 1898, this science-fiction tale of an alien invasion is far from irrelevant to our modern day. Over the course of 120 years, it has been produced in various mediums and time periods, retaining powerful commentary on the fear of "The Other". 
---
BWW Interview: Brett Ishida Spotlights Humanity & Catharsis in YOU COULD RELEASE ME

March 18, 2022

Tonight ISHIDA Dance Company opens you could release me in Houston! This world premiere dance production features choreography by Montreal-based choreographers Jeremy Galdeano and Vera Kvarcakova, award-winning British Finnish choreographer Kristian Lever, and Paris-based choreographer Emilie Leriche. I spoke with ISHIDA Dance Company's Artistic Director and Choreographer Brett Ishida about the meaning behind ISHIDA's work, what ignites her as a choreographer, and what to look forward to in you could release me!
---
BWW Book Review: MAGIC IN THE DARK by Charles B. Moss and Jonathan Kay

January 24, 2022

When an Uber driver asked Charles B. Moss Jr. what area of the film industry he worked in, Moss responded with "the boring part". All I can say is, after picking up Magic in the Dark, I'm sure you'll agree that is a vast understatement. But you'll have to see for yourself...Magic in the Dark is more a time capsule than a book, unlocking stories and histories about the movie industry that you won't believe have gone untold.
---
BWW REVIEW: Theatre Under the Stars' THE LITTLE MERMAID is a Timeless Tale Bursting with Talent

December 10, 2021

It's holiday time in Houston, and THE LITTLE MERMAID has arrived at Theatre Under the Stars! With music by the legendary Alan Menken, lyrics by Howard Ashman and Glenn Slater, and a book by Doug Wright, this production does your favorite childhood movie justice—and then some. 
---
BWW Interview: Carla Woods Takes Audiences Under the Sea & Behind the Scenes at TUTS' THE LITTLE MERMAID

December 8, 2021

This week Theatre Under the Stars opens their fabulous holiday show, THE LITTLE MERMAID! This classic undersea tale is packed full of Houston theatre favorites, including the lovely Carla Woods! Returning to the stage as 'Sebastian', Woods gave BroadwayWorld insight on her past roles at TUTS, stepping into 'Sebastian', and some behind-the-scenes stories!
---
BWW Interview: Susan Koozin Shares the Joy of TUTS' SISTER ACT & Reflects On Her History in Houston Theatre

November 5, 2021

One of the things that drew me to Houston theatre as a young audience member was when I began to recognize the faces onstage. After spending some time in Houston, you start to recognize the same smiling, singing faces (and make a habit of looking forward to seeing their name appear in your program!) This week, I had the pleasure of chatting with one of these familiar faces, the lovely Susan Koozin! We talked about her start in Houston theatre, the joy of SISTER ACT, and how it feels to return to the stage after all this time.
---
BWW Review: MY FAIR LADY Brings the Best and Finest of Broadway to Houston

September 17, 2021

Last night I sat in a theatre for the first time in 557 days. I'm positive I wasn't the only one holding a track record of that caliber, because the excitement in the Hobby Center was tangible. Theatre is back indeed. And what better way to welcome you than the visually stunning, lovely tale of Professor Higgins and his pupil Eliza Doolittle. MY FAIR LADY (1956) is as classic as it gets, the prime example of Broadway at its best and finest.
---
BWW Review: Fall in Love With Jake & Emily Speck in A.D. Players' A SPECK-TACULAR EVENING OF STORIES & SONGS

February 18, 2021

If you're anything like me (And if you're a theatre person, you probably are), you're a sucker for a good cabaret. And a sweet love story. And (of course) musicals. Need I say more? A.D. Players has jumped back into the digital theatre space with their timely production of A SPECK-TACULAR EVENING OF STORIES AND SONGS following the lives, love story, and leaps of faith of A.D. Players' Executive Director Jake Speck and his wife Emily Tello Speck.
---
BWW Review: Houston Ballet's Virtual Program NUTCRACKER SWEETS is the Holiday Treat You Know & Love

December 16, 2020

It goes without mention that this year's festivities look a little different, but in the case of Houston Ballet's virtual program NUTCRACKER SWEETS, different can be synonymous with delightful: the same decorated holiday production with all the bells and whistles, along with several added layers of accessibility. While I'd wholeheartedly agree that I can't wait to be back in those theatre seats, this year there's no need to brave the cold or face downtown traffic. Simply snuggle up on your couch, grab some hot cocoa, and treat yourself to the delectable NUTCRACKER SWEETS virtual ballet.
---
BWW Feature: TEEN ARTISTS THEATER UNIVERSITY Is the Digital Theater Intensive You've Been Craving

May 27, 2020

These past few months, I suspect that every member of the theatre industry has grappled with the same question. What do you do when your home-base theatre, school program, or summer camp has been forced to shut its doors? When you're an artist indefinitely detached from the stage, well, what's next? Playwright, lyricist, and teacher Scott Greenberg did the only logical thing a theatre-maker, starving to create, would do. He made a new stage. Spoiler alert: it comes in the form of a six-week theatre intensive taught by industry professionals, and it's everything I wish I had as a high school theatre-lover.
---
BWW Feature: Second Servings' 'Dinner's On Us' Invites Houston Theatre Community to the Table

April 30, 2020

When was the last time your weekly trip to Trader Joe's consisted of 1,500 lbs of food? I know, I know. Trader Joe's is the bomb. But 1,500 lbs?! That, however, is just a regular ol' day for the folks at Second Servings Houston, who recover food excess and connect it to those in need. With the various challenges facing the  arts industry right now, Second Servings has extended an invitation for their 'Dinner's On Us' program to the members of the theatre community. So go ahead and pull up a chair, you need to hear about this.
---
BWW Review: COME FROM AWAY Ignites Compassion and Unity at the Hobby Center

March 4, 2020

In over ten years of being in the audience at the Hobby Center, I have never heard applause as loud and abundant as I did at last night's curtain call. It was as if the whole audience agreed not only that we had witnessed something significant, but were acknowledging that we witnessed it together. In seeing COME FROM AWAY there is an otherworldly layer of unity as an audience member, as all of us shared to some extent the story that was being played out onstage.
---
BWW Review: Al Fallick's MOVIES, MUSICALS AND ME is Broadway Parody Hilarity

February 25, 2020

What do Apollo 13, Space Jam, The Mummy, and A Quiet Place all have in common? Why, they're none other than four of the many (many) acclaimed movie musical adaptations of Halpert Evans' (Al Fallick) extensive Broadway career. You haven't heard of him? Well then, let me introduce to you one of Broadway's biggest starsa?'in his mind, the biggest stara?'of our time. Perhaps you'd recognize him from his role as Miranda in a?oeThe Devil Wears Prada: the Musicala??, or the critically acclaimed a?oeThe Terminator: the Musicala??? If Mr. Evans isn't ringing a bell, I suggest you get yourself down to Ovations Night Club in Houston for a cabaret style show, a?oeMovies, Musicals & Me: An Evening with Halpert Evansa?? starring none other than Halpert Evans himself.
---
BWW Review: ONCE ON THIS ISLAND at TUTS Is Raw, Real Storytelling at Its Finest

February 20, 2020

"This—something, life and...breath?" my friend read as she tried to decode my jumbled mess of notes while I drove us home from the show. "Oh no," I answered, 'that says, 'This musical lives and breathes." That short phrase is the most indicative of my experience at ONCE ON THIS ISLAND, a show whose movement, melodies, and people formed together before us, seemingly as a new animate creature. A tale of "two worlds never meant to meet", ONCE ON THIS ISLAND delivers a 90-minute sung-through litany of joyous song, dance, and storytelling.
---
BWW Review: A.D. Players' GUESS WHO'S COMING TO DINNER Is Both Hopeful & Honest

February 4, 2020

The year is 1967, the place is San Francisco, and the conflict? A young and optimistic mixed-race couple has just announced their upcoming plans of marriage to unsuspecting parents. Guess Who's Coming to Dinner extracts the nuances and subtleties of prejudice and plops them center stage, both literally and figuratively, in the living room of the liberal, upper-class Drayton family.
---
BWW Review: Theatre Under The Stars' ELF is a Feel-Good, Festive, Family Holiday Treat

December 19, 2019

I first saw ELF when TUTS produced it back in 2013, and last year I had the absolute joy of working on a production of it at Queensbury Theatre. I'll be honest, it was a challenge for me to set aside my past experience with the show in order to see it with fresh eyes, giving myself a fair chance to experience a different cast, choreo, and designs from a reviewer's perspective. Setting aside my personal experiences with ELF, I found that this production reminded me of the things I loved most about it in the first place-the humorous quips written into the dialogue, the undeniably jolly holiday spirit, and the snappy songs that inevitably get stuck in my head.
---
BWW Review: Firecracker Productions' ALL THROUGH THE HOUSE Is Not the 'Night Before Christmas' You Expect

December 9, 2019

In the thick of the holiday season, there are generally two camps of seasonal shows in the repertoire of our Houston theatre scene: those that indulge the festive, heartfelt genre of holiday classics, and those that provide an alternative. While I am partial to the former (Yes, I also enjoy the cheesy Hallmark movies. We all have our flaws), I was looking forward to spending an evening with Firecracker Productions' edgier, less-traditional Christmas tale.
---
BWW Review: THE HIDING PLACE World Premiere is Poignant & Powerful at A.D. Players

September 16, 2019

Is it possible to be released from the bondage of suffering, while still in the midst of it? How often does sufferinga?'past or presenta?'grasp hold of our entire being, making it near impossible to believe in the goodness around us? The World Premiere Adaption of THE HIDING PLACE asks us these questions, while simultaneously being an answer to them. Additionally, A.D. Players holds strong ties to the telling of this story. Founder Jeannette Clift George starred as Corrie ten Boom in the critically acclaimed film adaptation after working alongside Corrie to bring her to life on the screen. This heart-wrenching and enlightening play sets the tone for A.D. Players' 53rd Seasona?'A Season of Hope.
---