Audrey Morabito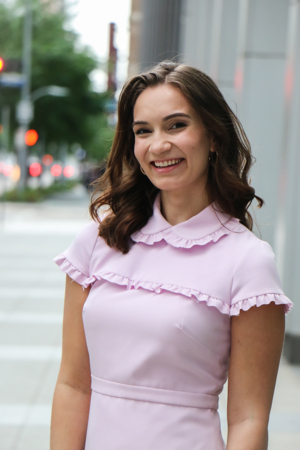 Audrey Morabito has been in the audience of the Houston theatre scene for over sixteen years, thanks to her parents' love of the arts. Once a starstruck five year old, enthralled with Starlight Express and Cathy Rigby's Peter Pan, Audrey recently graduated with a BFA in Playwriting & Dramaturgy from the University of Houston, with minors in Business Administration and Leadership Studies. Instagram: @audreymorabito
BWW Review: Fall in Love With Jake & Emily Speck in A.D. Players' A SPECK-TACULAR EVENING OF STORIES & SONGS

February 18, 2021

If you're anything like me (And if you're a theatre person, you probably are), you're a sucker for a good cabaret. And a sweet love story. And (of course) musicals. Need I say more? A.D. Players has jumped back into the digital theatre space with their timely production of A SPECK-TACULAR EVENING OF STORIES AND SONGS following the lives, love story, and leaps of faith of A.D. Players' Executive Director Jake Speck and his wife Emily Tello Speck.
---
BWW Review: Houston Ballet's Virtual Program NUTCRACKER SWEETS is the Holiday Treat You Know & Love

December 16, 2020

It goes without mention that this year's festivities look a little different, but in the case of Houston Ballet's virtual program NUTCRACKER SWEETS, different can be synonymous with delightful: the same decorated holiday production with all the bells and whistles, along with several added layers of accessibility. While I'd wholeheartedly agree that I can't wait to be back in those theatre seats, this year there's no need to brave the cold or face downtown traffic. Simply snuggle up on your couch, grab some hot cocoa, and treat yourself to the delectable NUTCRACKER SWEETS virtual ballet.
---
BWW Feature: TEEN ARTISTS THEATER UNIVERSITY Is the Digital Theater Intensive You've Been Craving

May 27, 2020

These past few months, I suspect that every member of the theatre industry has grappled with the same question. What do you do when your home-base theatre, school program, or summer camp has been forced to shut its doors? When you're an artist indefinitely detached from the stage, well, what's next? Playwright, lyricist, and teacher Scott Greenberg did the only logical thing a theatre-maker, starving to create, would do. He made a new stage. Spoiler alert: it comes in the form of a six-week theatre intensive taught by industry professionals, and it's everything I wish I had as a high school theatre-lover.
---
BWW Feature: Second Servings' 'Dinner's On Us' Invites Houston Theatre Community to the Table

April 30, 2020

When was the last time your weekly trip to Trader Joe's consisted of 1,500 lbs of food? I know, I know. Trader Joe's is the bomb. But 1,500 lbs?! That, however, is just a regular ol' day for the folks at Second Servings Houston, who recover food excess and connect it to those in need. With the various challenges facing the  arts industry right now, Second Servings has extended an invitation for their 'Dinner's On Us' program to the members of the theatre community. So go ahead and pull up a chair, you need to hear about this.
---
BWW Review: COME FROM AWAY Ignites Compassion and Unity at the Hobby Center

March 4, 2020

In over ten years of being in the audience at the Hobby Center, I have never heard applause as loud and abundant as I did at last night's curtain call. It was as if the whole audience agreed not only that we had witnessed something significant, but were acknowledging that we witnessed it together. In seeing COME FROM AWAY there is an otherworldly layer of unity as an audience member, as all of us shared to some extent the story that was being played out onstage.
---
BWW Review: Al Fallick's MOVIES, MUSICALS AND ME is Broadway Parody Hilarity

February 25, 2020

What do Apollo 13, Space Jam, The Mummy, and A Quiet Place all have in common? Why, they're none other than four of the many (many) acclaimed movie musical adaptations of Halpert Evans' (Al Fallick) extensive Broadway career. You haven't heard of him? Well then, let me introduce to you one of Broadway's biggest starsa?'in his mind, the biggest stara?'of our time. Perhaps you'd recognize him from his role as Miranda in a?oeThe Devil Wears Prada: the Musicala??, or the critically acclaimed a?oeThe Terminator: the Musicala??? If Mr. Evans isn't ringing a bell, I suggest you get yourself down to Ovations Night Club in Houston for a cabaret style show, a?oeMovies, Musicals & Me: An Evening with Halpert Evansa?? starring none other than Halpert Evans himself.
---
BWW Review: ONCE ON THIS ISLAND at TUTS Is Raw, Real Storytelling at Its Finest

February 20, 2020

"This—something, life and...breath?" my friend read as she tried to decode my jumbled mess of notes while I drove us home from the show. "Oh no," I answered, 'that says, 'This musical lives and breathes." That short phrase is the most indicative of my experience at ONCE ON THIS ISLAND, a show whose movement, melodies, and people formed together before us, seemingly as a new animate creature. A tale of "two worlds never meant to meet", ONCE ON THIS ISLAND delivers a 90-minute sung-through litany of joyous song, dance, and storytelling.
---
BWW Review: A.D. Players' GUESS WHO'S COMING TO DINNER Is Both Hopeful & Honest

February 4, 2020

The year is 1967, the place is San Francisco, and the conflict? A young and optimistic mixed-race couple has just announced their upcoming plans of marriage to unsuspecting parents. Guess Who's Coming to Dinner extracts the nuances and subtleties of prejudice and plops them center stage, both literally and figuratively, in the living room of the liberal, upper-class Drayton family.
---
BWW Review: Theatre Under The Stars' ELF is a Feel-Good, Festive, Family Holiday Treat

December 19, 2019

I first saw ELF when TUTS produced it back in 2013, and last year I had the absolute joy of working on a production of it at Queensbury Theatre. I'll be honest, it was a challenge for me to set aside my past experience with the show in order to see it with fresh eyes, giving myself a fair chance to experience a different cast, choreo, and designs from a reviewer's perspective. Setting aside my personal experiences with ELF, I found that this production reminded me of the things I loved most about it in the first place-the humorous quips written into the dialogue, the undeniably jolly holiday spirit, and the snappy songs that inevitably get stuck in my head.
---
BWW Review: Firecracker Productions' ALL THROUGH THE HOUSE Is Not the 'Night Before Christmas' You Expect

December 9, 2019

In the thick of the holiday season, there are generally two camps of seasonal shows in the repertoire of our Houston theatre scene: those that indulge the festive, heartfelt genre of holiday classics, and those that provide an alternative. While I am partial to the former (Yes, I also enjoy the cheesy Hallmark movies. We all have our flaws), I was looking forward to spending an evening with Firecracker Productions' edgier, less-traditional Christmas tale.
---
BWW Review: THE HIDING PLACE World Premiere is Poignant & Powerful at A.D. Players

September 16, 2019

Is it possible to be released from the bondage of suffering, while still in the midst of it? How often does sufferinga?'past or presenta?'grasp hold of our entire being, making it near impossible to believe in the goodness around us? The World Premiere Adaption of THE HIDING PLACE asks us these questions, while simultaneously being an answer to them. Additionally, A.D. Players holds strong ties to the telling of this story. Founder Jeannette Clift George starred as Corrie ten Boom in the critically acclaimed film adaptation after working alongside Corrie to bring her to life on the screen. This heart-wrenching and enlightening play sets the tone for A.D. Players' 53rd Seasona?'A Season of Hope.
---
BWW Review: A.D. Players Brings Electric Energy to WEST SIDE STORY

July 22, 2019

As the biggest musical A.D. Players has produced in their 52 years, I believe that this production of WEST SIDE STORY has distinguished A.D. Players as an enormously capable participant in our city's musical theatre scene. In the show program, A.D. Players Executive Director Jake Speck and Artistic Director Kevin Dean discuss choosing their season for this past year, which WEST SIDE STORY was not originally a part of. Both individuals recount that though they were pleased with the season's selections, none of the titles scared them. In their mission to continue to set the bar higher, WEST SIDE STORY earned its place in the season. Pay attention, Houston. They're doing big things over at the George Theater, and you've got one more week to catch it!
---
BWW Feature: Broadway Dreams & Theatre Under The Stars Collaborate for UNPLUGGED 2019 Intensive Tour

July 22, 2019

In an industry where there are countless workshops and trainings for performance experience, Broadway Dreams is an authentic, irreplicable gem. This organization has proven itself to be a standout from others in ways that can be the determining factor in theatrical success. From July 20th- 26th, the Broadway Dreams UNPLUGGED tour intensive is partnering with Theatre Under the Stars to bring top-notch, tailored theatre training to the students of Houston through collaboration with Broadway professionals.
---
BWW Interview: Dan Knechtges & Sara Brunow Talk Public Works Houston and SEUSSICAL at TUTS

July 15, 2019

In conjunction with their 50th Anniversary Season, Theatre Under the Stars has introduced Public Works Houston, a program designed to serve their mission of impacting lives beyond the stage through thoughtful community outreach. Public Works Houston branches off of the Public Works initiative of The Public Theater in New York, which aims to engage the community by making them creators rather than spectators.
---
BWW Review: ALADDIN Animates The Hobby Center with Showmanship and Spectacle

June 28, 2019

ALADDIN is a vibrant kaleidoscope of extravagant costumes, choreography, and vocal performances. An entertaining musical comedy jam-packed with a cast of over 30 members, there is always something to marvel at throughout the show for children and adults alike. It's glitz, dynamic, and sure to entertain. Directed and choreographed by Casey Nicholaw with orchestrations by Danny Troob, this show packs an impressive punch when it comes to presentational musical numbers.
---
BWW Review: A.D. Players' THE GOD COMMITTEE Asks You to Consider the Value of Human Life

May 26, 2019

Have you ever stopped to consider what a day of life is worth? Not what the meaning of life is or your personal purpose in life, but 'What is a day of life worth to you?' Can the answer to this question be measured? Or answered monetarily? It would seem that the answer would have to be unquantifiable, impossible to put a standard number, label, shape, or weight to. THE GOD COMMITTEE presents a question of 'sentiment versus science', in a world where being truly objective is impossible. Facts, data, and statistics are pit against psychology, socialization, and emotional life as seven decision-makers attempt to determine which of three patients should receive the sole heart available for transplant.
---
BWW Feature: Queensbury Theatre's Season Finale SIDE SHOW Showcases Houston Talent

April 9, 2019

As the season finale of Queensbury's inaugural season of both classic musicals and world premieres, SIDE SHOW vibrantly illustrates why you should keep your eye on Queensbury Theatre. Queensbury aims to engage the community, cultivate the future, and redefine the expectations of Houston theatre. SIDE SHOW accomplishes all three of these intents with a remarkable local cast, top-notch Houston designers, and a captivating true story that is sure to entertain.
---
BWW Interview: The Ensemble Theatre's Eileen Morris Talks FREEDA PEOPLES

April 6, 2019

It is often said amongst theatre-goers and theatre-makers alike that 'theatre is church'. When attending a well-done production, theatre can be a cathartic, revealing, and truthful experience for the audience member. In the case of Joyce Sylvester's 'church comedy' FREEDA PEOPLES, running at The Ensemble Theatre through April 14th, the claim that 'Theatre is church' is manifested quite literally. Sylvester's comedy focuses on the relationship between a church's leaders and its congregation, analyzing the relationships between those of religious authority and the church patrons. Taking a closer look at the goings-on of this community reveals that no one is who they claim to be, and that we could all use a dose of truth and healing in our lives.
---
BWW Review: 'Take A Chance' On MAMMA MIA! at Theatre Under The Stars

February 25, 2019

When attending a jukebox musical, it's expected that the best part of the show will likely be the cherished songs and vocals. MAMMA MIA showcases music and lyrics by ABBA's Benny Andersson and Bjorn Ulvaeus, and a book by Catherine Johnson that is predictably a bit surface-level and 'cheesy', for lack of a better word. Of course, this effect is almost expected when adapting a collection of an artist's songs for the stage, and cheesy can be wonderful. However, there is a way to stage a cheesy musical without seeming inauthentic. There were moments in Theatre Under the Stars' MAMMA MIA that worked, and some that didn't.
---
BWW Feature: FOR TONIGHT Finds 'Home' in Humanity at Queensbury Theatre

February 25, 2019

Running through March 3rd at Queensbury Theatre, the world premiere of FOR TONIGHT explores a tale of difference and divide, framed within a full-circle love story. Written by Spencer Williams, Shenelle Salcido, and Whitney Rhodes with music and lyrics by Williams and Salcido, FOR TONIGHT displays a patchwork of styles and sounds, indicative of the cross-cultural focus of the show.
---