Audrey Morabito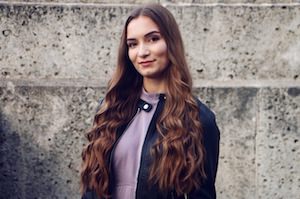 Audrey Morabito has been enthralled with the Houston theatre community her entire life, having attended countless productions at Theatre Under the Stars and Main Street Youth Theatre since she was five years old. Fourteen years later, her love for theatre has grown and she is thrilled to be writing for BroadwayWorld Houston. She currently attends the University of Houston as a third-year BFA Playwriting/Dramaturgy student, with minors in Leadership Studies and Business Administration. A lover of big cities, simple words, and the little things in life.
MOST POPULAR ARTICLES
LAST 30 DAYS
BWW Review: THE HIDING PLACE World Premiere is Poignant & Powerful at A.D. Players
Posted: Sep. 16, 2019


LAST 365 DAYS
BWW Review: THE HIDING PLACE World Premiere is Poignant & Powerful at A.D. Players
Posted: Sep. 16, 2019



BWW Review: Theatre Under The Stars' BEAUTY AND THE BEAST is a Spectacular Storybook Come to Life
Posted: Dec. 17, 2018


BWW Review: 'Take A Chance' On MAMMA MIA! at Theatre Under The Stars
Posted: Feb. 25, 2019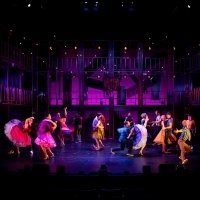 BWW Review: A.D. Players Brings Electric Energy to WEST SIDE STORY
Posted: Jul. 22, 2019


BWW Feature: FOR TONIGHT Finds 'Home' in Humanity at Queensbury Theatre
Posted: Feb. 25, 2019



BWW Feature: Queensbury Theatre's Season Finale SIDE SHOW Showcases Houston Talent
Posted: Apr. 9, 2019


BWW Feature: 9 Houston Productions to Look Forward to in 2019
Posted: Jan. 30, 2019


BWW Review: THE HIDING PLACE World Premiere is Poignant & Powerful at A.D. Players

September 16, 2019

Is it possible to be released from the bondage of suffering, while still in the midst of it? How often does sufferinga?'past or presenta?'grasp hold of our entire being, making it near impossible to believe in the goodness around us? The World Premiere Adaption of THE HIDING PLACE asks us these questions, while simultaneously being an answer to them. Additionally, A.D. Players holds strong ties to the telling of this story. Founder Jeannette Clift George starred as Corrie ten Boom in the critically acclaimed film adaptation after working alongside Corrie to bring her to life on the screen. This heart-wrenching and enlightening play sets the tone for A.D. Players' 53rd Seasona?'A Season of Hope.
---
BWW Review: A.D. Players Brings Electric Energy to WEST SIDE STORY

July 22, 2019

As the biggest musical A.D. Players has produced in their 52 years, I believe that this production of WEST SIDE STORY has distinguished A.D. Players as an enormously capable participant in our city's musical theatre scene. In the show program, A.D. Players Executive Director Jake Speck and Artistic Director Kevin Dean discuss choosing their season for this past year, which WEST SIDE STORY was not originally a part of. Both individuals recount that though they were pleased with the season's selections, none of the titles scared them. In their mission to continue to set the bar higher, WEST SIDE STORY earned its place in the season. Pay attention, Houston. They're doing big things over at the George Theater, and you've got one more week to catch it!
---
BWW Feature: Broadway Dreams & Theatre Under The Stars Collaborate for UNPLUGGED 2019 Intensive Tour

July 22, 2019

In an industry where there are countless workshops and trainings for performance experience, Broadway Dreams is an authentic, irreplicable gem. This organization has proven itself to be a standout from others in ways that can be the determining factor in theatrical success. From July 20th- 26th, the Broadway Dreams UNPLUGGED tour intensive is partnering with Theatre Under the Stars to bring top-notch, tailored theatre training to the students of Houston through collaboration with Broadway professionals.
---
BWW Interview: Dan Knechtges & Sara Brunow Talk Public Works Houston and SEUSSICAL at TUTS

July 15, 2019

In conjunction with their 50th Anniversary Season, Theatre Under the Stars has introduced Public Works Houston, a program designed to serve their mission of impacting lives beyond the stage through thoughtful community outreach. Public Works Houston branches off of the Public Works initiative of The Public Theater in New York, which aims to engage the community by making them creators rather than spectators.
---
BWW Review: ALADDIN Animates The Hobby Center with Showmanship and Spectacle

June 28, 2019

ALADDIN is a vibrant kaleidoscope of extravagant costumes, choreography, and vocal performances. An entertaining musical comedy jam-packed with a cast of over 30 members, there is always something to marvel at throughout the show for children and adults alike. It's glitz, dynamic, and sure to entertain. Directed and choreographed by Casey Nicholaw with orchestrations by Danny Troob, this show packs an impressive punch when it comes to presentational musical numbers.
---
BWW Review: A.D. Players' THE GOD COMMITTEE Asks You to Consider the Value of Human Life

May 26, 2019

Have you ever stopped to consider what a day of life is worth? Not what the meaning of life is or your personal purpose in life, but 'What is a day of life worth to you?' Can the answer to this question be measured? Or answered monetarily? It would seem that the answer would have to be unquantifiable, impossible to put a standard number, label, shape, or weight to. THE GOD COMMITTEE presents a question of 'sentiment versus science', in a world where being truly objective is impossible. Facts, data, and statistics are pit against psychology, socialization, and emotional life as seven decision-makers attempt to determine which of three patients should receive the sole heart available for transplant.
---
BWW Feature: Queensbury Theatre's Season Finale SIDE SHOW Showcases Houston Talent

April 9, 2019

As the season finale of Queensbury's inaugural season of both classic musicals and world premieres, SIDE SHOW vibrantly illustrates why you should keep your eye on Queensbury Theatre. Queensbury aims to engage the community, cultivate the future, and redefine the expectations of Houston theatre. SIDE SHOW accomplishes all three of these intents with a remarkable local cast, top-notch Houston designers, and a captivating true story that is sure to entertain.
---
BWW Interview: The Ensemble Theatre's Eileen Morris Talks FREEDA PEOPLES

April 6, 2019

It is often said amongst theatre-goers and theatre-makers alike that 'theatre is church'. When attending a well-done production, theatre can be a cathartic, revealing, and truthful experience for the audience member. In the case of Joyce Sylvester's 'church comedy' FREEDA PEOPLES, running at The Ensemble Theatre through April 14th, the claim that 'Theatre is church' is manifested quite literally. Sylvester's comedy focuses on the relationship between a church's leaders and its congregation, analyzing the relationships between those of religious authority and the church patrons. Taking a closer look at the goings-on of this community reveals that no one is who they claim to be, and that we could all use a dose of truth and healing in our lives.
---
BWW Review: 'Take A Chance' On MAMMA MIA! at Theatre Under The Stars

February 25, 2019

When attending a jukebox musical, it's expected that the best part of the show will likely be the cherished songs and vocals. MAMMA MIA showcases music and lyrics by ABBA's Benny Andersson and Bjorn Ulvaeus, and a book by Catherine Johnson that is predictably a bit surface-level and 'cheesy', for lack of a better word. Of course, this effect is almost expected when adapting a collection of an artist's songs for the stage, and cheesy can be wonderful. However, there is a way to stage a cheesy musical without seeming inauthentic. There were moments in Theatre Under the Stars' MAMMA MIA that worked, and some that didn't.
---
BWW Feature: FOR TONIGHT Finds 'Home' in Humanity at Queensbury Theatre

February 25, 2019

Running through March 3rd at Queensbury Theatre, the world premiere of FOR TONIGHT explores a tale of difference and divide, framed within a full-circle love story. Written by Spencer Williams, Shenelle Salcido, and Whitney Rhodes with music and lyrics by Williams and Salcido, FOR TONIGHT displays a patchwork of styles and sounds, indicative of the cross-cultural focus of the show.
---
BWW Review: TUESDAYS WITH MORRIE at A.D. Players

February 5, 2019

"Are you trying to be as human as you can be?" Read that again, and ask yourself--Am I trying to be as human as I can be? This is just one of the questions posed in A.D Players' production Tuesdays With Morrie, currently running through February 10th. If you are not already familiar with the well-loved New York Bestseller Tuesdays With Morrie (which sold a mere 15 million copies) then you'd better grab your tissues.
---
BWW Review: THE RIVER BRIDE Refashions the Fairy Tale at Stages Repertory Theatre

January 30, 2019

As a part of Stages Repertory Theatre's 2nd Annual Sin Muros: A Latinx Theatre Festival, Marisela Treviño Orta's The River Bride is composed of an entirely Latinx cast. Orta's play is based on the style of folk tales and the real-life freshwater river dolphins--the "boto". Her work certainly reads with a mystical vibe and mythical undertones, and it is no surprise that she has a background in poetry.
---
BWW Feature: 9 Houston Productions to Look Forward to in 2019

January 30, 2019

Heading into the 2019 portion of the 2018/2019 theatre season, Houston has a wealth of productions that deserve your attention. In this feature, I break down the nine shows of 2019 that I will definitely be getting tickets to see. From farcical comedies, to emotionally intense straight plays, to soul-awakening musicals--you've got a ton of styles and genres to choose from, so go out there and get your tickets before they're gone!
---
BWW Review: Theatre Under The Stars' BEAUTY AND THE BEAST is a Spectacular Storybook Come to Life

December 17, 2018

Theatre Under the Stars' BEAUTY AND THE BEAST is the classic storybook tale vibrantly come to life in every aspect. From the captivating scenic design, to the brilliant costuming, to the songs that prompted many to sing along quietly to themselves in the audience, this 'tale as old as time' is a glorious re-imagination of the production that Theatre Under the Stars premiered for the first time 25 years ago in collaboration with Disney Theatrical Productions.
---
BWW Interview: Eduardo Guzman of Pitch Me This Productions Invites One and All to PMT POP UP: HOLIDAY CABARET

December 13, 2018

In the spirit of the holiday season, Pitch Me This Productions is excitedly preparing their PMT Pop Up: Holiday Cabaret for their one-night-only December 16th performance. Their 3rd annual holiday music spectacular, this concert offers Pay What You Can tickets, classic holiday family-friendly music, and a chance to step away from the hustle of our lives to connect with friends and family. I spoke with Pitch Me This's Founding Artistic Director, Eduardo Guzman, for all the details you need to attend this heartwarming holiday event.
---
BWW Review: Catastrophic's CURSE OF THE STARVING CLASS Is the Most Beautiful Dysfunction You'll Ever See

October 2, 2018

Pulitzer Prize-Winnng Sam Shepard's CURSE OF THE STARVING CLASS displays the lives of the working-class Tate family as they navigate everything from suffocating debt, to teenage crime, to marital distress and back again. Checking the fridge for food (that is never there) is a regular routine-turned-ritual in this household that is deteriorating from the inside out. Shepard's play explores what it means to be trapped in the cycle of the starving class. He writes about a family cursed by an outside force, a force that leaves the individuals involved no option to dissociate themselves from the identifying feature of the cursed: the familial bloodline.
---
BWW Review: AROUND THE WORLD IN 80 DAYS Is Your Imagination Personified at A.D. Players

September 16, 2018

The year is 1872, the setting is London, and the bet was made at exactly 8:55pm for 20,000 pounds. Or, at least that's how our practical, punctual main character Phileas Fogg would describe the scene. Fogg, a logical and calculated gentleman is willing to bet his entire fortune on the latest claim that with the developments of railways and steam engines, one is able to go around the world in 80 days (I bet you can guess the title of this little play now, huh?). Fogg is so convinced, that he intends to complete the trip himself, with his newly hired servant Passepartout (Braden Hunt), and a few others that get strung into the chaotic voyage along the way.
---
BWW Review: Theatre Under the Stars' 50th Anniversary Season Celebrates Houston As Home With OKLAHOMA

September 14, 2018

In the theatre world, your first time seeing Rodgers & Hammerstein's OKLAHOMA! is essentially a rite of passage. You either love it or you don't-and the pendulum can swing either direction depending on the actors, designers, and director's choices. Ever since I sat in my Survey of Musical Theatre class freshman year, watching the 1999 film of Oklahoma! , I've been waiting to see a live production. Whether you are an Oklahoma addict or have never heard of the show before, do your soul a favor and experience this joyful, unreplicable production.
---
BWW Review: JESUS HOPPED THE 'A' TRAIN Wrestles With Truth at 4th Wall Theatre Company

September 9, 2018

JESUS HOPPED THE 'A' TRAIN does what 4th Wall Theatre Company does best: explore valid, thought-provoking, true stories that linger on your mind for days following.
---
BWW Interview: LUKE & BLYTHE KIRKWOOD Put Spotlight On Collaboration Between Students & Professionals in SUMMER SING-THRU SERIES

August 3, 2018

What do you get what you cross two solution-minded musical theatre lovers with a need to create and a love of collaboration? Husband-and-wife team Luke and Blythe Kirkwood are the prime example of artists that saw a need in the Houston theatre world, and took it upon themselves to fill it. After noticing the wealth of musicals that rarely get to be produced because of their technical challenges or size, the Kirkwoods found a way to bring Houston audiences their favorite musicals in a different form of performance. The result was Summer Sing-Thru Series: a one-night-only concert event that brings all the musical wonder of your beloved Broadway soundtracks to life, with full orchestration by both professionals and high school to college-aged students.
---
1