BWW Feature: FOR TONIGHT Finds 'Home' in Humanity at Queensbury Theatre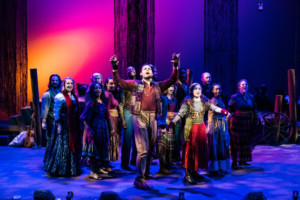 Running through March 3rd at Queensbury Theatre, the world premiere of FOR TONIGHT explores a tale of difference and divide, framed within a full-circle love story. Written by Spencer Williams, Shenelle Salcido, and Whitney Rhodes with music and lyrics by Williams and Salcido, FOR TONIGHT displays a patchwork of styles and sounds, indicative of the cross-cultural focus of the show.
The beauty of FOR TONIGHT is that the storytelling functions not only through linguistic word, but through differing modes of movement, organic sound, and musical stylings. You will not simply be told a story, but you will be guided through the narrative by hearing and seeing the layering of cultures.
While this story is inspired by the author's great-great-great grandfather's journals, it bears a timeless relevance. We live in an age where we let fear feed off of difference. Words like "racism", "homophobia", "sexism", and "xenophobia" plague our televisions screens and news feeds--there is a seemingly endless stream of headlines that all boil down to the same fear of the other. Fear of someone unlike ourselves, living in a way unfamiliar to us. This is why a story like FOR TONIGHT, based off a cultural climate that far precedes our time, needs to be told in 2019. Here I will break down the elements of FOR TONIGHT that work together to tell a story that, while centuries old, couldn't be more relevant to our society today.
---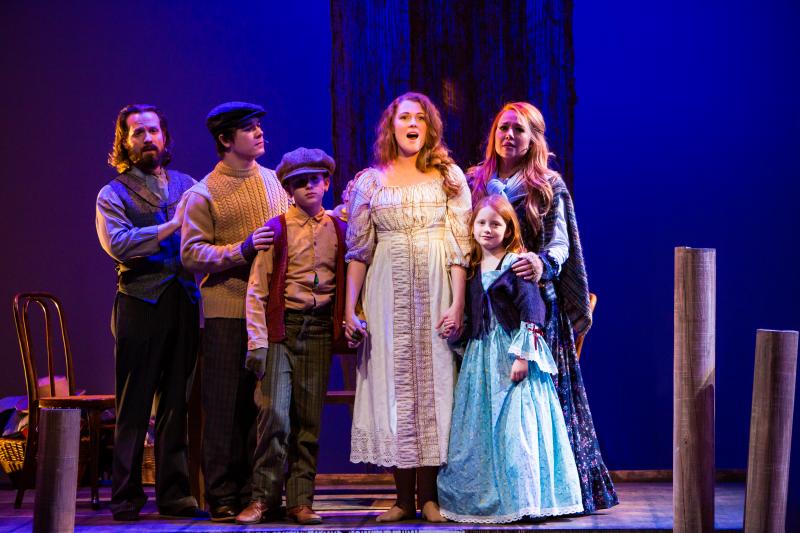 The Story
After their parents are killed by a disease, supposedly brought by the nomadic Romani people, siblings Thomas (Adam Gibbs), Haydon (Nathan Wilson), and Nettie Parry (Kristina Kennedy) are left to their own in the Welsh town of Trelawnyd. Ten years have passed since losing their parents, and each individual is wrestling to find home amidst the loss they have experienced. Haydon leaves their village in pursuit of the soulful music that has marked his memory since childhood, years ago when the Romani people stayed on his family's land, teaching him their music on the guitar. As he arrives in Liverpool, he meets a member of a Romani tribe, Mirela (Jennifer Barrett). Both Haydon and Mirela are aware of the danger and risk that interacting with each other creates for both of their families. Yet, these two wandering souls from opposite worlds find themselves feeling most at home with each other.
---
The Movement & Dance
The movement of FOR TONIGHT resides not just in the choreography, but in the rhythmic flow of the production as a whole. I can almost guarantee you have never seen a musical on a Houston stage with this style of dance--free-flowing yet grounded, stylized yet organic. The show both starts and ends with body percussion created by the ensemble, giving the show an authentic and raw vibe. The heartbeat of this show is in the people performing it, not in prerecorded tracks or manufactured sounds. This is a story about the timeless human experience of prejudice, told by both the Romani and Welsh people through their distinct music, movement, and language. FOR TONIGHT demonstrates the true magic of theatrical storytelling, as the ensemble members transform from Romani people, to Welsh townspeople, to omnipresent storytellers. Choreographed by Bethany White, the ensemble guides the audience through the story with dance number after dance number, making the choreography of this show a feat of strength in and of itself.
---
The Music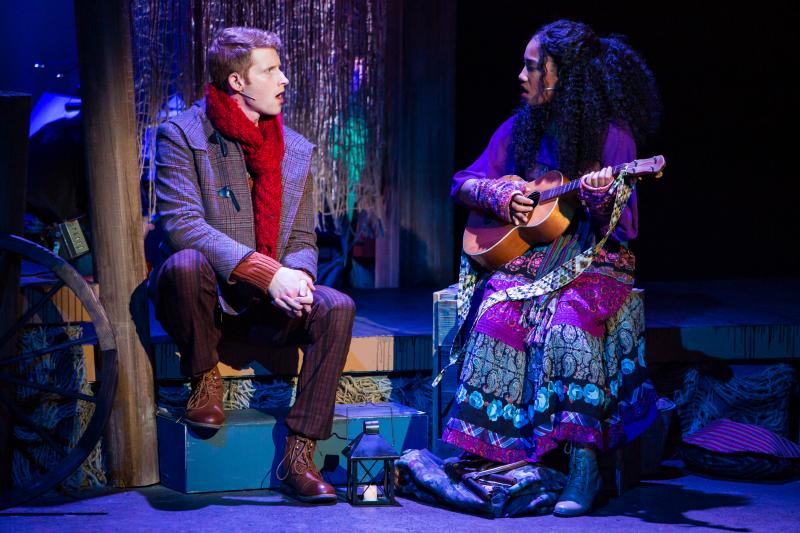 Parallel to how the story of FOR TONIGHT blends two distinct worlds together, the score of this musical incorporates aspects of both Welsh music and Romani styles. Songs such as "Suo Gan" find their foundation in Welsh hymn, and are reminiscent of choral church styles. Alongside these songs, the audiences hears songs like "Away" and "Oke Romani Chiriklo" which have clear Romani syncopation and sound. Though FOR TONIGHT incorporates varying sounds, all of them form the unique indie-rock folk score. The music is a concoction of sound and beat unlike any I've heard before in the theatre.
---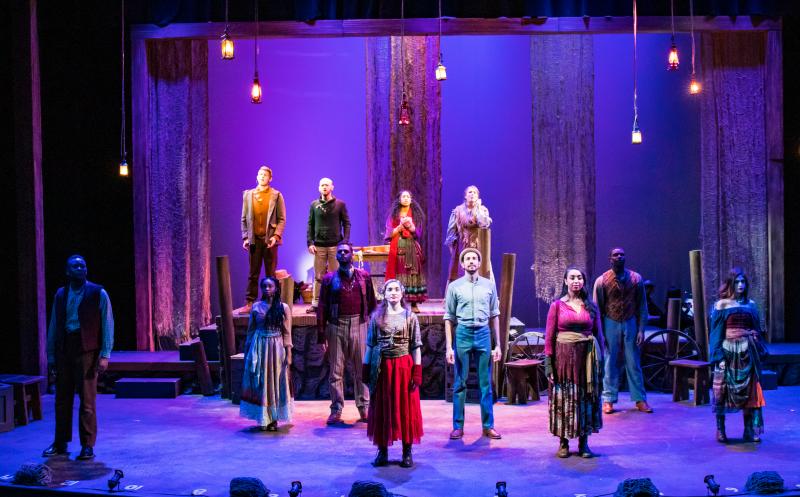 The Message
One of the lines in the show says, "It's never been about loving us...it's about hating them". How often do we see others acting out of hate against someone who is different than them? How often do we lash out, out of fear of the "other" rather than considering the ties that make us similar?
Directed by Queensbury's Producing Executive Director, Marley Singletary, FOR TONIGHT holds a mirror up to our culture, as an artistically profound reminder that "Us vs. Them" is an age-old battle that only results in discord. By breaking down the barriers of difference throughout the story, FOR TONIGHT reminds us that humanity is a universal bind, one that is not subject to the variant influence of physical and cultural traits. Skin color, religious belief, facial features, cultural background, spoken language, physicality...all of these traits are just components of our human expression and makeup, not definitive barriers of who we can love, connect with, or form relationships with.
FOR TONIGHT offers the audience member the chance to see a uniquely-told story unfold with the lens of prejudice we so often live our lives behind. However, in this story, we see the opportunity that comes about when that lens is lifted. FOR TONIGHT demonstrates that no matter how vast the divides we have created between ourselves seem, "home" can be found in our common humanity.
The world premiere of FOR TONIGHT runs at Queensbury Theatre in City Centre through March 3rd. Performances are Thursdays-Sundays, with tickets ranging from $21-$50. Ticket information can be found at queensburytheatre.org or by calling the Box Office at 714.467.4497. 12777 Queensbury Lane, Houston TX 77024.