BWW Review: AROUND THE WORLD IN 80 DAYS Is Your Imagination Personified at A.D. Players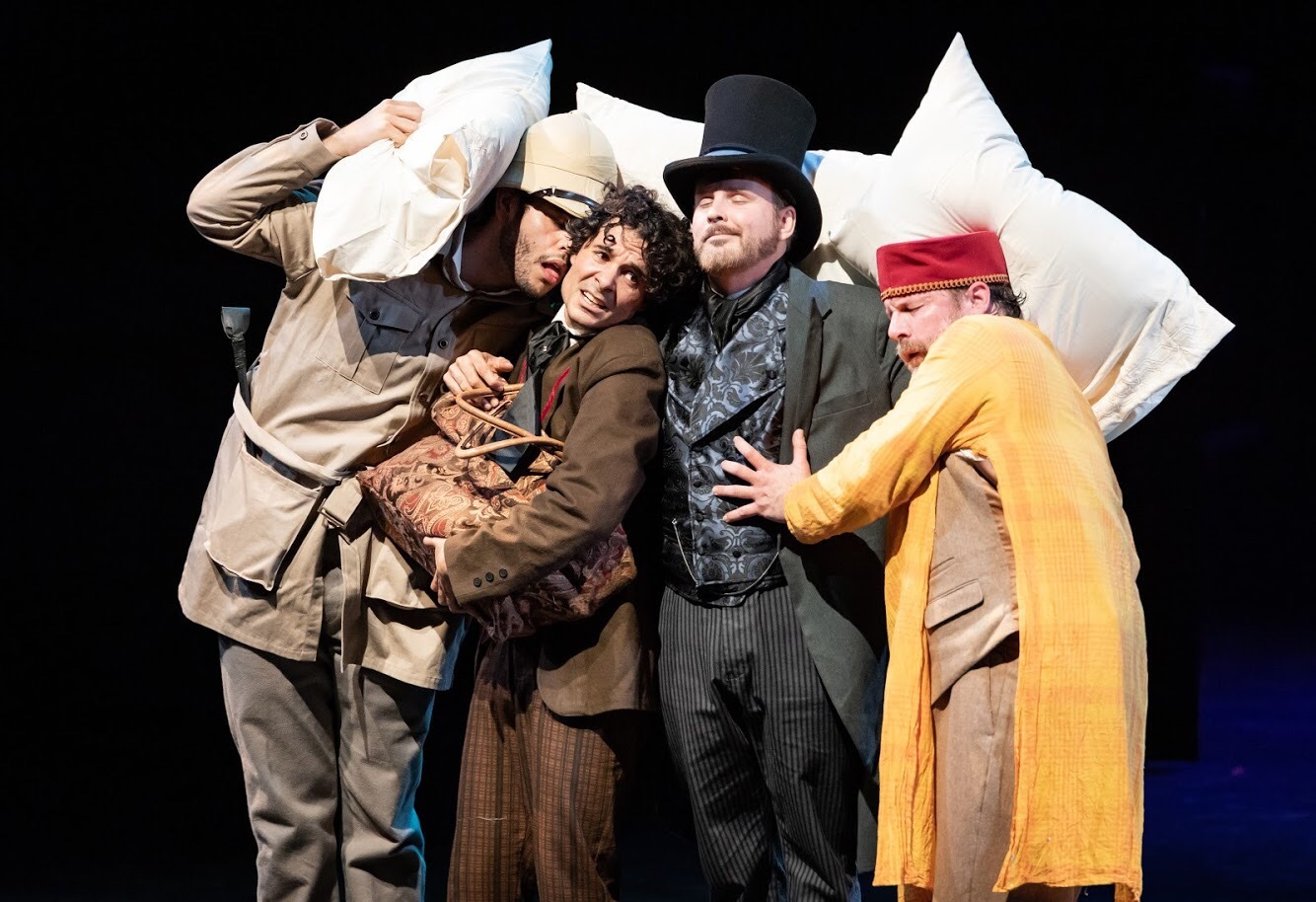 The year is 1872, the town is London, and the bet was made at exactly 8:55pm for 20,000 pounds. Or, at least that's how our mathematical, punctual main character Phileas Fogg would describe the scene. Fogg, a logical and calculated gentleman is willing to bet his entire fortune on the latest claim that with the developments of railways and steam engines, one is now able to go around the world in 80 days (I bet you can guess the title of this little play now, huh?). Fogg is so convinced, that he intends to complete the trip himself, with his newly hired servant Passepartout (Braden Hunt), and a few others that get strung into the chaotic voyage along the way.
---
A.D Players' AROUND THE WORLD IN 80 DAYS appeals to the child in all of us who remembers how to make-believe elephants, soar train cars through the air, and maneuver superhero action figures to complete near-impossible feats. Director Philip Lehl relates this tale, based off of the popular book by Jules Verne, to a trip to the supermarket with a three-year-old, a family vacation, or essentially any of those "Nothing else could possibly go wrong--but it does" experiences we all have had.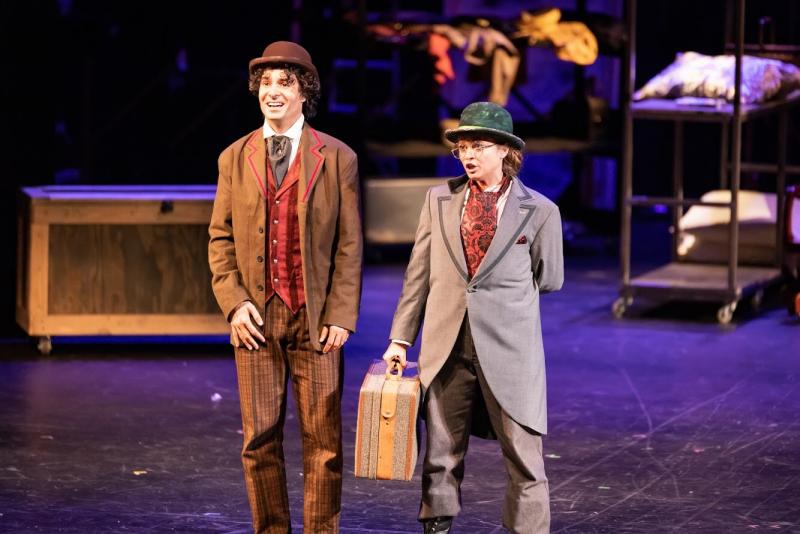 With a script by Mark Brown and costumes and props found in A.D. Players, this stripped-down storytelling will have you laughing in amusement as grown adults fly around the stage as if they were children playing pretend. Isn't this what theatre is all about anyway? Playing, make-believe, and trying on a thousand different hats simply because you can. In this story, there are thirty-nine different characters dashing across the stage by foot, sea, train, and even elephant. Did I mention there are only five actors playing these thirty-nine roles? Talk about an incredible feat.
The naïve, youthful French servant Passepartout is played with consistent hilarity by Braden Hunt, whose vocal and physical comedy instantly reminded me of Steve Martin's character of Inspector Jacques Clouseau in The Pink Panther. Hunt propelled the show with his apt comedic timing and gestures.
Luis Quintero played the most characters out of all the actors--an impressive sixteen different roles. Quintero's act of swapping in, out, and between these different roles was advantageously crafted into another humorous element of the show, as the audience would watch something as simple as a hat or coat make all the difference in the person he was performing.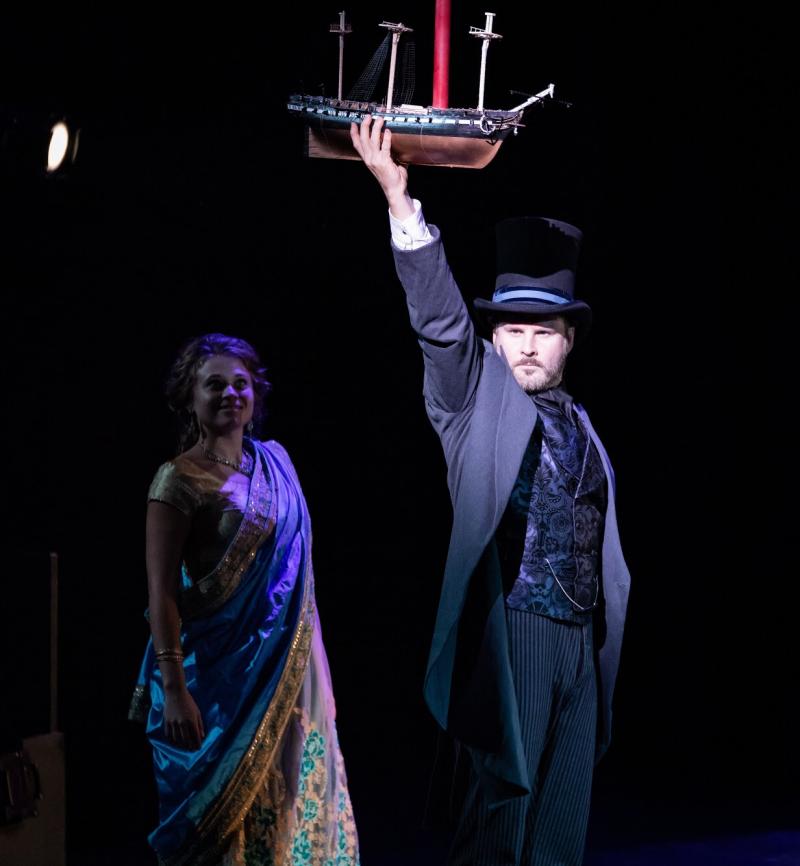 Craig Griffin was another standout in the show, primarily playing Detective Fix who attempts to thwart Fogg's journey by instigating a wealth of obstacles as he pursues a criminal he believes is Fogg. Griffin plays an additional eight characters, and brings a wit to each of them. Kevin Michael Dean played the ambitious Phileas Fogg exactly how you would imagine Fogg to be: practical, honorable, and to-the-point, all while chasing larger-than-life obstacles. Skyler Sinclair's journey as a character was entertaining to watch, as she portrayed a substantial amount of character development in a show that is largely plot-focused.
It seems only fitting to compare Lehl's direction to the mind of a child, and I mean that as a compliment. This production is what I imagine a rainy day inside for me and my three crazy siblings was like when we were younger and my mom had us entertain ourselves with whatever we could find. Imagination runs wild onstage, not just in the roundabout story the actors are telling, but also in the means by which they tell it. With the help of Sound Designer Ryan Carlson and live foley sound-maker Gerry Poland, ladders become valiant ships, fabric becomes a pagoda, and trains leap off their tracks all in pursuit of the eighty-day roundtrip goal.
Michael Mullins' scenic design gives the appearance of a rehearsal space, with various cabinets, props, and storytelling supplements strewn around the stage. Stage Manager Hannah E. Smith had a full plate between the set pieces, character entrances and exits, and changes in setting, but she kept everything running smoothly the entire time. Costume Designer Danielle Hodgins and Prop Manager Shelby Blocker had the challenge of supplying enough costumes and props to transform the actors into their many roles and tell the story in an entertaining way. Lighting Designer Jack Jacobs crafted lightning, typhoons, jungles, courtrooms, and more with his designs, and Gerry Poland's live slapstick sounds and interaction with the actors made the experience all the funnier.
I can only imagine that with all of its moving pieces and situations, putting together this whirlwind show must have been just as fun as it was to watch. The audience erupted in laughter and applause several times in recognition of the hysterics playing out onstage. If you're looking to sit back, laugh, and witness imagination personified before your eyes, don't miss out on this production.
Photography Credit: Joey Watkins Photography
A.D. Players' AROUND THE WORLD IN 80 DAYS will run through September 30th. Performances are at the George Theater at 5420 Westheimer Road. Performances are Wednesdays and Thursdays at 7:30pm, Fridays at 8:00pm, Saturdays at both 2:30pm and 8:00pm, and Sundays at 2:30pm. Visit adplayers.org or call the Box Office at 713-526-2721 for tickets and information.