BWW Review: A.D. Players Brings Electric Energy to WEST SIDE STORY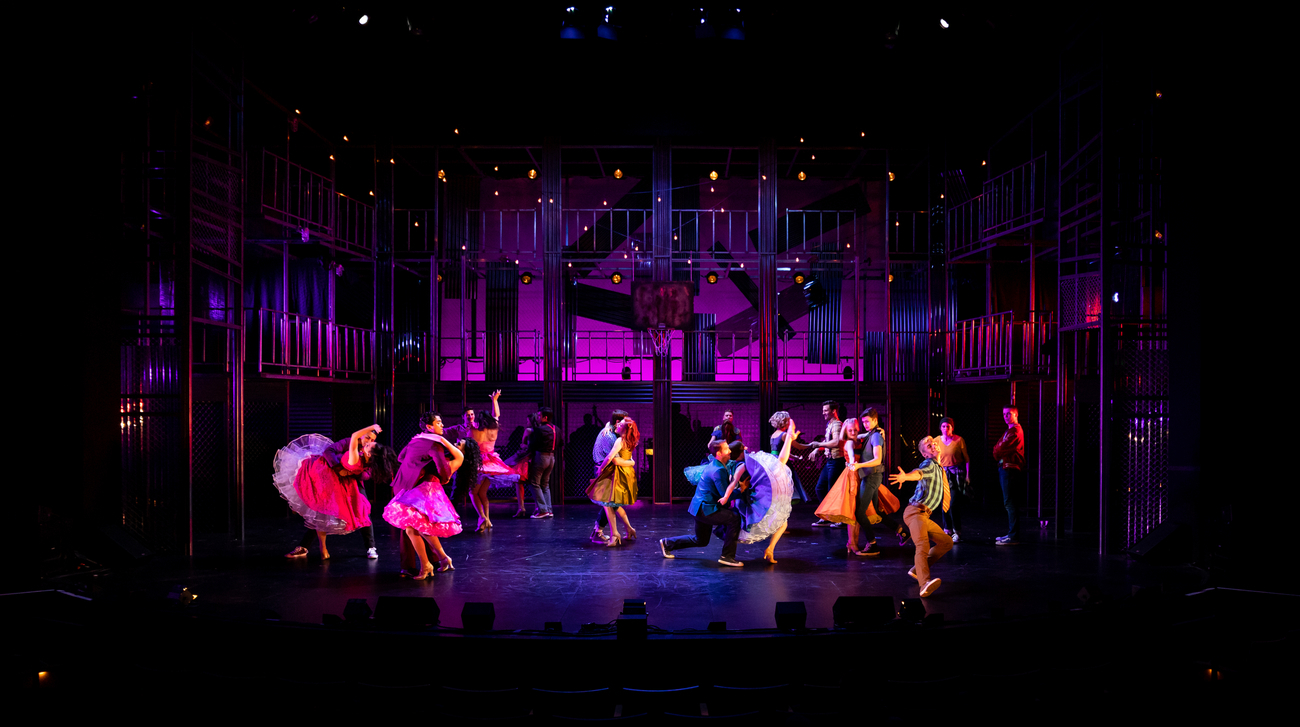 As the biggest musical A.D. Players has produced in their 52 years, I believe that this production of WEST SIDE STORY has distinguished A.D. Players as an enormously capable participant in our city's musical theatre scene. In the show program, A.D. Players Executive Director Jake Speck and Artistic Director Kevin Dean discuss choosing their season for this past year, which WEST SIDE STORY was not originally a part of. Both individuals recount that though they were pleased with the season's selections, none of the titles scared them. In their mission to continue to set the bar higher, WEST SIDE STORY earned its place in the season. Pay attention, Houston. They're doing big things over at the George Theater, and you've got one more week to catch it!
---
As WEST SIDE STORY is returning to Broadway as a revival in February 2020, A.D. Players picked an opportune time to remind Houstonians of the show's genius. The original 1957 production was directed and choreographed by the iconic Jerome Robbins, with a book by Arthur Laurents, music by Leonard Bernstein, and lyrics by Stephen Sondheim. This quartet of musical theatre masterminds created a show that is revered as a part of musical theatre canon, over sixty years later.
Set in the Upper West Side, the plot of WEST SIDE STORY is based in part on Shakespeare's Romeo and Juliet. Two rival gangs, the Jets and the Sharks, engage in volatile conflict driven by fear of the other. The members of the Sharks are Puerto Rican, while those in the Jets are white. Conflict heightens when a former member of the Jets, Tony (Daniel Z. Miller) falls in love with Maria (Nicole Maridan), who also happens to be the sister of Bernardo (Arik Vega), the Sharks' leader. WEST SIDE STORY takes a look at how we define ourselves as humans, and the toxic hatred that unshakeable identity can brew.
With a cast of twenty-five--who all must be triple-threats in order to execute this show successfully--each and every one was noticeable. I found several of my Houston favorites among some new faces as well. Each character felt at home in their story, and there wasn't a technical misstep in sight throughout the entire marathon of a show. April Josephine was a firecracker onstage as Anita, Bernardo's girlfriend. Maridan and Miller were lovable and innocent, and their duets seemed to soar in the theatre. Jets' leader Riff (Jeff Smith) and leader of the Sharks Bernardo (Arik Vega) both told their stories with passion and skill. The bulk of the cast was filled out by the members of each gang along with the Jet Girls and Shark Girls, who delivered an incredible feat of song and dance.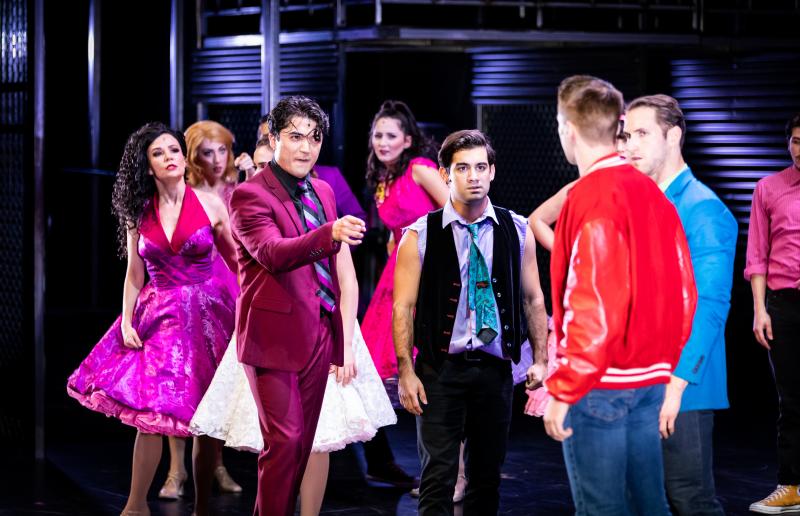 WEST SIDE STORY's genius lies in its ability to synchronize movement, voice, and lyric down to the breath. It is a breathing, rhythmic piece of theatre. When you take a treasured musical theatre gem such as this, and place it in the hands of this creative team, you've got a winning production. Emily Tello Speck had quite the task ahead of her as both Director and Choreographer. Not only did she succeed, she was able to bring to light the duality of this show in clear manner. It is both explosive and nuanced. Volatile, and yet gentle. The powerful choreography appears to jump right off the stage at times, while at others the only movement seen is a single snap. As an audience member, it is a rollercoaster ride that you can't get enough of. Speck's sense of musicality and understanding of unity between music, movement, and moment shine through in this production.
Framing the substance of the show is the exquisite work of the design team. The stage at the George Theater is truly remarkable in size, giving scenic designer Danielle Hodgins room to play with depth, levels, and movement within her design. Hodgin's two-level, industrial framework does exactly what scenic design should do in facilitating the energy and direction of a performance. The space is used brilliantly to enable several points of entrance and exit. It truly is a playground of sorts, and I mean that as a compliment. Shelby Marie Blocker delivered once again as A.D. Players' prop master for the season, grounding the set in time and place with the necessary props.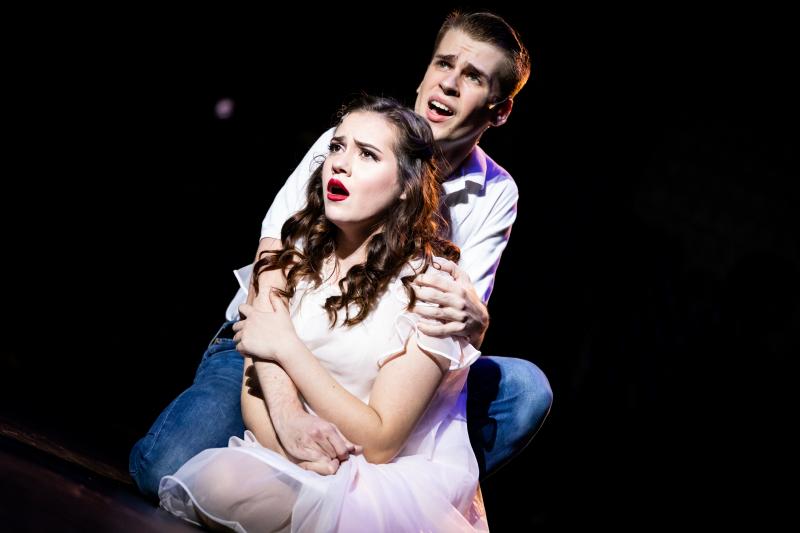 As lighting designer, Michael Clark works brilliantly with the shapes and lines put in place by the set. This show can change tone as quick as a snap of the finger, which means that the mood of the lighting must be able to as well, without feeling choppy or broken. Clark works his magic with this show, making the big moments feel larger than life, and the smaller moments feel intimate.
WEST SIDE STORY really does pack a punch in all areas, and sound design is certainly one of them. The littlest snap needs to be heard as effectively as a gunshot in the show. I do not believe audiences realize how essential it is to have solid sound design during a performance. Sound has the ability to ignite a reaction within us, and sound designer Andrew Harper ensures that each significant moment is not only heard, but felt.
Matt Logan goes all-out with his costume designs, bringing this show its color and flash. After seeing this production, I personally want my very own fluffy, twirly skirt to dance around in singing "I Feel Pretty". As this is a show where color indicates tribe, it was essential that Logan specified who "belonged" where, and he did so with great skill.
I would be remiss to not pay mention to the 14-piece orchestra onstage, led by Stephen W. Jones. WEST SIDE STORY has an explosive score that varies in energy and style, and these musicians don't miss a beat. The choreography is off the charts, and the story will have you wishing you wore your waterproof mascara instead. All I can say is, you have one week left--don't miss it.
Photography Credit: Joey Watkins Photography
WEST SIDE STORY runs until July 28. Shows are Wednesday - Sunday evenings, with matinees offered on Saturday and Sunday. Tickets for West Side Story may be purchased online at adplayers.org or by calling the Box Office at 713-526-2721.
Related Articles View More Houston

Stories

Shows