BWW Review: THAT'S LIFE at Stadthalle Wien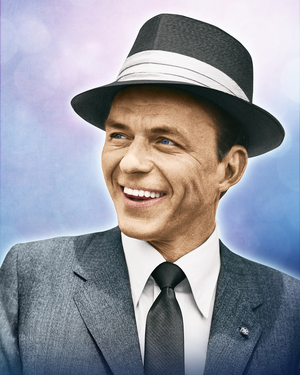 The Frank Sinatra Musical Hommage
From a singing waiter to one of the greatest Entertainers of all time, Frank Sinatra's life embodies the American Dream. So why not create a show with some of his greatest hits. THAT'S LIFE opened to great reviews in Berlin and is now touring through Austria, Germany, and Switzerland. Stefan Warmuth (Author, Director) tried to show all the important bits and pieces in Franks's life, from his early days as a waiter, his relationship with the Mob, to the Kennedy election the golden Lavs Vegas days and through all his broken relationships and marriages. It's like a fast-forward through Sinatra's life. A clever decision from the creators, to stage the show with two Sinatra's. Janko Danailow is giving the young and aspiring dandy while Tam Ward is representing the Frank we all familiar with.
Ward is like a narrator throughout the whole show, a firm rock in the breakneck spectacle. Wards voice, his timbre, simply everything is giving you that strange feeling, Frank Sinatra is still alive and back on stage. Simply close your eyes and it is no longer Ward you hear, it's Sinatra. THAT'S LIFE feels more like a revue than a Musical. Nevertheless, a well-done Homage to the singing waiter from Hoboken New Jersey, who told us, that you should never stop believing in yourself. " You only go around once but if you play your cards right, once is enough."
THAT'S LIFE had it's World Premiere in Berlin in January 2020 and is currently touring until the end of April. For more info about the show, tickets and dates, visit www.sinatra-musical.de or follow THAT'S LIFE on facebook.
Related Articles View More Austria

Stories

Shows
Martin Ganeider, born in the beautiful mountains of Austria (not so Sound of musicish as some might think) Felt in love with Musical theatre when (read more...)