THE BRIEFING Comes to Campari House in April
Performances run 10 - 23 April 2023.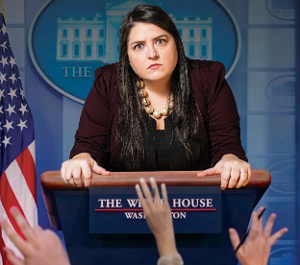 A fast-paced, ever evolving show, Melissa McGlensey now brings her latest work to the 2023 Melbourne International Comedy Festival. The Briefing was birthed from McGlensey's obsession with global politics and love of biting satire. Quick-witted and genre-defying, this 50-minute experience invites MICF audiences to join the press pack and take aim. Professional Hecklers; this one's for you.
With her political aspirations in full flight (on stage and in real-life), right-wing blowhard Sarah Huckabee Sanders has embarked on an international propaganda tour. The former White House Press Secretary (turned Fox News host) is now the Governor of Arkansas, but that doesn't mean she's done spreading Trumpism far and wide. And if you're thinking Australia won't get caught in the crosshairs... FAKE NEWS.
A fast-paced and highly entertaining comment on the unique historical and political moment we find ourselves in, The Briefing is a clever combination of political theatre, partisan nonsense, and wonderfully dark humour.
"Originally being from California, I noticed that Aussies loved to talk to me about US politics but were often less engaged or interested in politics closer to home," explains Melissa McGlensey.
"I decided to do a show that purported to be about US politics to draw them in, only to turn the tables and talk about Australia. The show is always evolving to compliment the current political landscape. The improvised/audience interaction keeps me on my toes and makes it a different show every night. Audiences can expect a good time and can tailor their participation to whatever they feel comfortable with. They help me craft the show!"
Directed by comedian/writer Alasdair Tremblay-Birchall (Magma, Teleport!, Mad as Hell), The Briefing offers Melbourne International Comedy Festival lovers a truly surprising experience. Running for a limited time at Campari House in Hardware Lane, grab your press passes, ready your mics, and don't forget your questions!
Melissa McGlensey is a writer (The Onion, Reductress) and comedian (Soothplayers: Improvised Shakespeare, The Big HooHaa) who relocated from the US to Melbourne. She has studied, performed, and taught improv and stand-up comedy all over the world and her work is political, absurd, and interactive. The Briefing is her debut solo work, showcasing her signature brand of comedy.
About The Briefing
Written by Melissa McGlensey
Performed by Melissa McGlensey with Felix MacFarlane
Directed by Alasdair Tremblay-Birchall
Game Design by Douglas Wilson
Image by Nick Robertson
10 - 23 April 2023
Mon - Sun 7pm
Opening Night Wednesday 12 April, 7pm
Tickets: $25 Full, $22 Concession, $20 Grps 6+, Previews and Tuesdays
Bookings: 03 9245 3788 or online via www.comedyfestival.com.au/2023/shows/the-briefing-with-melissa-mcglensey#
Venue: Campari House - 23-25 Hardware Ln, Melbourne CBD
www.melissamcglensey.com
Duration: 50 minutes no interval
Suitable for audiences 15+
Warnings: contains strong coarse language, political, religious and/or racial themes, and strong sexual references