Review: THE MEMBER OF THE WEDDING Gets Thoughtful Loving Production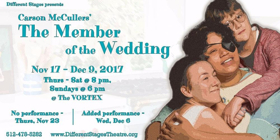 THE MEMBER OF THE WEDDING was a 1946 novel by Southern writer Carson McCullers. It took her five years to complete, although she did interrupt the writing for a few months to write the short novel The Ballad of the Sad Café. The novel has been adapted for the stage, motion pictures, and television. McCullers herself adapted the novel for the Broadway stage in 1950. The film version followed in 1952 and a stage musical version, F. Jasmine Addams, was produced Off-Broadway in 1971. The work examines why people exclude others and the resulting consequences. The central figures also talk about how they wish the world was more fluid and changeable in terms of race, gender and identity, all of which runs thematically through McCullers body of work.
The story is told over a few days in August. It tells the story of 12-year-old tomboy Frankie Addams (
Taylor Flanagan
), who feels disconnected from the world; in her words, an "unjoined person." Frankie's mother died when she was born, and her father (Weldon Phillips) is a distant figure who does not understand her. Her closest companions are the family's African American maid, Berenice Sadie Brown (Chelsea Manasseri), and her six-year-old cousin,
John Henry
West (Jago Mystiek). She has no friends in her small Southern town and dreams of going away with her brother, Jarvis (Nate Dunaway) and his bride-to-be, Janis (
Regan Goins
) on their honeymoon. In order to finally be a member of a "we", Frankie is determined to be a part of the newlyweds life. Under the hand of director Karen Jambon, this Different Stages show gets a lovely thoughtful production. It is more than a mere coming of age story, and Jambon knows this. The production is filled with beautifully staged moments that play like old photos on the mind's eye. The tech here is all excellent: from Ann
Marie Gordon
's set design that fades at the edges like a memory to Benjamin Taylor Ridgway's costumes, which recreate the era with some truly inspired fabric choices. Special notice must be given to
Jeff Miller
's sound design and Patrick Anthony's lighting design which together create a thunderstorm so realistic you jump in your seat. The entire company does a good job, but a few performances deserve special mention. Jeremy Rashad Brown gives a nice touch to the character of T.T. Williams. His vocal work is especially good, capturing the vocal differences of an African American at that time in history; when they had to use a different tone of voice and mannerism when speaking to a white person. This was indeed an ugly time in our history, and Brown does not shy away from showing the pain that was inflicted on African Americans then. Jago Mystick does a remarkable job with the cypher that is
John Henry
West. A great job from a young actor who holds his own with these seasoned adults.
Taylor Flanagan
does a great job with Frankie Adams, capturing the conflicting emotions in a more thoughtful and introspective way than others I have seen in the role, who played more on the fact that the character is a raging mass of hormones. I found her more introspective and thoughtful take to be a very nice approach to a difficult and deeply levelled character. Chelsea Manasseri gives a beautiful and moving performance as Berenice, the woman who became a mother figure to Frankie. She is the picture of grace and wisdom under duress. THE MEMBER OF THE WEDDING is a moving and thoughtful look back at a time long gone. The production, as staged by Different Stages at The Vortex, illustrates why McCullers truly timeless work endures. THE MEMBER OF THE WEDDING by
Carson McCullers
Running Time: Two and a Half Hours, including two intermissions THE MEMBER OF THE WEDDING, produced by Different Stages on the Eloise Brooks Cullum Stage at The Vortex (2307 Manor Rd.) Nov. 17 - Dec. 9, Thur. - Sat. @ 8 PM, Sundays @ 6 PM. Special Wed. performance 12/6.
For tickets: (512) 478-5282 or www.different stages
theatre.org
A Kansas native, Frank Benge has been involved in the Austin area theatre scene as a Director, Designer, Writer and Performer for the past 20 years. He holds a double BA in Theatre and English from... (read more about this author)