BWW Review: THE BOOK CLUB PLAY at Different Stages, Santa Cruz Theatre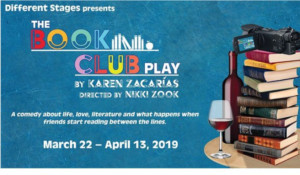 For over 30 years DIFFERENT STAGES has been entertaining Austin audiences with carefully selected seasons of the finest of plays. Not to be outdone, multiple award-winning playwright Karen Zacarias' The Book Club Play provides us with a marvelous glimpse into what goes on in a typical American book club.
Yuppies Ana and Rob Smith host a small book club in their stylish home along with old college pal William, and friends Lily, Jennifer, and Alex. As one would expect, the club selects a literary novel to read and discuss over a relaxed evening of wine and snacks, or as one character describes it "Lord of the Flies with wine and dip". The play has an added dimension to it in that a famous European documentary filmmaker has installed a camera in the Smith home hoping to capture enough material to make an interesting documentary. The play also employs an effective technical device with which to convey a documentary feel to the play without overpowering it. An additional actor (Brandi Andrade) described in the program as "Pundit" provides the narrative with several hilarious bibliophilic characters that round-out and complement the story.
I must make a personal confession here: I fancy myself as a man with a terrific sense of humor. However, it is no easy task to cause me to laugh (not just chuckle) and I laughed so hard I thought I would seriously injure an important organ. While the script is indeed top-notch, it's the character-driven action that produces most of the humor and that requires great (not just good) direction (thank you Nikki Zook) and a stellar cast and crew.
Kelsey Mazak provides Ana with a rock-solid "moment before" that never waivers, not one bit. By the term "moment before" I mean that we see immediately who Ana is, her worldview, her self-image, her everything. Mazak is one helluva great actor and she is perfectly cast in this role. Ana is all about control and her husband Robert seems to just "go along to get along". Portrayed effortlessly by Beau Paul, Robert isn't a 'whipped' man, he just likes his life to run smoothly and if that means letting Ana drive the car, so be it.
College pal William (Will Douglas) seems to be almost as tightly-wound as Ana, but he's a bit of a late bloomer and Douglas' interpretation is sublime. Lily (Hayley Armstrong) is a no-nonsense type with a killer sense of humor and Jennifer (Makayla Perez) is simply adorable and delightful. Newest club member Chris (Michael Galvan) provides a few additional elements to the mix and things get a bit zanier from there. Some of the transitions in the story are both sudden and unpredictable but most importantly they are 100% believable. Again, great direction, great acting. Period.
These characters are not only three-dimensional but both lovable and likeable as well. They manage to carry us through a full-blown play that feels much shorter that its actual run time. I suspect it's because we don't want the party to end. We want to spend more time with these people and get to know them better. If this were a film, the sequels would be endless.
The Book Club Play runs through April 13th at the beautiful Santa Cruz Theatre at 1805 East 7th Street. Tickets can be purchases at: DifferentStagesTheatre.org, 512-926-6747. I suggest you snag your tickets as soon as you possibly can as this show is certain to sell out quickly.
Related Articles View More Austin

Stories

Shows