BWW Review: Step into the Office of Outrageous Talent in Summer Stock Austin's HOW TO SUCCEED IN BUSINESS WITHOUT REALLY TRYING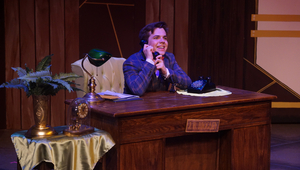 Some of the most talented students in Austin tear up the stage in HOW TO SUCCEED IN BUSINESS WITHOUT REALLY TRYING, a Summer Stock Austin musical production you won't want to miss this August. They'll overwhelm you with talent, make you laugh until your sides hurt, and astonish you with show stopping musical numbers. This production not only boasts top-tier young talent but quality in all elements merging together to create the final product. Walking into the theater, you're immediately struck by the strength of the production value, most prominently featured by the impressive wrap around set that was sadly underutilized.
There's a certain ferocity and simmering potential of new, young talent in the theater that excites. Watching young performers with the knowledge of the multitude of opportunities in front of them is undeniably enjoyable. Summer Stock Austin and Director Ginger Morris could not have picked a more perfect show to showcase the skill of their chosen cast as HOW TO SUCCEED offers multiple leads and hefty supporting roles, huge musical numbers, and equal stage time for both the male and female roles and chorus.
It's a perfect combination of a Great White Way classic musical mixed with unnervingly subversive and biting, satirical ridicule of the mass corporate culture it's portraying. A focal point of the satire in HOW TO SUCCEED is the male dominated corporate culture of the 60's as well as the lascivious workplace harassment endured by the equal number of female secretaries who roll their eyes and confide in each other of how to use it to their advantage.
Charming yet idiosyncratic window washer J. Pierrepont Finch wants nothing more than the climb the corporate ladder, and he's got a plan to accomplish that-as the show's title reveals-without really trying. He puts the manipulation and charm into action with a trusty guidebook at his side as he weaves his way through the cut-throat halls of the World Wide Wicket Company. Along the way Finch meets a plethora of interesting and stereotypical corporate characters including an ally in perky secretary Rosemary Pilkington. Together they look to accomplish their momentous goals, even if that means stepping on each other's faces on the way up the ladder.
HOW TO SUCCEED IN BUSINESS WITHOUT REALLY TRYING's journey began in 1952 as a bestselling satirical book by Shepherd Mead. A play based on the book was written in 1955 before finally being brought to the attention of producers Cy Feuer and Ernest Martin, who tasked Abe Burrows and Frank Loesser with a new book as well as music and lyrics, respectively. HOW TO SUCCEED opened on Broadway in October 1961, running for 1,417 performances. It won 7 Tonys and even the 1962 Pulitzer Prize for Drama solidifying its status as an enduring classic in musical theater history.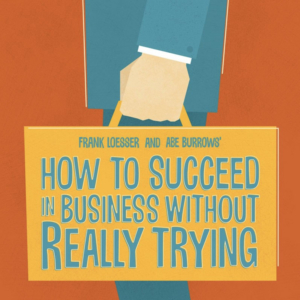 Every single actor in Summer Stock Austin's HOW TO SUCCEED commits to their roles whole heartedly, blasting the audience with blinding liveliness. Tristan Tierney as J. Pierrepont Finch brings a new down to earth quality to the role, but never forgets the sweetly devilish glint in Finch's eye as he manipulates those around him to climb the corporate ladder. This mild grounded-ness correctly sets him apart from his fellow actors' personas where exaggeration is the name of the game. Evan Vines as mommy's boy rival Bud Frump is absolutely manic. Maddie Reese gives Rosemary Pilkington just as much ambition and toughness in her own goals as Finch, but masked by a veil of saccharine politeness. Holden Fox undeniably steals the show as
avaricious and bumbling
J.B. Biggley, the President of World Wide Wickets who's not only trying to keep his nephew Bud Frump in check, but also the daffy mistress he's promised a job to at his company.
Crisp lighting, technically impressive 2-story sets including 2 fake elevators, and brightly colored costumes accompanying the biting, hysterical performances. During the memorable number "Brotherhood of Man," which features an uproarious chorus and fabulous choreography, the audience itches to move and clap along with the cast.
HOW TO SUCCEED's minimal issues lie not in the performances or production design but in some technical aspects. Besides the underutilization of the wrap around, 2-story set, a couple of scenes such as "Company Way" and the finale weren't as sharp as they could be. Also most noticeably, sound problems. Certain microphones consistently failed during the first act and took the focus away from the performances, but after those issues were solved in the second act, it was smooth sailing to the finale.
When HOW TO SUCCEED IN BUSINESS WITHOUT REALLY TRYING first arrived on Broadway, it changed how people saw musicals and what they could be. It examines the culture of the time and rejects the notion put forth by its predecessors that the world of a musical must be perfect and sunny, clean of malice and manipulation except for the villain. HOW TO SUCCEED presents a world of egregiously unbalanced power and irreverent, disingenuous characters who are so honest in their deceit and ambition you can't help but root for them while aching with laughter and tapping your toes. Summer Stock Austin's production wonderfully honors this cutting, hilarious, unscrupulous, and edgy musical with their talent and commitment that deserves multiple visits and thunderous applause.
Photo Credit: Catriona Long
HOW TO SUCCEED IN BUSINESS WITHOUT REALLY TRYING
Summer Stock Austin
July 19 - August 10, 2019 | Rollins Theatre
The Long Center for the Performing Arts 701 W Riverside Dr, Austin, TX 78704