Review: PEOPLE OF COLOR CHRISTMAS Hilariously Examines the White Elephant in the Room All Over Austin, TX
With a variety of holiday classics opening all over the greater Austin area this season, PEOPLE OF COLOR CHRISTMAS is a breath of fresh air entangled with a modern festive twist many can relate to. Color Arc Production is tackling the white elephant in the room, with an amalgam of millennials gathering to discuss their colorful lives involving their background, ethnicity and occupations. Most people attend a white elephant party in some capacity during the holiday season, and that is where our stage is set. Inside the quaint living room of Gabi, where apparently this gift exchange tradition has been upheld for years. Filing in one after another, her core group of friends show up with gifts, wine, and their quirky personalities. As the rule of three is concerned, three ladies each alike in dignity and attitude come together to gossip about what's new and what's trashy in their lives. They are joined by their male counterparts who share an equal love for laughter and razzing during the party. The variety of backgrounds, statuses and desires build on each other to display a very well-rounded gaggle of friends who genuinely love to spend time together.
The banter in THE PEOPLE OF COLOR CHRISTMAS is primetime sitcom worthy with the quick wit and perfectly timed interactions. The chemistry between players were genuine, natural and most importantly, relatable to the audience members. Refreshingly, their opinions of racial stereotypes are realistic and hard hitting. The racial commentary presented by Christine Hoang could best be described as the sour patch kids - that is to say, the performers' individual commentary on their experience was a little sour at first, with impactful quips, but endured with charming sweetness and relativity. Creator Hoang played ring leader, Mai, peppering in the young parent married with kids viewpoint into the story and balancing out the single and hopeful Gabi (played by Lilli Lopez) along with a slightly scattered Sasha (played by Allegra Jade Fox). Their situations, ethnicity and opinions were vastly different, creating a great chemistry that anyone watching would appreciate. The gentlemen of the group added more seasoning to the mix of cultures with their individual point of views. Resident Austin realtor Daniel, (played by Ryan Darbonne)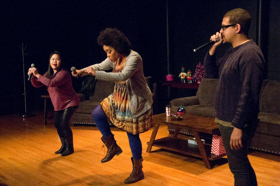 provided hilarious timing with his level headed barb amongst his larger than life crew. Equally, if not more entertaining, was the side variety acts inserted into the show. Displaying singing, writing, juggling and rapping talents throughout the show, the side performances indeed break the fourth wall with the same vigor Hoang breaks down the stereotypical walls modern culture impedes on people of color.
Other than the presents brought for their annual exchange, the other elephant in the room widely discussed is stereotypical cultural differences that can either divide us, or in their case, bring them together. As a young white female, the point of views honestly presented by this cast of players was hilariously eye-opening without alienating any specific oppression or lack thereof. PEOPLE OF COLOR CHRISTMAS also moved through theaters for their three-week run allowing and inviting people from all over Austin to witness Hoang's holiday brain child. Hopefully, this show returns next year as I would recommend this hilarious original work to any creed or background. Paving the way with fresh ideas, especially around the holidays I hope PEOPLE COLOR OF CHRISTMAS becomes a few peoples new holiday family tradition.
PEOPLE OF COLOR CHRISTMAS
DECEMBER 1ST - DECEMBER 16TH
DIRECTED BY: Rudy Ramirez
PLAYWRIGHT: CHRISTINE HOANG
PRESENTED BY: ASIAN AMERICAN RESOURCE CENTER, EMMA S. BARRIENTOS MEXICAN AMERICAN CULTURAL CENTER, DOUGHERTY ARTS CENTER & COLOR ARC PRODUCTIONS.
Photo Credit: Mari Hernandez
      Through the years, Amy (Bradley) Tarver has been able to be apart of live theatre on stage and off.  She started out volunteering locally at Sam Bass Community Theater bef... (read more about this author)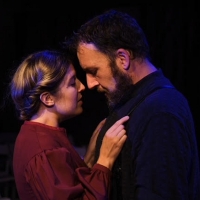 Reviews: MACBETH Glows Bright at Pioneer Farms in Austin, TX

September 23, 2022

Navigating the lantern lit path to a small traditional log cabin in Northeast Austin, the house was packed to see Archive Theater's reimagined rendition of MACBETH. The cracked wooden windows to beat the heat, and the creative thrust staging ignited a sense of comradery for the drama needed for Shakespeare's famous Scottish play. Many are familiar with the story of MACBETH - three witches tell the Scottish general Macbeth that he will be King, resulting in murder and mayhem encouraged Lady Macbeth, the chaos quickly spirals out of control - but Archive sets the cunning mutiny during America's civil war era. Altering places listed in the play to reference opposing sides during our nation's torrid history, mirrors the chaos and eventual bloodshed that occurs during Macbeth's plight. The original "game of thrones" between the Macbeths and all who stand in their way is a shocking reminder of how greed and power can be a fatal elixir for the ambitious.
---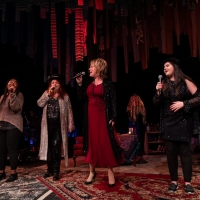 BWW Review: UNEXPECTED JOY at Ground Floor Theatre

December 17, 2021

Entering a theater after a two year hiatus had everyone in the house chatting, hugging, and expressing gratitude for live theatre's return. Ground Floor has become a staple in the Austin theater community and their in-person return to the stage has been much anticipated.
---