Review: GREASE at TexARTS
The best thing about GREASE is that it's such a popular musical, and the worst thing about GREASE is that it's such a popular musical. What I mean is that because GREASE is so popular it was over-produced for many years by most every group imaginable, all too often rank amateurs with middle-aged actors playing teenagers. Ouch.
So when you get a chance to experience a rock-solid, all professional cast of age-appropriate actors at work, it is not to be missed. TexARTS delivers an entire cast of professional artists who give due justice to this beloved hit musical. Having a 100% professional cast is of course awesome in and of itself, but wait! - there's more! Every single cast member is a triple-threat, an honest-to-gawd triple-threat. This is to be expected on Broadway of course, but somewhat rare otherwise. The reason I stress this fact is because it makes a huge difference. Consummate professionals are never sloppy, the energy never stops, nothing is ever 'off'. Professionals intuitively know that it is their job to fill in gaps, to support one another, to ensure that every moment is carefully crafted. When you have a vortex of talent like this, an ok show becomes a great show.
What many don't know is that enough songs have been written for GREASE that at least three different productions could be cobbled together from all of them. Thankfully, TexARTS plays by the rules and uses the original score as heaven intended, and the result is pure theatre magic. The original GREASE as shown here, is an ensemble show. Yes, the show centers around the summer fling between Sandy and Danny, but they aren't really lead roles, they're the love interest roles. Every character gets their turn, and all of them are fantastic. There is a bit of surprise casting for the "Beauty School Drop-out" number, but I won't give it away.
As for the crew, the music is first-rate, as are the set, lights and costumes, no corners were cut. This show is simply funfunfun. If you are a big fan of GREASE then do not miss it and if you merely like GREASE, again, do not miss it. You may very well never get another chance to see it done this well.
Jesse Griffith is an actor/dancer/singer/writer based in Austin, Texas. A graduate of the Performing Artist's Theatre Conservatory of Dallas and member of the Dallas Metropolitan Ball... (read more about this author)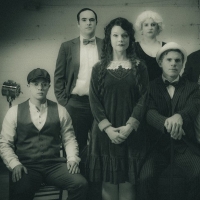 BWW Review: MACK & MABEL at The Alchemy Theatre

April 29, 2022

I was anxious to get back to the theatre after the pandemic hiatus on two levels - lingering fear of the 'Rona versus my life-long love affair with what is for me the greatest artistic performance genre of all: Musical Theatre. And we see here what won. I love musical theatre so much that I earned a degree as a triple threat from an exclusive conservatory, and know from whence I speak. Or type.
---