BWW Review: FIDDLER ON THE ROOF - A Celebration Of Life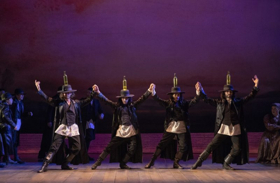 Broadway in Austin's is currently hosting the national tour of FIDDLER ON THE ROOF, the iconic musical that defines the genre. Bursting on Broadway in 1964, this is a show that has been seen around the world at every theatrical level and is estimated to have over 500 productions licensed in the US every year. The current incarnation is a 2015 revival brings a fresh and joyous feel to the classic musical. Going back to Jerome Robbins' original vision Director Bartlett Sher has simplified the show's look and deepened its emotional impact.
The story begins in the tiny pre-revolution Russian village of Anatevka with a poor Jewish milkman, Tevye (Yehezkel Lazarov), his wife Golde (Maite Uzal) and his five daughters. The three eldest daughters are of marriageable age and Yente (Carol Beauregard) the matchmaker is ready to find husbands for the girls. With some of the most memorable songs ever written for the stage, the story winds its way through broken agreements, marriages and love for the family. But most importantly the show is about the changing of traditional family structure, the inching forward of women's rights and Tevye's struggle to reconcile it all with his deep faith and his personal relationship with a God. My personal favorite theme of the production is the milkman's ongoing conversations with his maker, he constantly questions the world and his place in it. Tevye is the centerpoint of the story and while everyone else is part of his orbit, they can be reduced to mere window dressing in lesser productions. This FIDDLER ON THE ROOF is stellar, start to finish.
Keeping the setting simple and elegant, the cast moves from scene to scene with ease and grace. The choreography of Jerome Robbins lovingly recreated by Christopher Evans is stunning and exciting in its richness. Israeli born Yehezkel Lazarov absolutely nails the role of a lifetime. He is indeed a worthy successor to luminaries such as Zero Mostel, Topol and Harvey Fierstein. Other cast standouts include Mel Weyn as Tzeitel, Jesse Weil as Motel the tailor and Ruthy Froch as Hodel. The entire show is well acted with a nod to the productions traditions but adding new depth and and enormous heart to the stage. FIDDLER ON THE ROOF was my father's favorite musical, he felt a kinship with the oft downtrodden Tevye, and could belt out 'If I Were A Rich Man' when he was in the mood. This show reminded me how much I miss my dad and how like Tevye good fathers are. They try to stand guard on their family, often falling short, but never ceasing in their love. It's that love that I felt sitting in the audience, and it's that love that will keep me coming back over and over to a show that brings joy and tears.
FIDDLER ON THE ROOF
Book by Josph Stein, Music by Jerry Bock, Lyrics by Sheldon Harnick
Original choreography by Jerome Robbins
Bass Concert Hall
April 2 - 7
Running Time: 2 hours 30 minutes with one 15 minute intermission
Tickets: $126 - $6, texasperformingarts.org