Photo Flash: First Look at Theatrical Outfit's TWO DRINK MINIMUM
Theatrical Outfit has announced TWO DRINK MINIMUM, a world premiere comedy by William Balzer about families and the phone lines that bind them, October 25 – November 18, 2012 at the Balzer Theater at Herren's. TWO DRINK MINIMUM is directed by Scott Warren and stars William S. Murphy, Susan Shalhoub Larkin and Matthew Myers. BroadwayWorld has a first look at the show below.
A life-long journey between a boy and his mother through four stages of her life: the Great Depression, World War II, before her son got married and after her son got married. As he endures poignant and often comical growing pains, a boy becomes a man and his mother must learn to grow with her son and his family.
Theatrical Outfit's show will play The Balzer Theater at Herren's, 84 Luckie Street, NW in Atlanta, Ga., October 24 – November 18, 2012. Performances are Wednesday – Saturday at 7:30 p.m. and Saturdays and Sundays at 2:30 p.m. Group discounts available; call Cherice Norman at 678.528.1497.
Tickets are $15 and up. Box Office is open Tuesday – Friday, noon to 6:00 p.m. and prior to performances. Call 1.877.725.8849 or visit www.theatricaloutfit.org.
Photo Credit: Josh Lamkin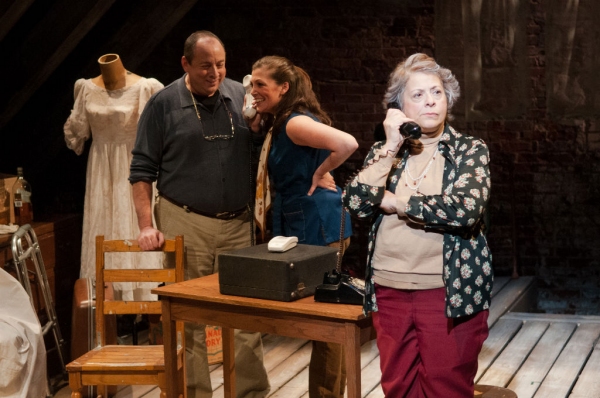 William S. Murphey, Wendy Melkonian & Susan Shalhoub Larkin

Matt Myers, Susan Shalhoub Larkin, William S. Murphey

William S. Murphey, Wendy Melkonian, Susan Shalhoub Larkin

More Hot Stories For You