Megan Hilty, Paul Williams, Stephen Schwartz Confirmed for 2018 Junior Theater Festival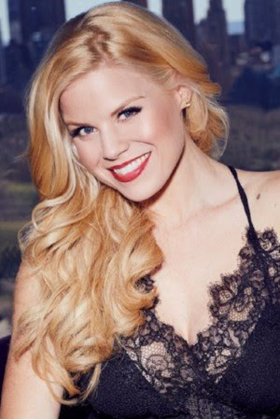 Megan Hilty ("Smash!", Wicked); Paul Williams ("The Muppet Movie," "Evergreen," Bugsy Malone, Emmet Otter's Jug-band Christmas); and Stephen Schwartz (Godspell, Pippin, Wicked) are three stars confirmed for the 2018 Junior Theater Festival Atlanta (#JTF18, #JTFATL), happening January 12-14, 2018 at The Cobb Galleria Centre in Atlanta, GA. The announcement was made today by Timothy Allen McDonald, Founder and CEO of iTheatrics and the Junior Theater Group. The 2018 Junior Theater Festival Atlanta is produced by New York's iTheatrics, the leading international authority on musical theater for young people, and the Junior Theater Group. Title sponsors are Music Theatre International (MTI), Disney Theatrical Group, and Playbill, Inc.®
Inspired by professional sports outreach programs like baseball's Little League World Series and Pop Warner Little Scholars Football, which ensure sports are ubiquitous across the U.S., the Junior Theater Festival is an incredible weekend of theatrical fellowship bringing together musical theater professionals from Broadway with the largest live audience of artists and arts supporters of tomorrow. The Junior Theater Festival Atlanta will unite 6,500+ students and educators from 119 educational musical theater groups representing 26 U.S. states, the District of Columbia, New Zealand, and Canada.
"We want to make sure that all young people have the same access to musicals as they do to youth sports programs, because being part of a show is the ultimate, all-inclusive team sport. Theater allows students to gain life skills, including collaboration, team-building, and problem-solving. Furthermore, musicals introduce and draw in young people to the five pillars of the arts - music, language, dance, visual arts, and the digital arts - all in one experience," says McDonald. "When the Junior Theater Festival was founded in 2003, the intent was to create a World Series-like experience for theater. And, just like many Little League members go on to continue to participate in sports for the rest of their lives, the educational musical theater movement and its Junior Theater Festival are creating the audiences of tomorrow today," he adds.
The festival's mission is to reward and empower student-driven musical theater programs. The event's success and size illustrate the incredible impact the educational theater market has on the professional world of musical theater today.
Worldwide, 14,500 people participate in a Junior Theater Festival event each year. In addition to the flagship Junior Theater Festival Atlanta, iTheatrics and the Junior Theater Group produce the Junior Theater Festival West. That event will mark its second year in February 2018, bringing together 1,500 students and educators from 31 educational musical theater groups representing 11 U.S. states and Seoul, South Korea. iTheatrics also produces Junior Theater Celebrations, which provide one-day Junior Theater Festival experiences across the U.S. as well as in the United Kingdom, New Zealand, and Australia.
At JTF Atlanta, performer Megan Hilty will return as the festival's headliner, performing in concert for all attendees. She last performed as the JTF headliner in 2015.
Composer, performer, and songwriter Paul Williams (Bugsy Malone, "Evergreen," "Rainy Days and Mondays," "We've Only Just Begun," "Rainbow Connection," "The Muppet Movie," Emmet Otter's Jug-band Christmas), who also serves as President and Chairman of the Board of ASCAP, will receive the Junior Theater Festival Legacy Award. The award recognizes those individuals whose vision and artistry have shaped the minds and hearts of educational musical theatre students and audiences all around the globe. Past recipients include Alan Menken, Lynn Ahrens & Stephen Flaherty, Jeanine Tesori, and Stephen Schwartz.
Musical theatre lyricist and composer Stephen Schwartz will introduce the new student edition of Children of Eden JR., presented by Inspiration Stage in Sugarland, TX, at the JTF Atlanta New Works Showcase. At the New Works Showcase, select groups perform songs from new or updated musicals that will soon be made available for licensing by MTI. Other showcase performances will include Spotlight Theatre Productions (Sarasota, FL) presenting Disney's Aladdin JR., and Gwendolyn Brooks Middle School (Oak Park, IL) presenting Chitty Chitty Bang Bang JR.
"There is a reason we have big stars travel to our Junior Theater Festivals. The artists who come and perform at JTF are connecting to hundreds of the very programs responsible for the significant growth in theater engagement across the U.S. and around the world," says McDonald. "Our JTF groups change lives through musicals, and they also are changing the lives of musicals. We've seen shows continue to grow in the educational theater marketplace, amassing a tremendous multi-generational fan base. It's my opinion that if a musical is embraced and cherished by our JTF family, it will have a long, long life. Shows like Once on This Island on Broadway are thriving in part due to the Broadway Junior edition. When kids perform these shows they become super fans for life," he adds.
Luca Padovan (Newsies, School of Rock); Cass Morgan (Memphis: A New Musical, Mary Poppins); Katy Geraghty (Groundhog Day); Rob Rokicki (The Lightning Thief: The Percy Jackson Musical, off-Broadway, Miss Saigon, national tour); Morgan Siobhan (Between the Lines, Kansas City Rep); Isabella Russo (School of Rock, Hans Christian Andersen); Elyssa Samsel & Kate Anderson (Olaf's Frozen Adventure; Between the Lines, Kansas City Rep); Brad Simmons (Lysistrata Jones, "Camp"); Amanda Flynn (Wicked, LA company), and New York Times best-selling author Jodi Picoult (Between the Lines, Kansas City Rep) will also appear at JTF Atlanta. Past festival attendees have included Ben Platt, Darren Criss, Benj Pasek and Justin Paul, Zac Efron, Cory Lingner, Skylar Astin, Andy Jones, Kara Lindsay, Henry Hodges, Alan Menken, Jeanine Tesori, Kenny Leon, and Seth Rudetsky.
At JTF Atlanta, each group will present 15 minutes from a MTI Broadway Junior musical for adjudication by a distinguished panel of theatre professionals. Participants will take part in interactive workshops led by Broadway and West End professionals, gain from professional development, and enjoy theatrical fellowship.

At JTF Atlanta and JTF West, eight (total) exceptional educators from schools and performing arts centers around the country will be selected for the ninth annual "The Freddie G Fellowship," in which the teachers will receive an all-expense-paid trip to New York City for four days of master classes working one-on-one with Broadway greats. Each winning teacher will also receive a $5,000 grant to put toward his or her theater program. The event is underwritten and hosted by Freddie and Myrna Gershon and is to raise awareness of the teachers' programs and develop their skills, thereby enhancing their programs to introduce young people to Broadway and musical theater.

Playbill will present The Playbill Community Service Award. All groups attending the Junior Theater Festivals are encouraged to document their organization's community service projects. Up to five finalists will be highlighted on Playbill.com, where the public will vote on its favorite. The winning organization will receive $1,000 to support continued charitable efforts as well as Playbill's educational resources - including PlaybillEDU.com, a complete guide to undergraduate music, dance and theater programs around the country; and PLAYBILLder.com, a DIY program-maker allowing schools to personalize an authentic Playbill online.
There will be a tech track in which students interested in technical theater train with professionals. A select group will work side-by-side with festival staff in running the tech for main stage festival events. Each group may also nominate up to four students to take part in the "tech olympics." In addition, the festival will award the sixth annual Sharidan Giles Technical Theater Award Scholarship to the technical theater student who most exemplifies commitment, curiosity, collaboration, and creativity in technical theater.
Based in New York City, for the last decade iTheatrics has been dedicated to making sure every child has access to the arts. The company has worked with leading public and private companies around the world - including The White House, the Kennedy Center, NBC and all the leading theatrical licensors - to make sure that young people everywhere have access to quality musical theater programs. Over 36 million people see one of iTheatrics' educational musical theatre adaptations each year.