CAMP BROADWAY Names Atlanta Teen First Youth Journalist In YouTube Series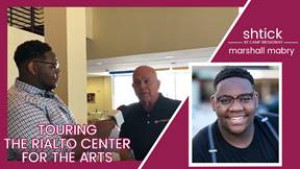 Camp Broadway LLC, the award-winning youth enrichment company, has named Atlanta culture blogger, Marshall W. Mabry IV, age 16, the company's first "insider" youth correspondent. Beginning immediately, Marshall will produce a series of vlogs (video blogs) for Camp Broadway's new series called "Shtick," which will be featured on the company's YouTube channel http://bit.ly/CBshtick and officially launch in June. "Shtick" is derived from the Yiddish word shtik, meaning "piece"; it is a gimmick, comic routine or one's characteristic attribute, talent, or trait. Marshall will be covering the people and events behind Broadway and touring shows.
Marshall begins his coverage of Broadway with his own story about attending Camp Broadway, that includes an interview with Atlanta-based Music Director, Bill Newberry and a backstage tour of the Rialto Center for the Arts at Georgia State University where he performed with Camp Broadway. CLICK HERE to watch the first episode of the series.
Camp Broadway's director/choreographer Michelle Robinson first discovered Marshall when he was attending Camp Broadway in Atlanta in 2016 and 2017. He distinguished himself as a talented singer and dancer who also had an impressive knowledge of Broadway. Since then Camp Broadway's team in New York has watched him evolve into an articulate and engaging writer/journalist with his own lifestyle blog called MWMIVSpeaks.com.
"Broadway is more popular than ever with teens and tweens who now have access to artists and productions through social media and digital channels," says Susan E. Lee, brand strategist for Camp Broadway. "Camp Broadway will leverage our direct association with Broadway influencers and creative teams to help Marshall get inside the world of Broadway. We believe his engaging persona and disarming interview style will provide a perspective on the artform that is fresh and relevant for the industry's growing youth audience."
Marshall is the son of blogger and social media influencer, Kimberly Bryant (The Momager Lifestyle.) "As a parent, it's wonderful to know that your child is connected to programs that help feed their interests. Being the first 'inside' Camp Broadway youth reporter combines Marshall's passion for theatre, writing, and performing all in one. We're excited."
Now in its 23rd year of operation, Camp Broadway LLC is an award-winning company that produces experiential programs, educational workshops and special events. Mainstage, Broadway's original summer camp for theatre-loving kids, returns to Atlanta, GA for its 19th annual camp on Monday, June 4 through Friday, June 8 for one week only. Led by Director/Choreographer Michelle Robinson (Broadway: Chicago and Sweet Charity) the 5-day program will feature songs and scenes from two iconic musicals about puttin' on a musical-Singin' in the Rain JR. and 42nd Street! Aspiring artists, ages 10-17, will enjoy 40 hours of classes in singing, dancing and acting as they build their confidence, character and presentation skills while preparing for the annual Family Finale held onstage at the Rialto Center for the Arts at Georgia State University (80 Forsyth Street Northwest, Atlanta, GA). No experience is necessary. Space is limited. For more information, visit http://www.campbroadway.com/programs/camp-broadway/camp-broadway-atlanta/.
Camp Broadway LLC is a 2016 Special Drama Desk Award-winning company for "introducing young people to the magic of theater and for playing a crucial role in creating tomorrow's audiences for over 20 years."