BWW Interview: SMOKEY JOE'S CAFE Choreographer David Rossetti Takes Classic Hits to a New Level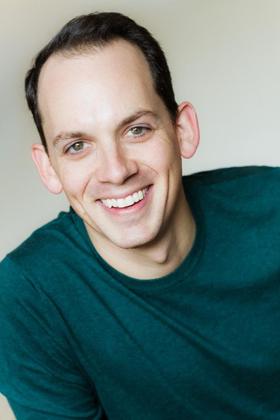 "It's one of those shows that's full of people going, '[gasp] Awww! Oh my- Ohhhh! I remember that! Ohhh I'm gonna sing along.' Everyone's gonna be tapping their toes, so it's a great show for that, for sure."
Fresh off the national tour of SOMETHING ROTTEN, multitalented performer David Rossetti has returned to Atlanta from New York to shake things up at Stage Door Players. Choreographing with SDP for the first time, Rossetti takes what audiences know and love about classic blues and rockabilly hits and transformed SMOKEY JOE'S CAFÉ using musical theatre "pizazz," as he calls it. Throw in some showstopping vocals, and these singer-dancers are in for an intense cardio workout.
Below, check out BroadwayWorld Atlanta's conversation with the artist as he shares the roundabout way he got this gig, how he has pushed the SMOKEY JOE'S performers, and more!
---
You recently finished up the SOMETHING ROTTEN tour, right?
Yes, I did! The Fox Theatre audiences were so amazing. So many of my friends came to see it, it was nuts!
So how did you end up choreographing SMOKEY JOE'S?
Well, I've known Robert Egizio for a long time from my early days in Atlanta, 2005/2006, so we had lunch when I was here for SOMETHING ROTTEN. So it was very funny, we were at lunch and just chatting, and he was like, "So, I'm looking for a choreographer," and literally the subject came and then it went. We talked about a bunch of other things, and then he left our lunch. Then literally five minutes later, he called me on the phone and was like, "Wait a second, why didn't I think of this- can you do it?" I love the show, and I've always wanted to work with Robert and Stage Door, so I was like, "You know what? No time like the present!"
Overall, how has SMOKEY JOE'S been going so far?
It's good! We're in a really good place! It's a lot of music. It's my first time choreographing a revue, so it has the challenge of everything is kind of a big number, or really there are a lot of big numbers, and some of them come right after the one before it. My joke is that it's just relentless in that there's a big number, applause, and- guess what? We have another big number, applause, a ballad to give us variety, and- guess what? After that is another big number.
I gave the cast a word of warning to up their cardio level before we started rehearsals because not just for the dances, but for breath support so you can sing, because all of this stuff is these soaring melodies. It's guys singing at the top of their registers and girls also singing at the top of their registers, so in order to produce that sound while only being nine people in this show and to keep it moving, you've gotta have some stamina. But the music's just so great! "Poison Ivy" is one of my favorites from the show, "Love Potion Number Nine," "Hounddog," "Jailhouse Rock."
Can you give my readers a little overview of the show?
Ok, hi readers! So basically, it's a revue based off the writing team of Leiber and Stoller who wrote for so many blues and rockabilly artists- they wrote for Elvis, for the Drifters, the Coasters, some really big teams in the '50s and '60s. So it's a celebration of their writing. There are some storylines where we have kind of different character-types that help us theatrically kind of connect the beats a little bit, and there are some silly, novelty songs that some people might not know that they've theatricalized.
We've got a great, great band- Two keyboards, a great saxophonist, an amazing drummer, great base and guitar and they get their time in the beginning of the second act to shine and get some solos. It covers all the bases. It's big dance numbers, there's a lot of doo-wop. One of our numbers, called "Searchin'" has some fun staging in it with one of our characters being lifted and tossed around. He was short and tiny, and I was like, "You're gonna be tossed around a lot, so get ready."
So what would you say is different for you in choreographing a revue versus a regular musical?
Well, it goes back to the characters. There's not, like, a timeline of what's happening when, per se. We don't see this character from young to old, it's just kind of a passing day. The opening song is called "Neighborhood," and it's what bookends the show a little bit. It talks about the strength of knowing where you came from and familiarity of your community. So it's got a sweet little message that they've bookeneded.
I think people see the song list, and they're like, "I'm in!" It really is for everyone, but for that parental range is so nostalgic is what the show is. It's really well-done. It's been great. I'm very happy with everyone at Stage Door, Robert, and the whole cast has really given their all. Especially the guys. It's a little more guy-heavy, so every hour that they've worked I've done it, so I'm thankful for my folks.
How has that iconic choreography and movement from the era these songs are from affected your choreography in this show?
Yeah, well things were very simple back then. They were sharp, but they were very simple. They were like a nice, clean step-touch, or a pivot step, or a step-snap, step-snap. Everything was very simple, so I've had to Take That and kind of give it just a little bit more gas, because I like to surprise the audience so they never really quite know what's coming next. So it's been fun looking at the YouTube videos of the Drifters and the Coasters on TV shows and take what they actually did and just give it a little pizzazz and a little variety so the audience stays engaged, and it looks exciting and fun.
So it was trickier to find vocabulary within the same kind of genre. There are a lot of numbers that are similar in just sound, and it's a rock beat, or it's a doo-wop song. So to try to find variety in that for the performers as well as the audience so that they're not going like, "That looks very familiar. We've seen that like eight times!" But obviously there's so much to pull from and very smart moves and fun, fun dances from that era.
[My parents' age] is the perfect age to love this show and reminisce. And actually, my dad grew me up on this music. I don't think we were ever in the car and didn't listen to something from the '50s and '60s, so this stuff is my jam too. And it's one of those shows like the musical BEAUTIFUL, is full of people going, "[gasp] Awww! Oh my- Ohhhh! I remember that! Ohhh I'm gonna sing along." Everyone's gonna be tapping their toes, so it's a great show for that, for sure. And our performers are some of the best in Atlanta. The voices are just fantastic. I've definitely pushed them choreographically just because, I like to make things... interesting. Some might say complicated, but I say interesting!
Is it one of those shows where we as the audience will be exhausted just watching them?
Oh yeah. Oh yeah. You will see the inspiration and the perspiration coming from the performers, for sure. But it's fun. They've been having a good time with it, for sure! There would be times times when we would be doing stuff, and they would look at me like, "Really?" and I'd say, "Uh-huh!" [evil laugh]
So what do you have coming up next?
Coming up next, I am choreographing. One of my shows got chosen for the New York Musical Theatre Festival this year. It's called PETER, WHO, and it's a Spider-Man musical. I've been working on it for probably about seven years with this amazing writing team, Justin Moran and Jonathan Rafael. We did it for a one-night only event that was a huge phenomenon in New York, like, we had to turn people away.
So it did really really well, and it just got accepted into NYMF so we'll go to NYMF and give it a shot. I'll choreograph for that, so that will be fun. It's super fun music, super dorky, a lot more in the vein of the comic book. It's very self-aware, silly, smart, it's dumb. It's a good balance.
And then you'll have to come back to Atlanta for something else soon!
Oh for sure, for sure. I'm not too far away from Atlanta. I've always got a little toe in the water, and I've been very grateful for the theatrical community here too.
---
SMOKEY JOE'S CAFE runs through Sunday, August 5, 2018. Performances are Thursdays, Fridays and Saturdays at 8pm, and Sundays at 2:30 pm. Single tickets are on sale now at the box office (770-396-1726), or online at www.stagedoorplayers.net. Tickets are $33; senior, student, and youth discounts are available.
David Rossetti is thrilled to be back in Atlanta and with the amazing folks at Stage Door! Most recently he closed out the first national tour of Something Rotten as Robin and understudy for Nigel, which played the Fabulous Fox in the spring. Prior to that he served as Associate Choreographer to Andy Blankenbuehler (Hamilton, Cats (revival), In The Heights) on the Joseph and the Amazing Technicolor Dreamcoat international tour. Before that he made his Broadway debut in the 2013 revival of Annie at The Palace Theatre where he served as dance captain and understudy for the role of Rooster.
Choreography and directing credits: Hairspray at the Show Palace Dinner Theater & Gainesville Theatre Alliance (where he also choreographed Once on this Island, Thoroughly Modern Millie, The Wedding Singer and Singin' in the Rain), Nightfall on Miranga Island (2012 Fringe Festival "Encore Series" Selection) and the viral sensation The Spidey Project. He also served as an Assistant Director for the Hairspray National Tour and at Paper Mill Playhouse as well as The Irish Curse at Soho Playhouse. Find out more at www.davidrossetti.com.