BWW Interview: Alan Bersten Talks 'Amazing' Celebration of Dance in DANCING WITH THE STARS LIVE! Tour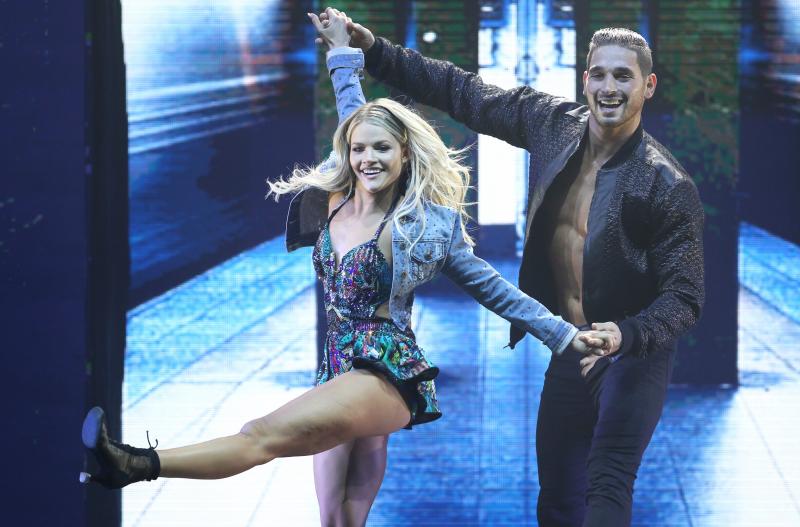 "It's being on stage and being able to look into the audience and see someone look back at me and smile that really makes me happy. It makes me feel accomplished knowing that I can make someone's life a little bit better just by dancing." -Alan Bersten
On February 11 when the cast of DANCING WITH THE STARS LIVE hits the FOX Theatre stage, the dancers will be sharing their love for dance through an evening of pure celebration. Featuring professional dancers and some stars from this past season of the TV show, this live show gives audiences a chance to experience some favorite moments from this season and also numbers unique to the tour.
DWTS professional Alan Bersten gave us an inside look at the DWTS tour, sharing what audiences can expect from the event, what this tour means to the cast, and just for fun, why he will never be on Broadway. Check out the full interview below!
---
How has the DANCING WITH THE STARS LIVE tour been going so far?
It's been amazing. Honestly every show has been so incredible so far, and I'm having so much fun with everyone on the road. I can't wait for everyone to see it.
And you've been on tour before, right?
Yes, I've done five of the DWTS LIVE tours. So I'm no rookie to the road. I love traveling. I love seeing everyone, and it's so much fun to interact with the audience.
Oh fun! What does interacting with the audience like in this show?
You know, it's really awesome. We have a meet and greet before the show with a few fans who purchase the extra tickets, and it's a chance for a few of us just to hang out with them before the show. So it's a lot of fun, and we really get to know why these people love the show so much. We get to talk to them on a personal level and really get to know who they are.
Oh that's so cool! That's amazing, because maybe they watch DWTS with their friends every week, and you're part of something that's super special and intimate to them.
Yeah, absolutely. It's actually so fun because there's so many times where we'll have three generations of families, like the grandma, mom, and a daughter who all watch the show together, and they love it so much that every Monday at 8pm, this is what they do. It's really nice to be able to see that in person and see how this show really connects people.
It's one of the best parts, knowing that these people let us into their homes and watch us, and they enjoy what we do. It's not really work for us, it's just a passion of mine, so I love doing it. And being able to just do what I love and people enjoying it, that's one of the best parts.
So, can you give us a picture of what the tour is like?
Yes, so this show is a huge production, and honestly the best way to put it is a celebration. It's a celebration of not just the season, but also of dancing in general. There's so much dancing involved in the show. It's an hour and a half show full of dancing and host moments of fun, and it's amazing.
Yeah, yeah honestly celebration is the best word because we are just going out there, not being judged, and having the time of our life. We're just trying to have a fun time with our audience while we're dancing with each other on stage. It's the best feeling. It's hard to explain other than an amazing feeling.
It's so much fun, and honestly doing the show feels different than all the shows that we have done. It's a lot more energy; it's a lot more non-stop. It's a huge production, and it definitely shows on that stage, and I really feel like the audience loves it. We're really pushing the limits with the dancing, the costumes, the music, and having as many people on stage as possible dancing. It's a very full show.
And what effect do you feel like knowing you're not being judged has on your performance?
I mean, I honestly feel like it lets everyone let loose a little bit, especially the celebrities. You know, one of the hardest parts about this show is yes the dancing is extremely hard, but you're also being judged and don't want to go home. You don't want to get eliminated. But here, you don't get eliminated. Everyone is up there having the time of their lives and putting on the best show that they possibly can.
So do you feel like it's predictable every time, or is there some room for spontaneity?
Absolutely. It's a live show, which means that we honestly get to do whatever we want. Hopefully we stick to our dances, but there's a lot of spontaneity in the show, and we have Juan Pablo [Di Pace] who is amazing. He sings in the show, he dances in the show, and he's a great celebrity host to have in the tour.
Oh how fun! What does hosting look like in this show?
Yeah, so a few of us actually talk to the audience in the show, and Juan Pablo definitely does as well, but there's so much that goes into the show, it's hard to explain in a few sentences. There's comedy involved, there's very touching moments in the show with the dancing. Everyone who comes to the show is either a fan of DANCING WITH THE STARS or dancing, so it caters to that.
I feel like there's nothing more enjoyable than seeing people on stage having a blast and pouring their heart into something.
Honestly yeah, I feel like that's something that's so special and so needed here in the world right now. Just going and letting loose for two hours and enjoying something, not having to do much, just being able to go there and watch twelve people have the time of their lives.
So what's one of your favorite aspects of the tour?
It's being on stage and being able to look into the audience and see someone look back at me and smile, that really makes me happy. It makes me feel accomplished knowing that I can make someone's life a little bit better just by dancing.
Do you have a favorite number in there, or a favorite moment?
You know, I have a few favorite moments. In the semi-finals of the show, Alexis [Ren] and I did that '80s workout jive number, so we're doing that in the show. And then there's a lot of numbers from the actual TV show that we've adjusted to the stage, and there are so many numbers that are brand new just for the show. So it's a nice mix of numbers from the actual TV show, so people are like, "Oh I remember this dance! I love this dance!" And there's lots of numbers that are brand new, never seen before.
It really sounds like it's the TV show on steroids.
It literally is! We worked really hard putting this show together, and I feel like everyone's extremely proud of it.
That sounds like a really healthy, positive environment to be in!
Yeah, it's amazing, like I can't emphasize enough how much of a family we've become over all of these years, and to be able to be on stage with this family is just, a feeling that I can't even put into words. I can't complain! I'm very lucky.
Yeah, I mean we spend literally every day with each other, so to say that we're a family is putting it lightly. It's amazing how much we've all been through. Me personally, I've been with every one of these dancers for the past five years almost every single day, so it's amazing to see how much everyone's grown and how close we've all become.
It sounds like you really get each other, and do you feel like you also challenge each other?
Oh absolutely! That's one of the good things, you know? We'll see videos online of our dance and be like, "Oh my God, you look different here," or "I look better here!" We have that friendly competition among us that kind of pushes us and makes us want to dance harder and want to improve. So it's that healthy competition that keeps it exciting for us each week.
So during the live shows, do you have any inside jokes or rituals that you do throughout the show just for each other?
Well we definitely all pray together before the show, and as far as inside jokes, we used to play games. So like, we were making animal noises while we were dancing, and no one in the audience would hear. It was just for us, but it was a little game I guess. And then afterwards, we would go offstage and write down what every dancer's animal was.
But this show has honestly been so much fun, and there's so much going on that we haven't really played games. It's more of like, we interact so much with the audience, and we interact so much with each other on stage that everything happens naturally. There are fun moments that happen, but they all happen naturally.
Oh gosh, that sounds so fun. Since this is on a theatre news site, I have to ask: have you done musical theatre before, or is that something you'd like to do?
I don't know if you heard my voice earlier, but I do not have a voice for singing. So I have not done musical theatre. I would love to though. It would be a treat to go on Broadway. I would probably need a good twenty years of singing lessons, but other than that, yeah I would love to! [laughs] But there's something so special about going on a journey on stage, or telling a story where the audience really wants to be engaged, and you are able to take the audience on the story with you, so that's why I love live performance.
So for your ATLANTA stop, what are you looking forward to about being back here?
It's a beautiful city. It's a lot of fun. The people are so nice! We actually spent New Year's Eve there I think three years ago now, and it was amazing! It was a great way to start the new year. We had a show there on the 31st, and it was a lot of fun. Honestly it was one of my favorite moments from any tour I've ever been on just because we had this amazing show and then we got to spend New Year's with everyone in the cast, and it was amazing.
I say "amazing" a lot, because there's no other way to describe how incredible it feels to be with that family and just to make good memories on the road. And ATLANTA happened to be that amazing memory. So it's gonna be really exciting to go back!
I love that you get to do this! It sounds like such an awesome experience for you.
It definitely is. I'm extremely lucky, and I know how lucky I am, and it's a blessing to be here.
---
Follow Sally Henry for more industry interviews, reviews, and general fangirling on the social medias: @TheBwayGinger.
TV's biggest dance show returns to the FOX Theatre on February 11. The show will feature fan favorite professional and troupe dancers in a brand-new production showcasing every type of dance style as seen on ABC's hit show Dancing with the Stars, ranging from ballroom and jazz to modern and hip-hop.
Choreographed and creative directed by Emmy© Award-winning choreographer Mandy Moore and Dancing with the Stars Executive Producer Ashley Edens-Shaffer, audiences will have the opportunity to experience the excitement, glamour and glitz they see in the ballroom every Monday night live at the FOX Theatre on Monday, February 11.
Tickets are on sale now at FoxTheatre.org, the FOX Theatre Ticket Office, and 855-285-8499. Ticket prices start at $59.50, plus applicable fees. VIP packages will be available through foxtheatre.org and VIPNation.com, giving fans the chance to purchase premium tickets, meet and greet opportunities with the cast, exclusive merchandise and photo opportunities.