Video Roundup: Does Jordan Fisher Have What it Takes to Win DANCING WITH THE STARS?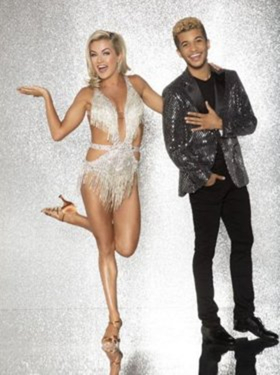 It's no secret that Jordan Fisher is today's triple threat heartthrob. But does he have the moves to win the coveted mirror ball trophy on DANCING WITH THE STARS?
Yesterday, it was announced that the HAMILTON alum would join the season 25 cast of the hit dance competition show. His partner will be pro Lindsay Arnold.
Fisher made his Broadway debut in HAMILTON, starring as John Laurens and Philip Hamilton. Working with Hamilton director, Thomas Kail, he took on the role of "Doody" in Fox's 5-time Emmy award winning production of GREASE LIVE. Following his top 40 single "All About Us," the Hollywood Records artist released his eponymous debut EP and dropped his first full-length album in early 2017. He has also starred in Disney Channel's Teen Beach Movie franchise, "Liv and Maddie," and "The Secret Life of the American Teenager."
Let's take a look at his resume and see if he has what it takes before DANCING WITH THE STARS premieres on ABC on September 18th at 8PM/ET.
GREASE LIVE: "Those Magic Changes"
Fisher took on the role of "Doody" in Fox's Emmy-winning production of GREASE LIVE. His break out moment (and arguably the show's best number) was his performance of "Those Magic Changes." All it took was an acoustic guitar and his voice to make millions of viewers fall in love with him. Watch the clip below and try not to be dazzled by his talent.
HAMILTON
Fisher joined the company of Broadway's Tony award winning musical HAMILTON in late 2016, marking his Broadway debut. He played the role of John Laurens/Philip Hamilton, taking over for original cast member Anthony Ramos. Unfortunately there is no clips of Fisher singing in the musical, but we can only imagine how amazing his performance was!
"You're Welcome" ft. Lin-Manuel Miranda from MOANA
After seeing Fisher's performance on GREASE LIVE, Lin-Manuel Miranda immediately tweeted out his love for the talented actor. This show of support from Lin brought Fisher many more opportunities, including HAMILTON and MOANA. Fisher gave the song "You're Welcome" from the Academy Award nominated Disney Movie a hip-hop twist with Miranda. The video has almost 9 million views. Check it out below!
"All About Us" Music Video
The first single from his self-titled EP showcases his powerhouse vocals. The single entered the top 40 and helped Fisher release a full-length album in early 2017. In the music video for the single, which amassed over 8 million views, his dance skills are also on display. Check out the video below to get a taste at his dance experience before he competes for the mirror ball trophy.
TEEN BEACH MOVIE
Fisher was cast in the Disney Channel hit musical movie TEEN BEACH MOVIE. He played the role of Seacat, the fun-loving guy in the imaginary movie "Wet Side Story" within the movie. In this clip below, from TEEN BEACH MOVIE 2, Seacat hilariously crashes Chee Chee's song. Check out "Fallin' For You," to see some of Fisher's dancing and singing skills.
LIV & MADDIE
Fisher starred as Holden, Liv's love interest in the Disney Channel show LIV & MADDIE. In this clip below, Fisher and Liv, played by Dove Cameron, duet on a cute love song "True Love." Check out the adorable moment below!
Various Television Roles
Fisher appeared on nine episodes of THE SECRET LIFE OF THE AMERICAN TEENAGER in the role of Jacob, Grace Bowman's half brother in the show's fourth and fifth seasons. He also appeared in MTV's TEEN WOLF and THE THUNDERMANS. One of his first television appearances was in 2009, in an episode of ICARLY. Below is a very short clip of his brief appearance on the Nickelodeon show. In the clip, Carly is looking for dates to the dance and her brother Spencer is interviewing Fisher to see if he is a worthy candidate. Needless to say, it doesn't go well. Check it out!
Photo Credit: ABC/Craig Sjodin