Varese Sarabande Records Will Release PLAY IT AGAIN, MARVIN! A MARVIN HAMLISCH CELEBRATION May 25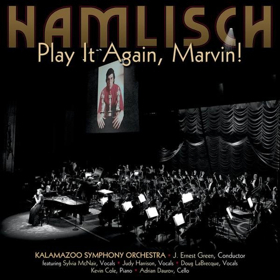 Varèse Sarabande is honored to announce the release of PLAY IT AGAIN, MARVIN! A Marvin Hamlisch CELEBRATION, a collection of the most beloved songs of PEGOT- winning (Pulitzer Prize®, EMMY®, Grammy®, Oscar®, Tony®) composer Marvin Hamlisch, digitally and on CD May 25, 2018.
This compilation is a celebration of one of the most important voices of the modern musical era- focusing on the life and legacy of Broadway's legendary composer Marvin Hamlisch, who over the course of his career earned three Oscars, four Grammys, four Emmys, a Tony, three Golden Globe awards, and the Pulitzer Prize.
Play It Again, Marvin!, the concert, first premiered in 2014 with the Pittsburgh Symphony Orchestra and then in 2015 with the Chicago Symphony Orchestra. The show was revised and performed by The Kalamazoo Symphony Orchestra, under the direction of J. Ernest Green, and was recorded for Varèse Sarabande. PLAY IT AGAIN, MARVIN! A Marvin Hamlisch CELEBRATION features pianist Kevin Cole and singers Grammy winner Sylvia McNair, Judy Harrison & Doug LaBrecque and cellist Adrian Daurov, performing extraordinary Hamlisch masterpieces that will thrill any listener.
This amazing collection focuses on the life, and legacy, with a performance full of classic Hamlisch hits, such as The Way We Were from THE WAY WE WERE, What I Did For Love from A CHORUS LINE, Nobody Does It Better from THE SPY WHO LOVED ME and the iconic The Entertainer andPineapple Rag from THE STING. "It has been an extreme honor for us to produce this recording," said Peter H. Gistelinck, President & CEO of the Kalamazoo Symphony Orchestra. "The music of Marvin Hamlisch has always been very dear to my heart and this recording will forever remain engraved in my memory."
"It is with my deepest gratitude that I thank The Kalamazoo Symphony Orchestra, Peter Gistelinck and Robert Townson for producing such a profound and beautiful recording of Kevin Cole's PLAY IT AGAIN, MARVIN! A Marvin Hamlisch CELEBRATION," said Terre Blair-Hamlisch, wife of Marvin Hamlisch. "This recording captures Marvin's music beautifully and I know he would be so proud."
"This is such a special celebration of a great composer and legend of American music." said producer Robert Townson. "I could not be happier or more proud to have my new relationship with the Kalamazoo Symphony Orchestra begin with the music of Marvin Hamlisch. For so many years he brought his youthful, joyful spirit and music to stages all over the world. With PLAY IT AGAIN, MARVIN! his unforgettable music returns!"
Marvin was the composer of more than forty motion picture scores including, his Oscar-winning score and song for THE WAY WE WERE and his adaptation of Scott Joplin's music for THE STING. He won all three Academy Awards the same night! His prolific output of scores for films include original compositions and/or musical adaptations for SOPHIE'S CHOICE, ORDINARY PEOPLE, THE SWIMMER, THREE MEN AND A BABY, ICE CASTLES, TAKE THE MONEY AND RUN, BANANAS, SAVE THE TIGER and THE INFORMANT!,
For Broadway, Marvin wrote the music for his groundbreaking show, A CHORUS LINE, which received the Pulitzer Prize, as well as THEY'RE PLAYING OUR SONG, THE GOODBYE GIRL and SWEET SMELL OF SUCCESS. He also wrote the musical scores for: Jean Seberg in 1983 and NUTTY PROFESSOR MUSICAL in 2012.
Hamlisch held the position of principal pops conductor for the Pittsburgh Symphony Orchestra, Milwaukee Symphony Orchestra, Dallas Symphony Orchestra, Pasadena Symphony and Pops, Seattle Symphony, San Diego Symphony, The Buffalo Philharmonic and The National Symphony Orchestra in Washington, D.C. (At the time of his death he was preparing to assume responsibilities as Principal Pops Conductor for The Philadelphia Orchestra.) Hamlisch was a graduate of the Juilliard School of Music and Queens College (where he earned a Bachelor of Arts degree). He believed in the power of music to bring people together.
The PLAY IT AGAIN, MARVIN! concert will tour internationally and is represented by Columbia Artists Management Inc. in NYC.
Varèse Sarabande will release PLAY IT AGAIN, MARVIN! A Marvin Hamlisch CELEBRATION digitally and on CD May 25, 2018.
Related Articles