Click Here for More Articles on BLUE MAN GROUP
VIDEO: BLUE MAN GROUP Hits The Streets of Macao To Launch International Tour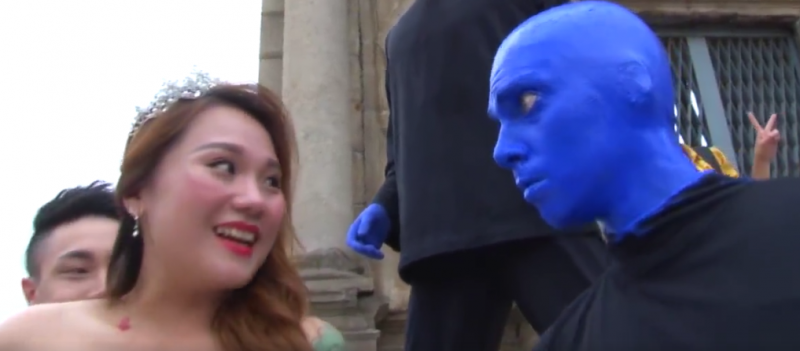 It was twenty-five years ago when their odd little show opened at the tucked away Astor Place Theatre, but it wasn't long BLUE MAN GROUP became an instantly recognizable image and an international hit.
This year BLUE MAN GROUP launches a world tour that travels to Manila, Guangzhou, Beijing, Shanghai, Johannesburg and Cape Town, but the first stop is Macao, where the boys opened on August 11th and play through the 28th at The Venetian Theatre.
As seen in the the wild video below, BLUE MAN GROUP can't help attracting attention, even when they just want to relax and do a bit of sightseeing.
Visit www.blueman.com for information on all current BLUE MAN GROUP companies.
In 2016, global entertainment phenomenon Blue Man Group celebrates 25 years of living in full color with a series of new projects and appearances. The company is best known for the award-winning Blue Man Group show, performed in 15 countries and seen by more than 35 million people worldwide since 1991. A dynamic combination of music, comedy and technology, the show appeals to a broad range of age groups and cultural backgrounds. It is continually refreshed with new music, fresh stories, custom instruments and state-of-the-art technology.
The company developed through a creative collaboration among three close friends, Chris Wink,Phil Stanton and Matt Goldman on Manhattan's Lower East Side. Blue Man Group now has permanent theatrical productions in Las Vegas, Orlando, Boston, Chicago, New York and Berlin, a North American tour and a World Tour.
This creative collective is part of the pop culture zeitgeist. Beyond the stage show, they have toured the globe with the "Megastar World Tour" rock concert parody, released 6 albums, including the latest album, THREE, and the Grammy-nominated Audio, and contributed to numerous film and TV scores. They've served as the face of branding campaigns for Intel and TIM/Brasil and appeared countless times on hit shows like "The Tonight Show", "Arrested Development", "Ellen", "Schlag den Raab" (Germany), "WOWOW" (Japan), and "Caldeirão do Huck" (Brasil).
Based in New York City, Blue Man Productions has extensive production facilities, recording studios and a 6,000 square foot Research & Development Lab with numerous new creative projects in the pipeline.